The Week On-Chain (Week 30, 2020)
As on-chain fundamentals grow stronger, BTC has passed the $10,000 barrier - but rather than capitulating, miners are holding onto their coins, indicating high confidence.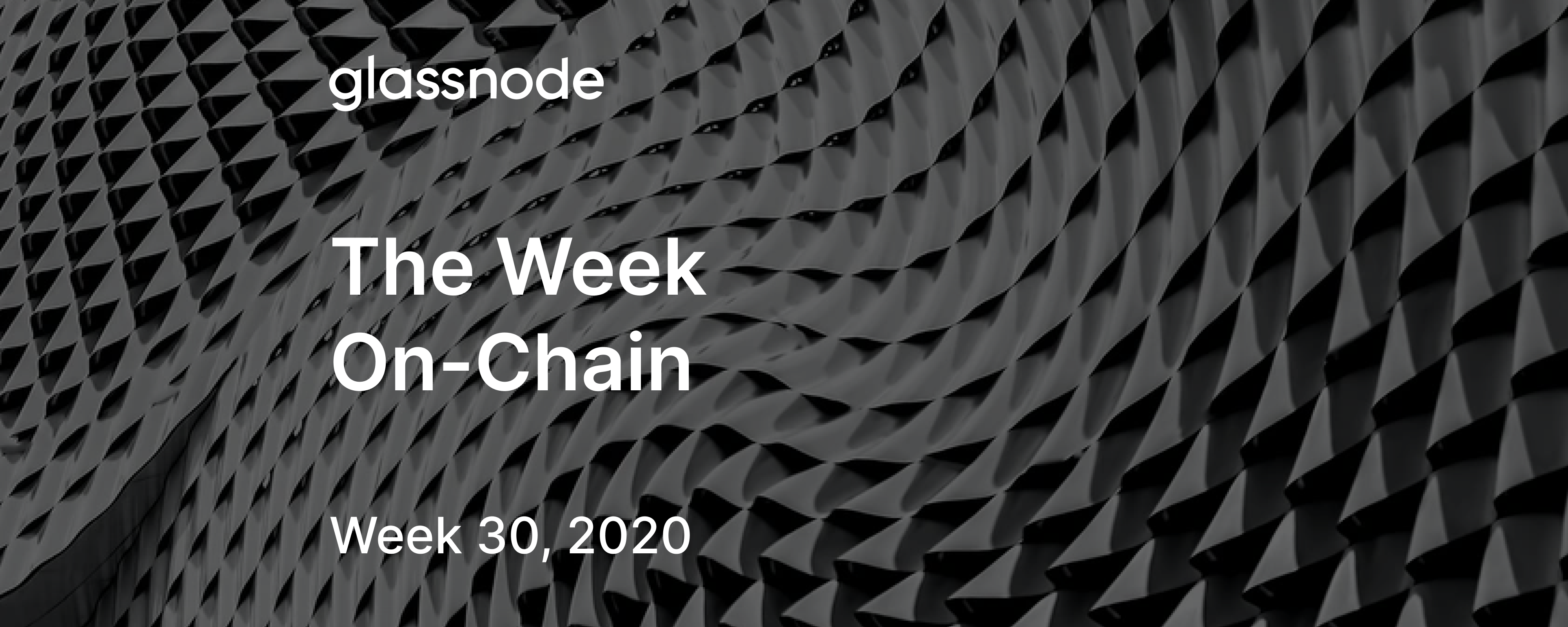 ---
Bitcoin Market Health
Bitcoin has seen significant gains over the past week, consistently rising in price from $9190 to $9900. Early on Monday morning, BTC passed $10k, and is currently sitting around $10,250.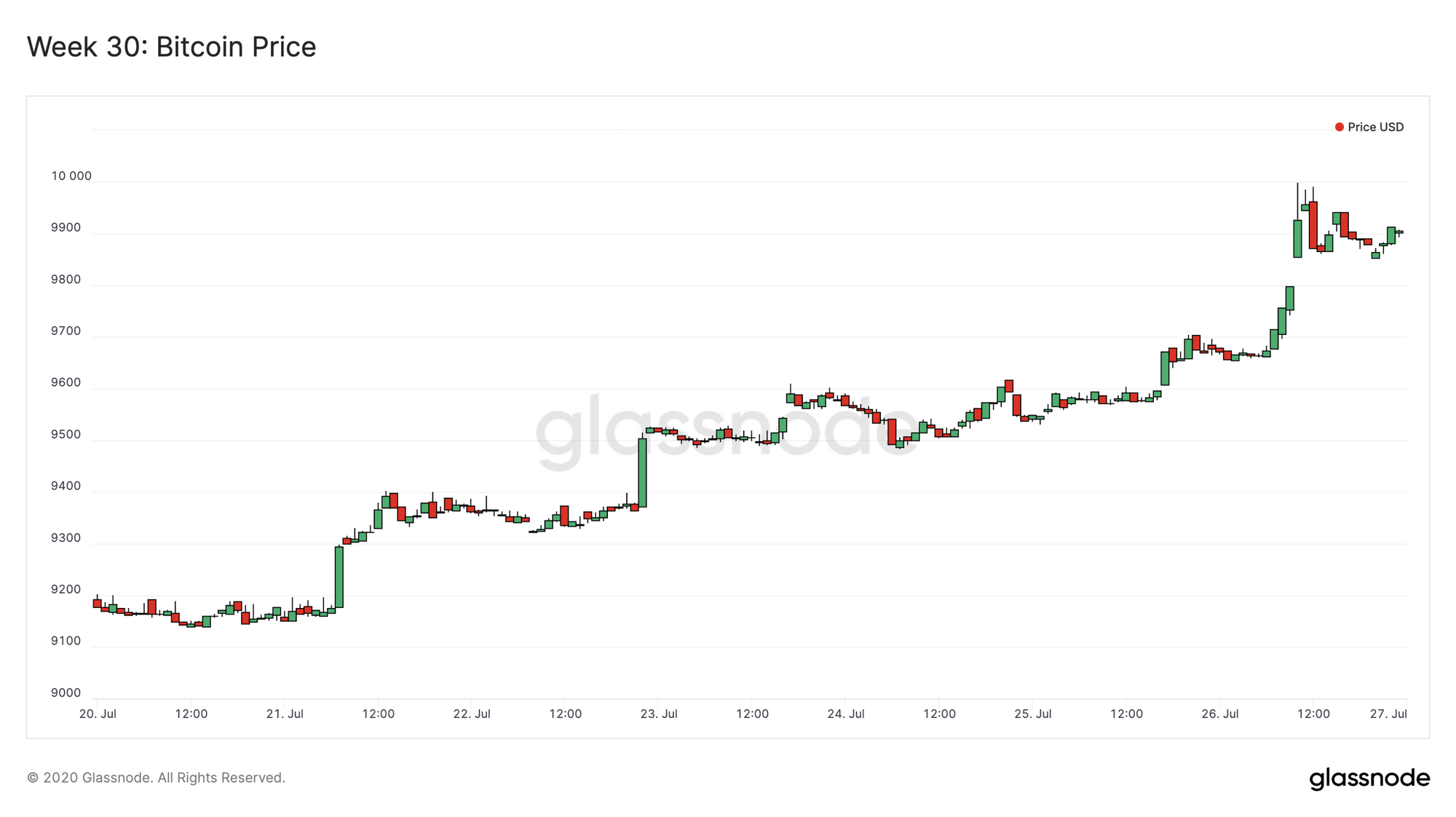 Bitcoin on-chain fundamentals have seen an increase during Week 30. GNI gained 8 points, taking it up to a total of 70. The rise was mostly driven by a large increase in the Sentiment subindex, with smaller gains in Liquidity also contributing.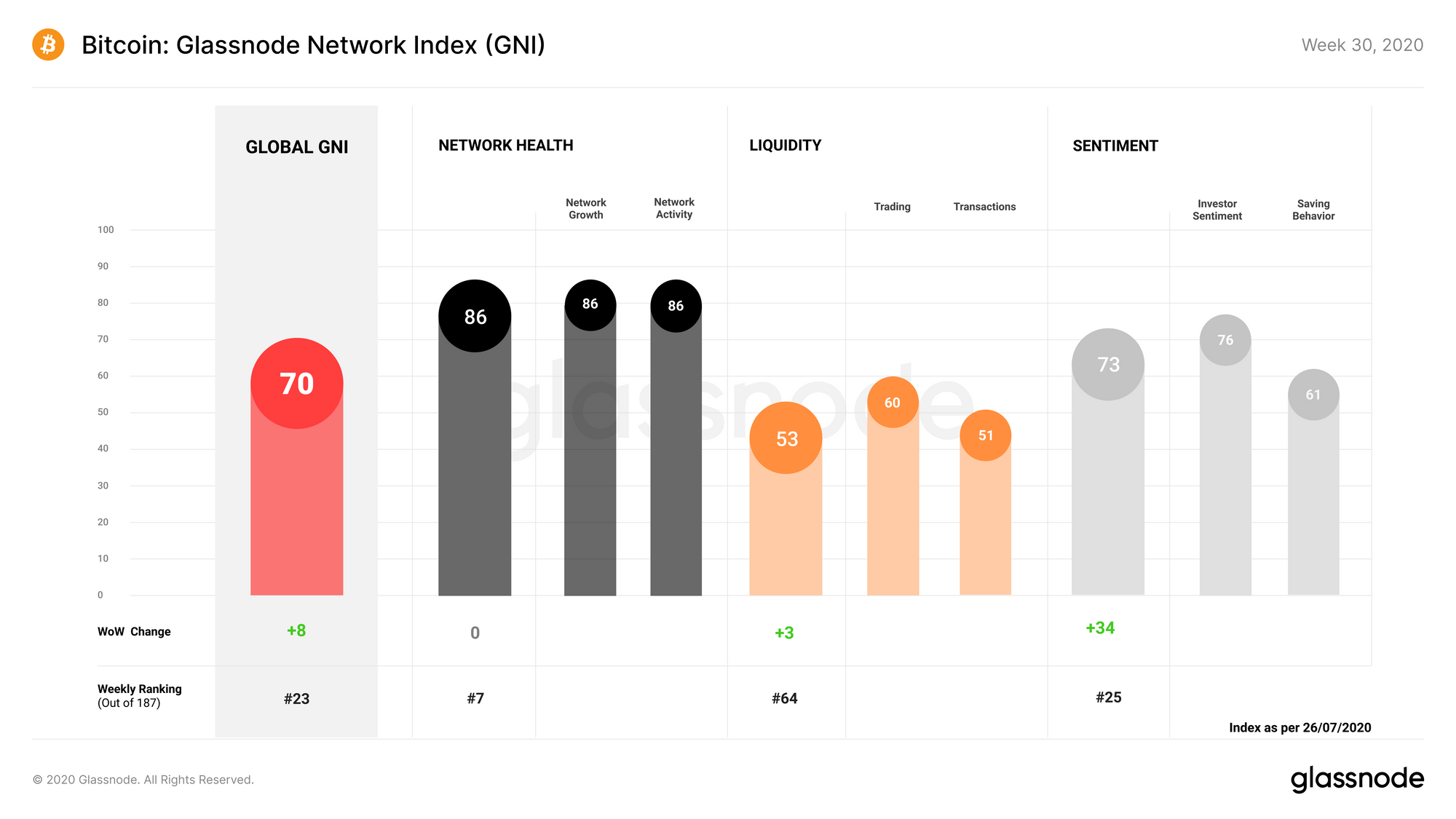 Network Health stayed static during Week 30, remaining at a score of 86 points. Network growth declined slightly, while network activity increased, with a greater number of entities active on-chain.
Liquidity saw a modest 3 point increase, driven by rises in both trading (off-chain) and transaction (on-chain) liquidity. BTC exchange inflows saw an increase, leading to higher trading liquidity, while on-chain transactions also picked up over the week.
Sentiment was the highest performer of the week, clocking a 34 point increase as investor sentiment improved significantly. The percent of BTC's supply in profit saw large increases during Week 30, while hodlers also began to acquire more BTC, leading to an increase in the saving behavior subcategory.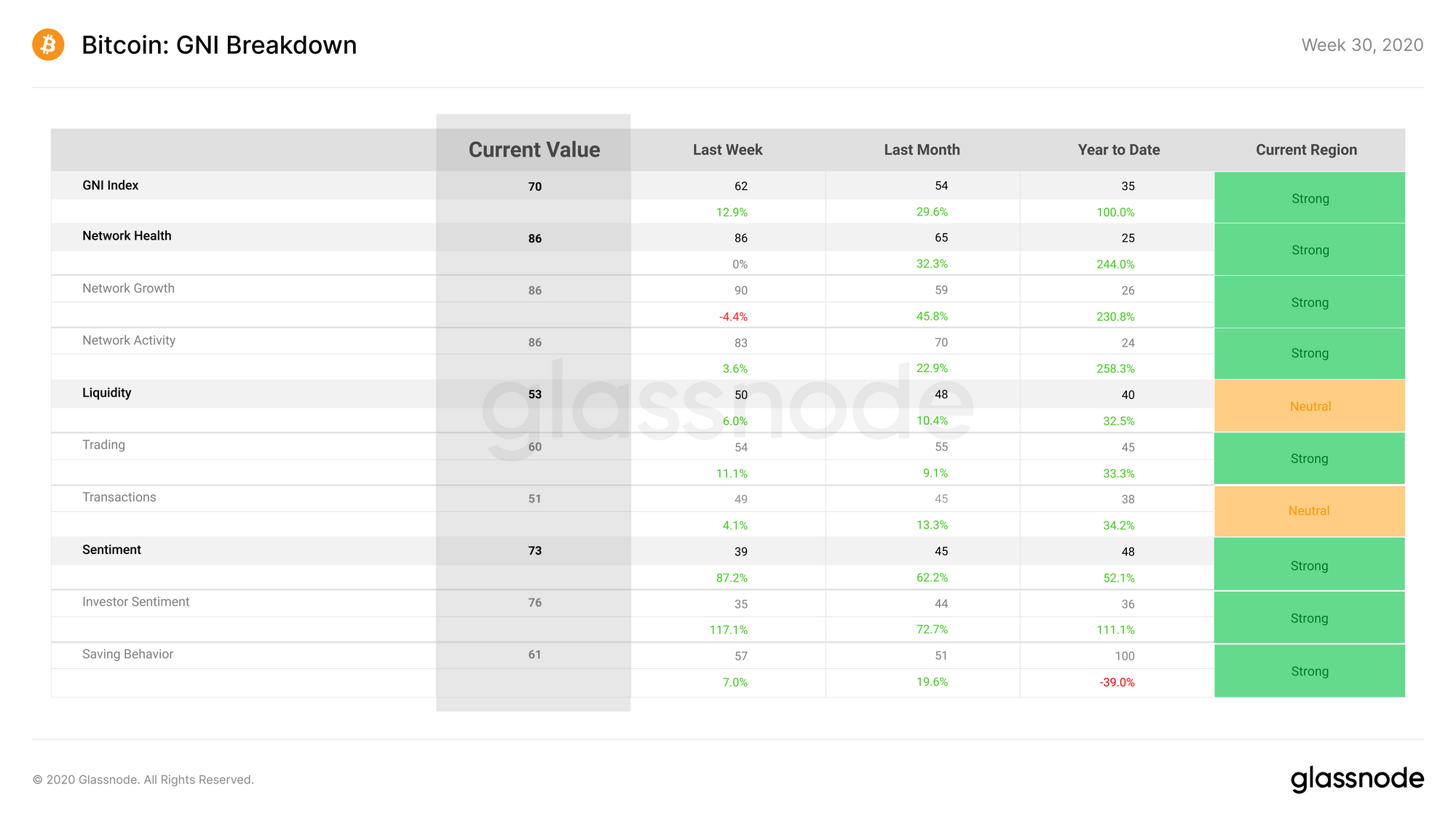 ---
Glassnode Compass
The compass continues to sit in the bullish Regime 1 for Week 30 - its 9th consecutive week in this position - breaking ahead to reach one of its highest GNI scores of the year, while price performance remains positive.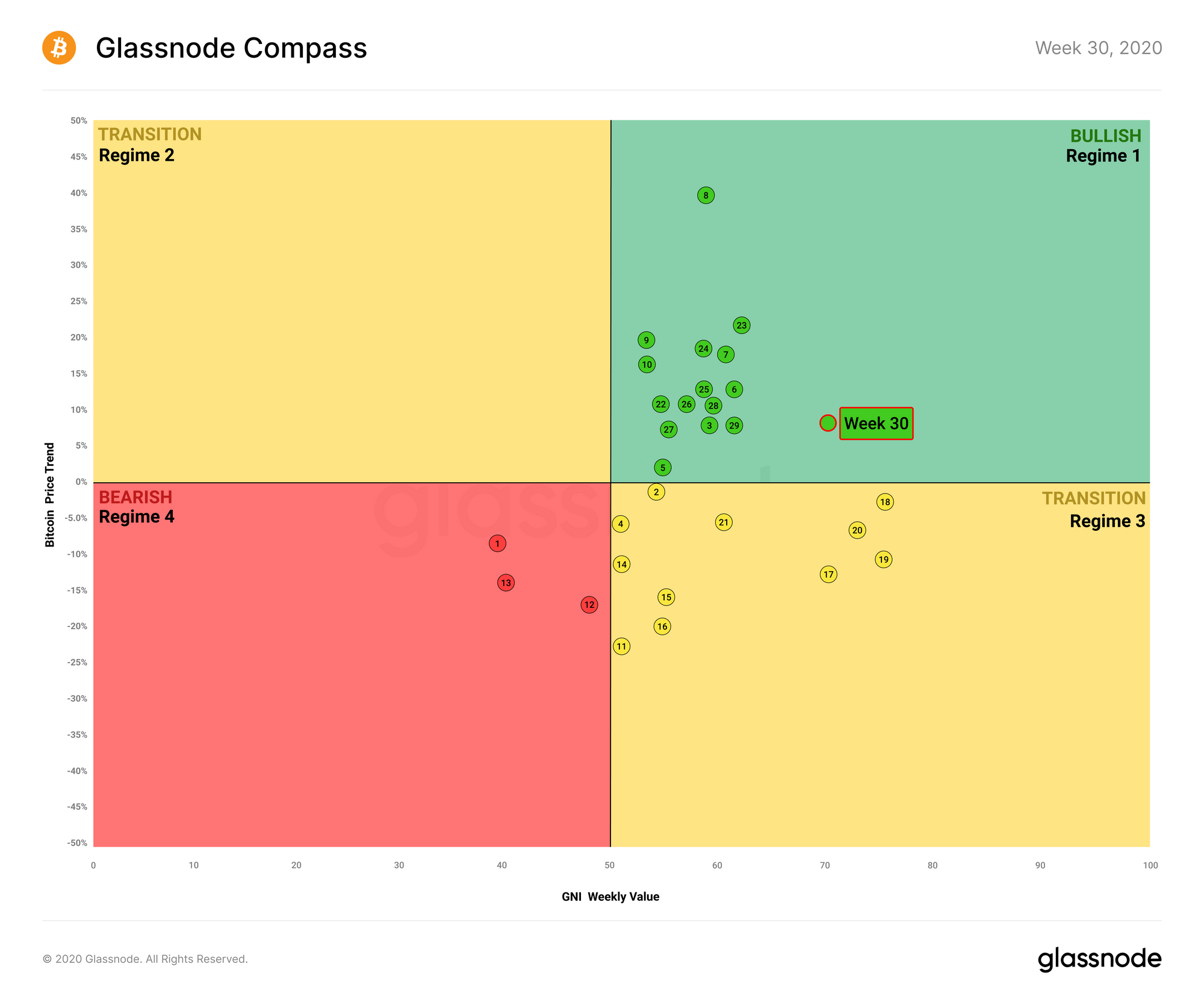 After so many weeks sitting in the bullish zone, we have been anticipating an increase in the BTC price for a while. Now, with today's BTC breakout above $10k, many are questioning whether we are entering the next bull run.
The psychological barrier of $10k is an important one for BTC to have broken, and the fact that it hasn't immediately dropped down into the $9000s is a positive sign. Given that this barrier has just been broken, it is too early to make definitive statements about whether we will see capitulation or growing confidence at this price - but the early signals are positive.
---
Bitcoin Is Flowing into Exchanges, But Miners Are Not Capitulating
With the breakout over $10k, we are seeing a huge increase in the percentage of BTC that are in profit. Currently, 89% of BTC are in a state of profit, meaning that only 11% would be sold at a loss if sold at this price.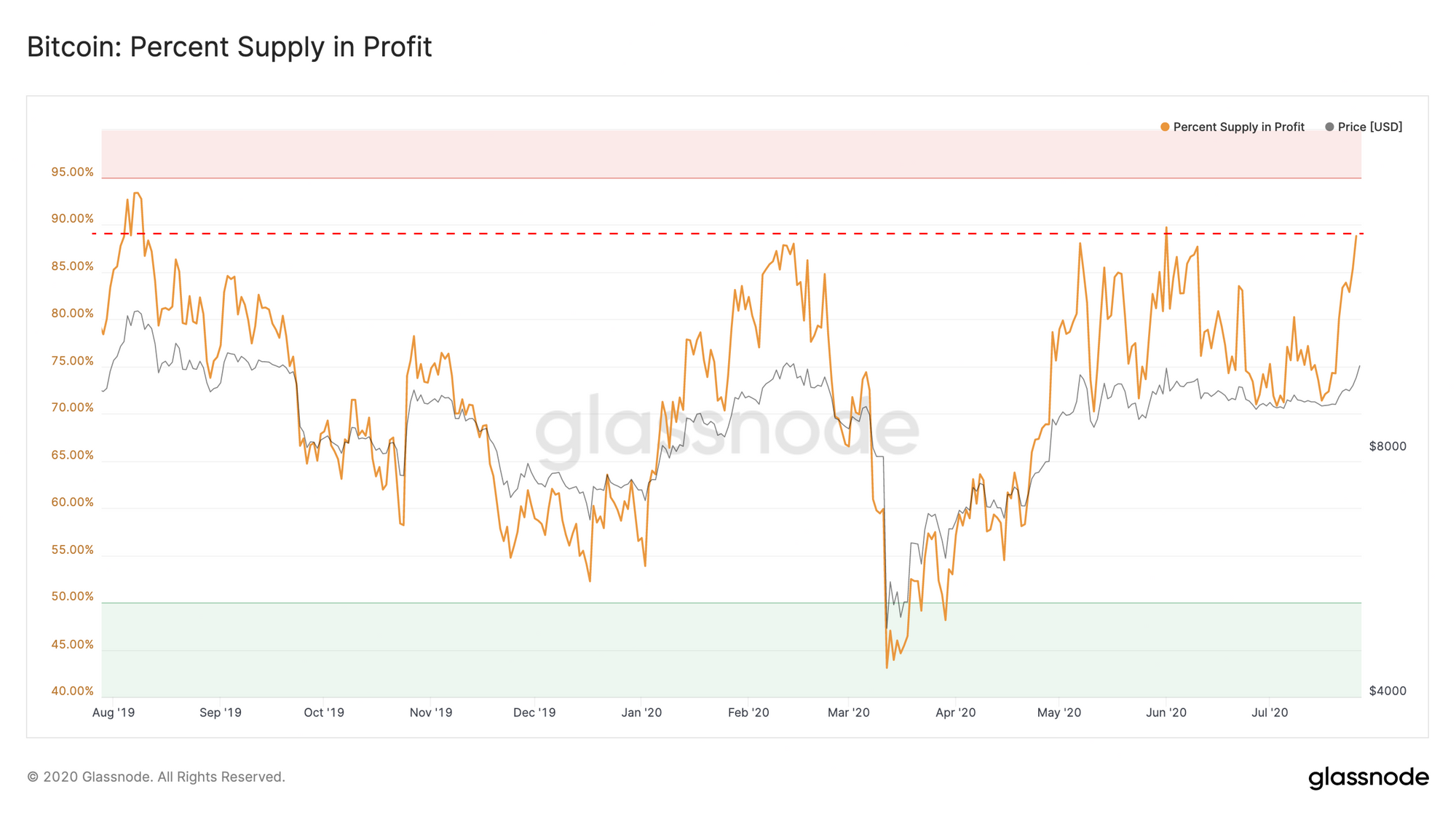 Given this increase in profitable holdings, the inflow of BTC to exchanges has started to significantly increase as the price surges above $10k. After months of bitcoin flowing out of exchanges, net flow is now seeing its largest hourly spike in over 3 months.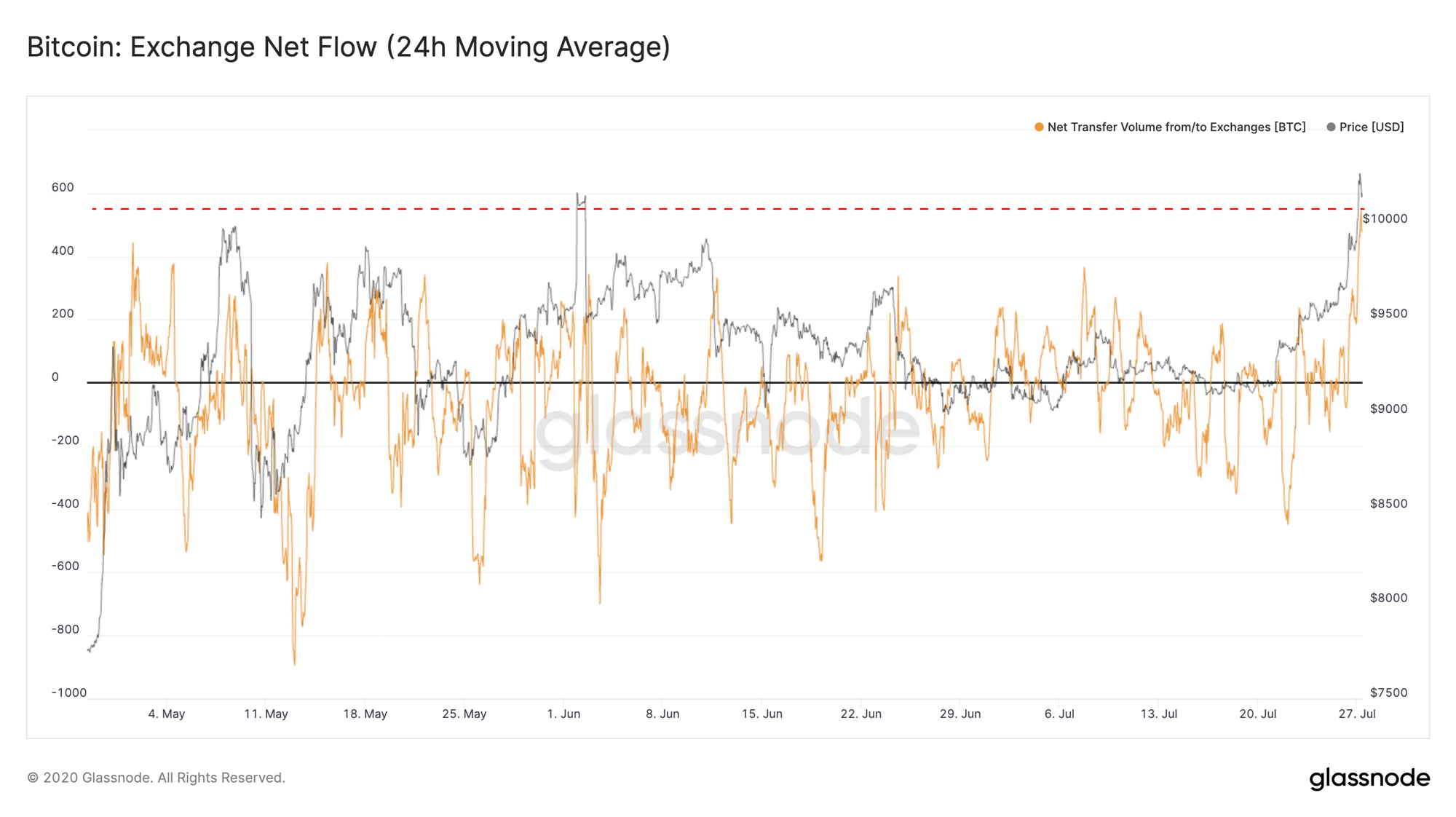 Understandably, with BTC surpassing the psychological $10k barrier, there will be a fair amount of desire to sell, hence the increase in exchange deposits. However, this sell pressure does not seem to have fazed miners, who appear to be holding onto their coins rather than capitalizing on the price increase.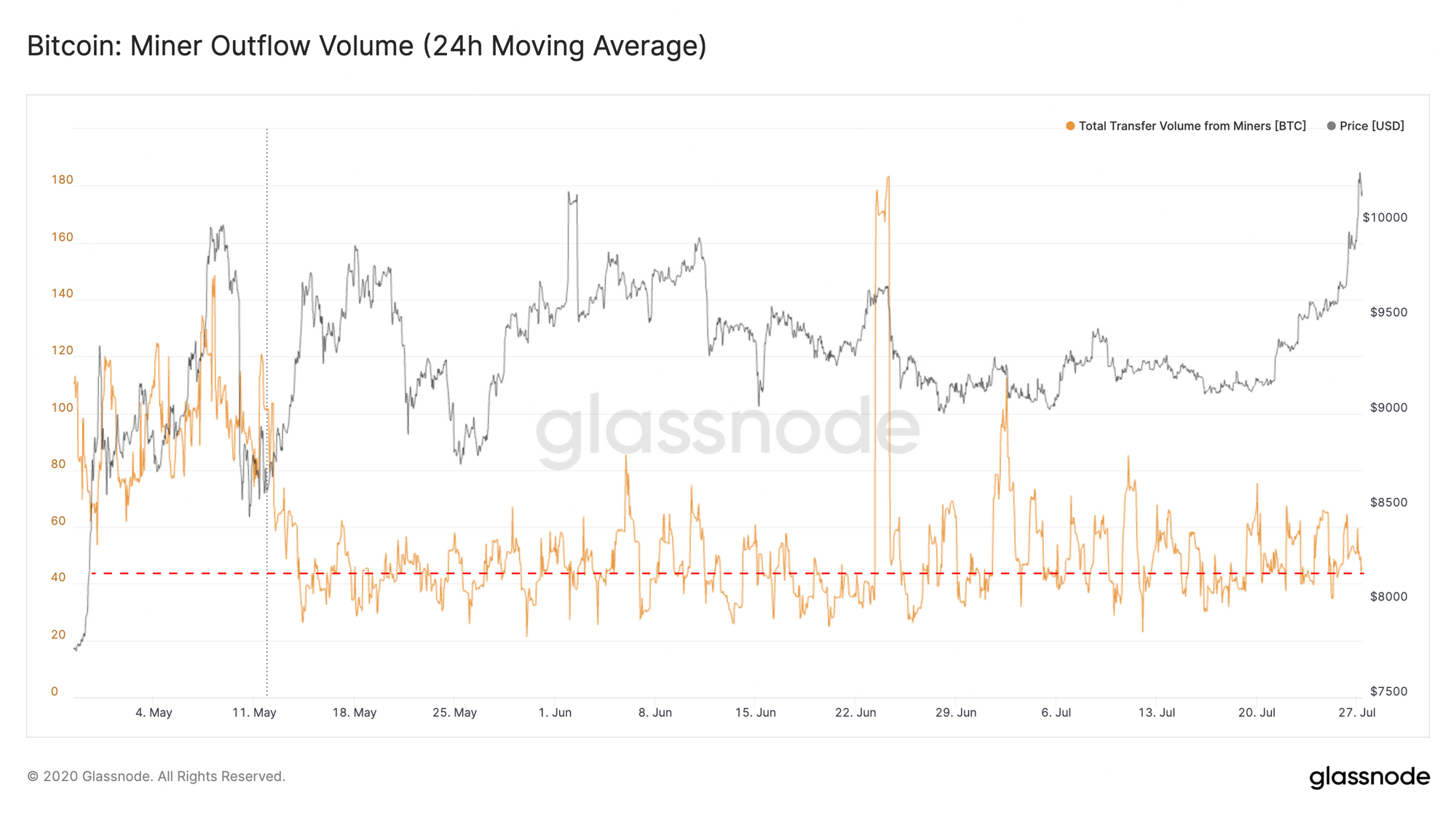 The fact that miners are not capitulating suggests an underlying confidence in bitcoin's fundamentals and growth potential, despite the increased flow to exchanges from non-miner entities.
Keep an eye on bitcoin's Exchange Net Flow and Miner Outflow Volume to see whether these trends continue.
---
Product Updates
Metrics and Assets
Entities Supply Distribution (BTC) - A series of metrics showing the number of entities holding specific amounts of BTC across several balance bands.
Features
Glassnode API - Introduced human-readable timestamps for both JSON and CSV formats.
---
Competition
Win a free Advanced subscription to Glassnode Studio for a year.
We want to make our Glassnode Insights content as high-quality and relevant as possible. In order to tailor our articles to our readers, we have published a short survey to get your feedback.
Complete the survey and be in to win a free Advanced subscription to Glassnode Studio for a year. The winner will be informed via email on 24 August.
Are you subscribed to our Glassnode Insights mailing list? If not, sign up here to receive The Week On-Chain in your inbox each week.
---