The Week On-Chain (Week 41, 2020)
Bitcoin saw growth in both its on-chain fundamentals and price across Week 41, with increased adoption and support above $11k for the first time since August.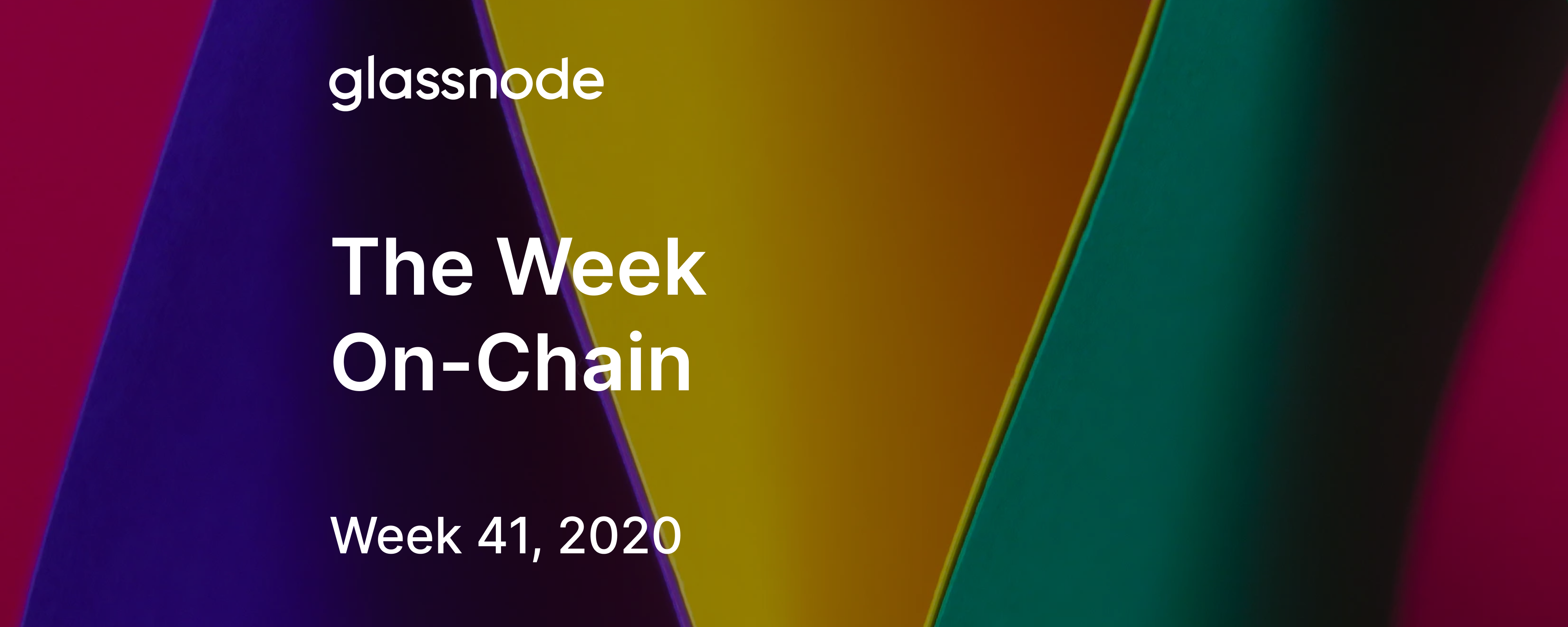 ---
Bitcoin Market Health
Bitcoin saw decent price gains over Week 41, starting the week at $10,650 and ending it 6.6% up, at $11,360. After seeing growth on Thursday and Saturday, BTC found stable support above $11k for the first time since August.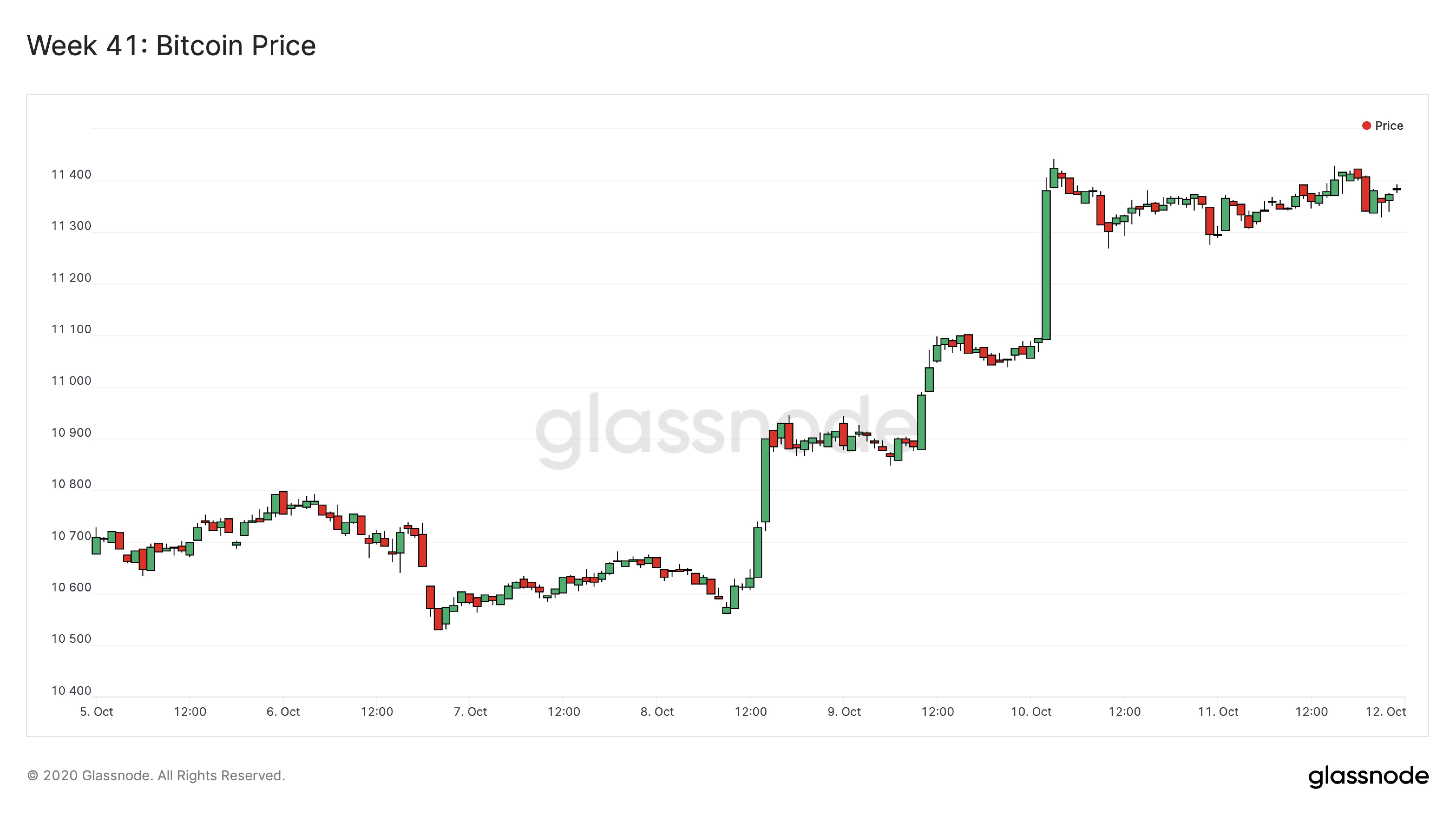 Bitcoin on-chain fundamentals grew slightly over Week 41. GNI gained 2 points, climbing up to a score of 63. This was mostly due to a rise in the Sentiment subindex, which grew significantly, gaining 15 points from the previous week. Meanwhile, Liquidity decreased, preventing GNI from growing even higher.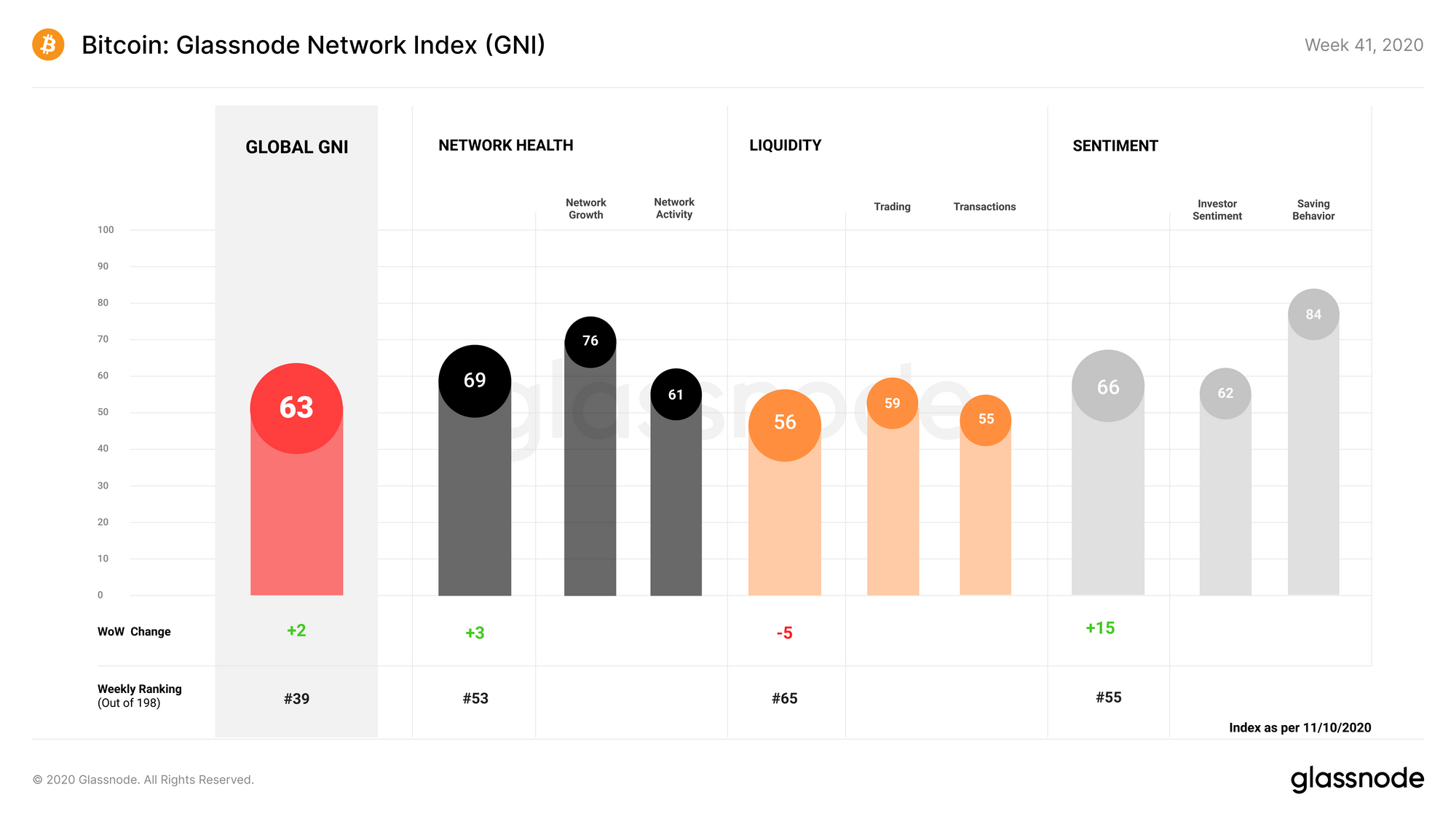 Network Health saw modest growth across the week, growing by 3 points to reach a score of 69. This rise was due to gains in both the network growth and network activity subcategories, as BTC saw growth in the number of new entities joining the network as well as the rate of on-chain transactions.
Liquidity lost 5 points over the past week, taking it to a score of 56. The transaction liquidity subcategory remained static, but trading liquidity lost 19 points as a result of dropping exchange inflows, as well as a decrease in the number of stablecoins relative to BTC supply.
Sentiment was the winner of the week, gaining 15 points and reaching a score of 66. The largest increase was in the investor sentiment subcategory, which gained 24 points as the BTC price rose and the supply of BTC in profit increased, along with MVRV and SOPR.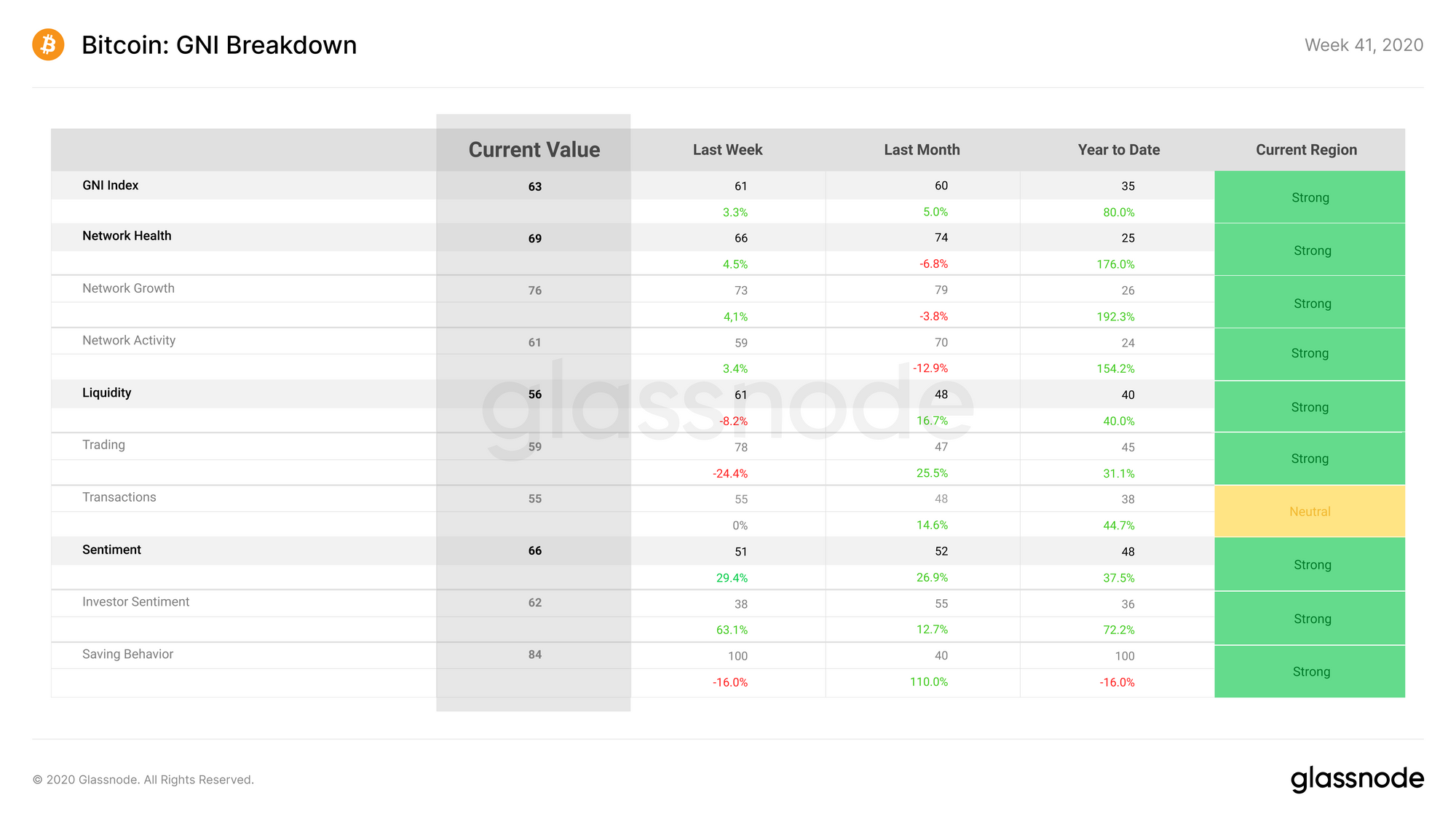 ---
Glassnode Compass
For what is now the 20th consecutive week, the compass remains in the bullish Regime 1. If it can stay in the green zone for one more week, this will represent half of the year so far during which the compass has remained in this zone non-stop.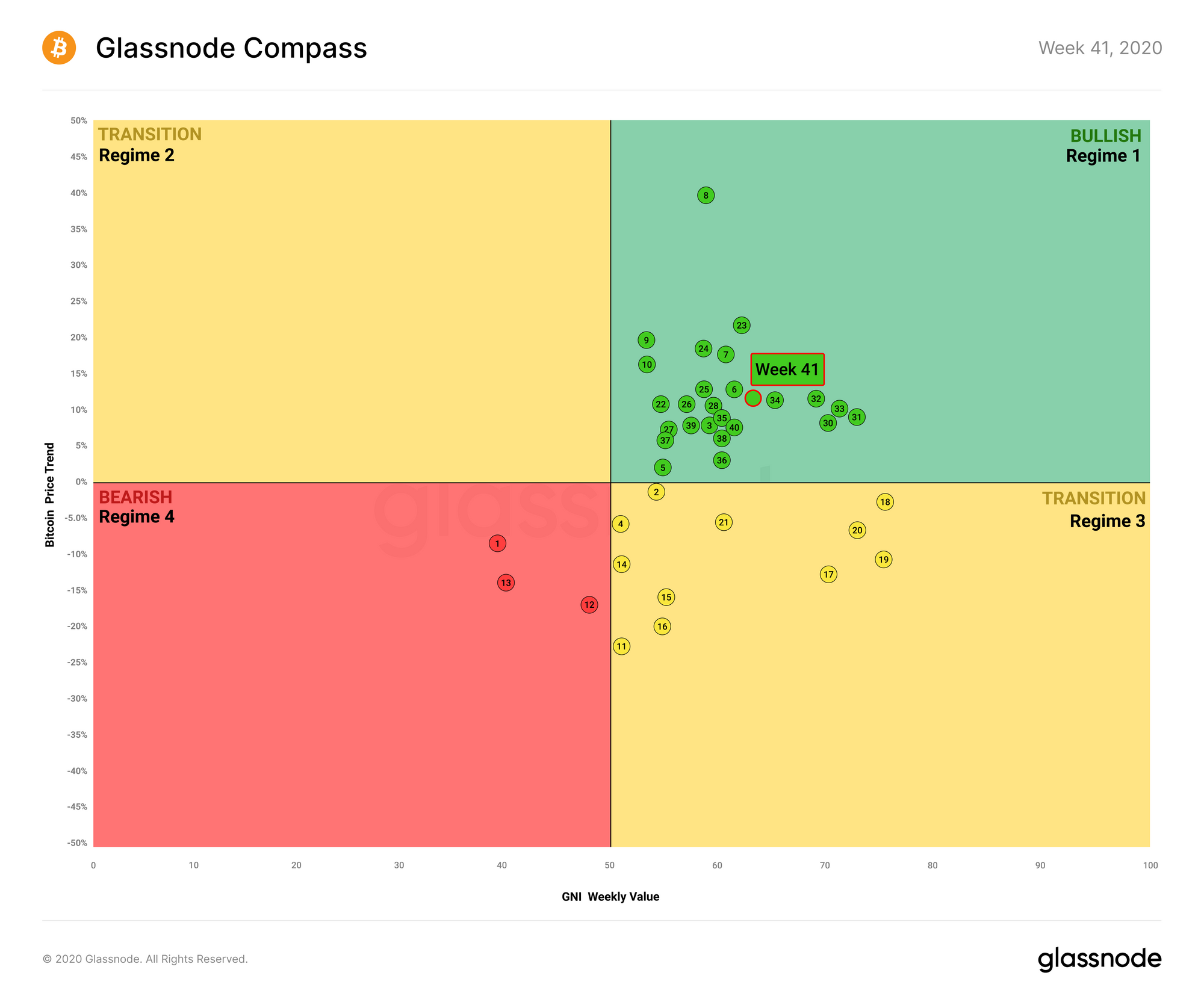 As usual, the rise in BTC's price over the past week tracked increases in the stock market, yet again confirming bitcoin's correlation with traditional financial markets. This growth was seen across the whole crypto market, which saw some recovery last week after dropping the previous week.
Meanwhile, bitcoin's on-chain fundamentals grew stronger over Week 41, with GNI reaching its 11th highest score for 2020. As we have previously reported, if BTC can shake its strong correlation with the stock market, it is well-positioned for a breakout.
---
Altcoin Digest
Performance against BTC
The top altcoins saw mixed performance against BTC for Week 41. As is a common pattern, blockchain protocol coins (such as ETH and BCH) experienced less variation, while utility tokens (such as BNB and LINK) fluctuated more widely.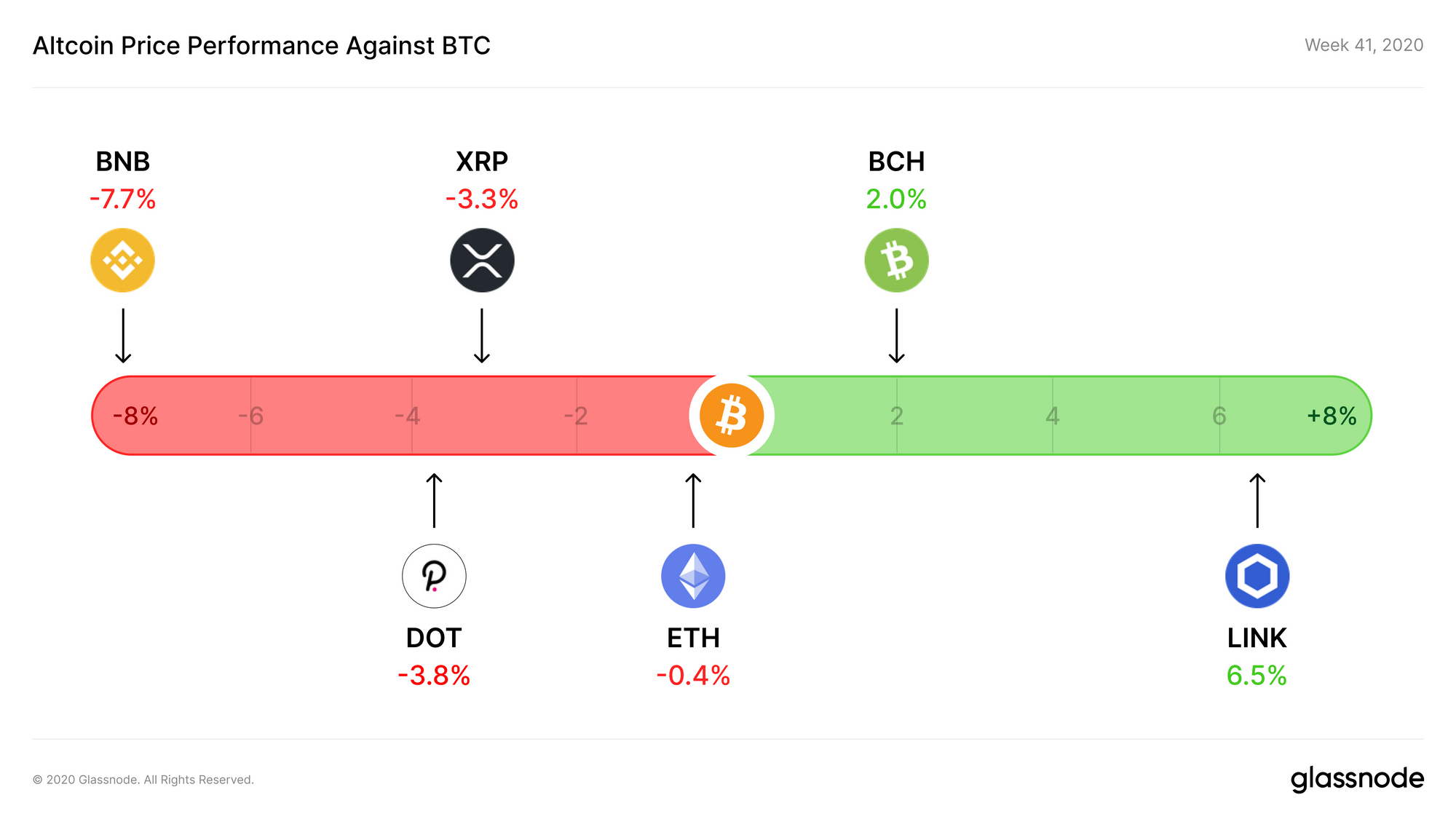 LINK and BNB reversed the previous week's trend; this past week, LINK gained 6.5%, while BNB lost 7.7% against bitcoin.
Performance against USD
All of the top altcoins aside from BNB saw growth against USD over the past week, especially toward the end of the week. LINK was the best performer, gaining 13.6% and overtaking DOT to regain the position of 7th most valuable cryptoasset. Meanwhile, BCH overtook BNB, putting it back in 5th place and pushing BNB back down to 6th.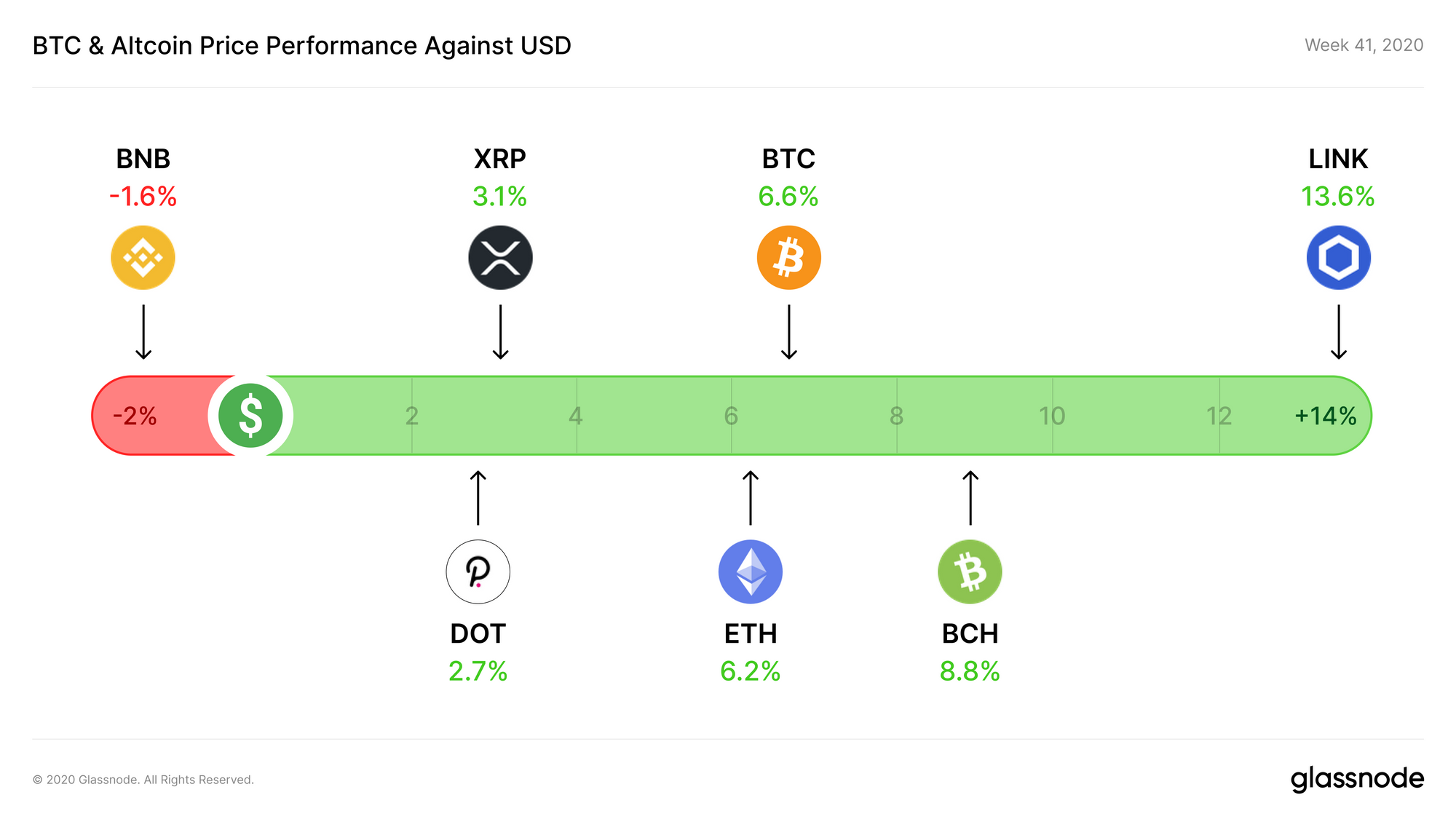 Despite BTC's 6.6% growth, its market share actually dropped slightly over the week as other cryptoassets recovered from the previous week's losses.
Which altcoins would you like to see us cover in future editions of The Week On-Chain? Let us know on Twitter.
---
Growth in the Number of BTC Whales is Slowing
Throughout 2020, the number of BTC whales (entities holding at least 1000 BTC) has been growing consistently, showing trends similar to 2012 and 2014-15. However, since early September, the number of whales has actually started decreasing - the first decline since late 2019.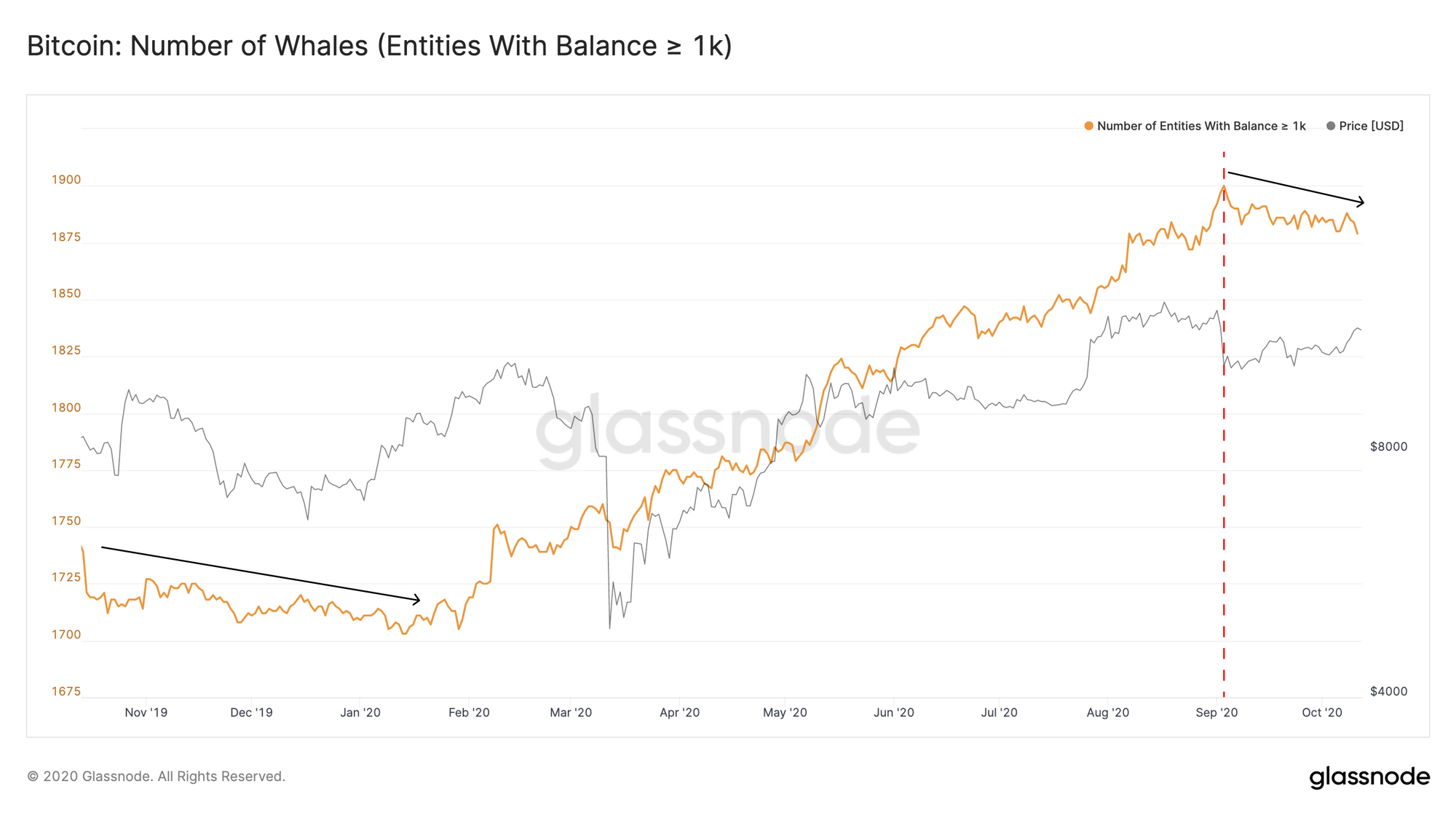 Historically, the start of a decline in the number of BTC whales has often signified increased interest from retail investors and the beginning of a run up to a market top. This trend runs contrary to popular sentiment which says that sell pressure from whales drives the price down.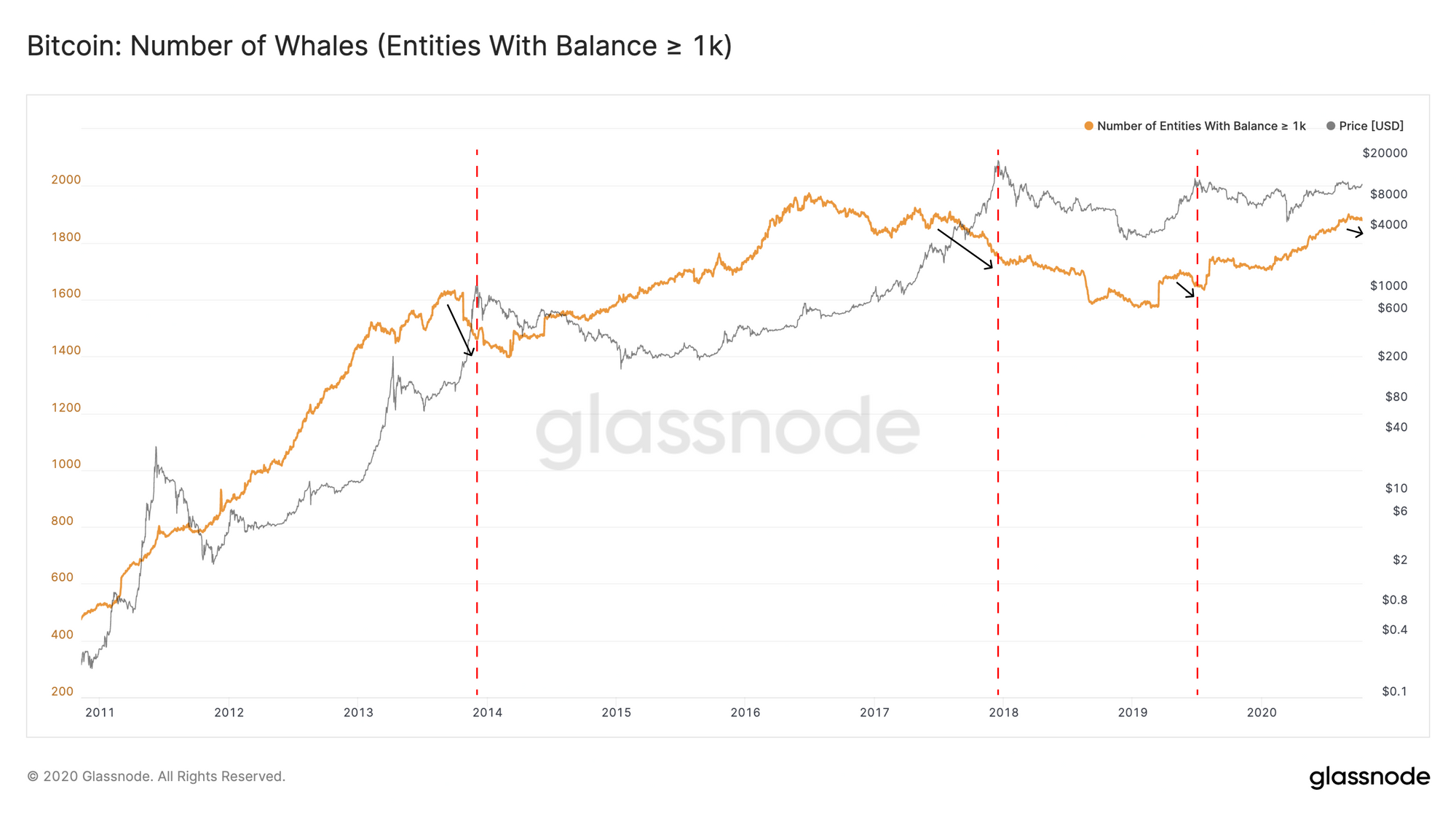 While the current decline is slow, and still in its early stages, it may signify the beginning of another bull run. Investors should keep a close eye on this metric on Glassnode Studio to see whether BTC's price will follow historical trends associated with a decrease in whale numbers.
---