The Week On-Chain (Week 42, 2020)
Bitcoin's on-chain fundamentals decreased slightly during Week 42, but its price saw a small increase. Overall BTC remains largely stable, unable to break out without a decoupling from traditional financial markets.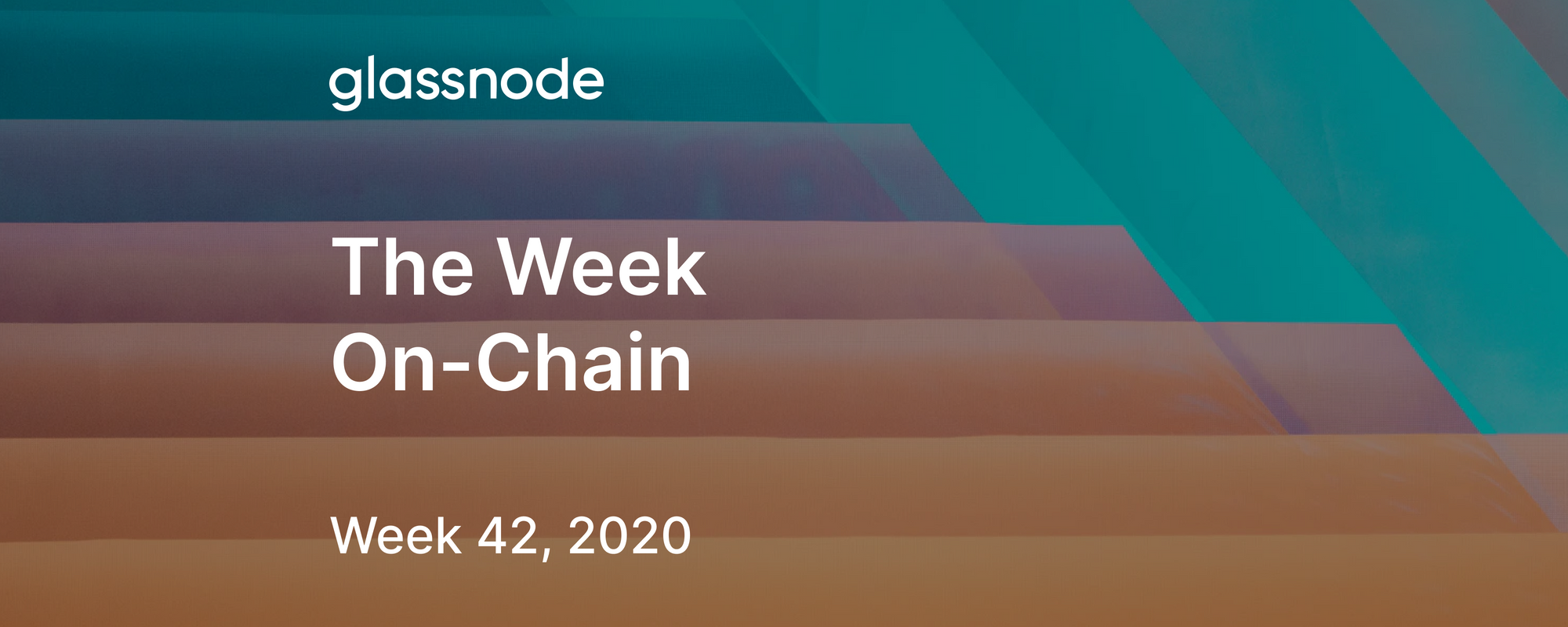 ---
Bitcoin Market Health
Bitcoin saw a small increase during Week 42, ending the week at $11,450, 0.8% up from where it started at around $11,360. BTC reached a high of $11,660 on Monday evening before falling back down, and then slowly inclining toward the end of the week.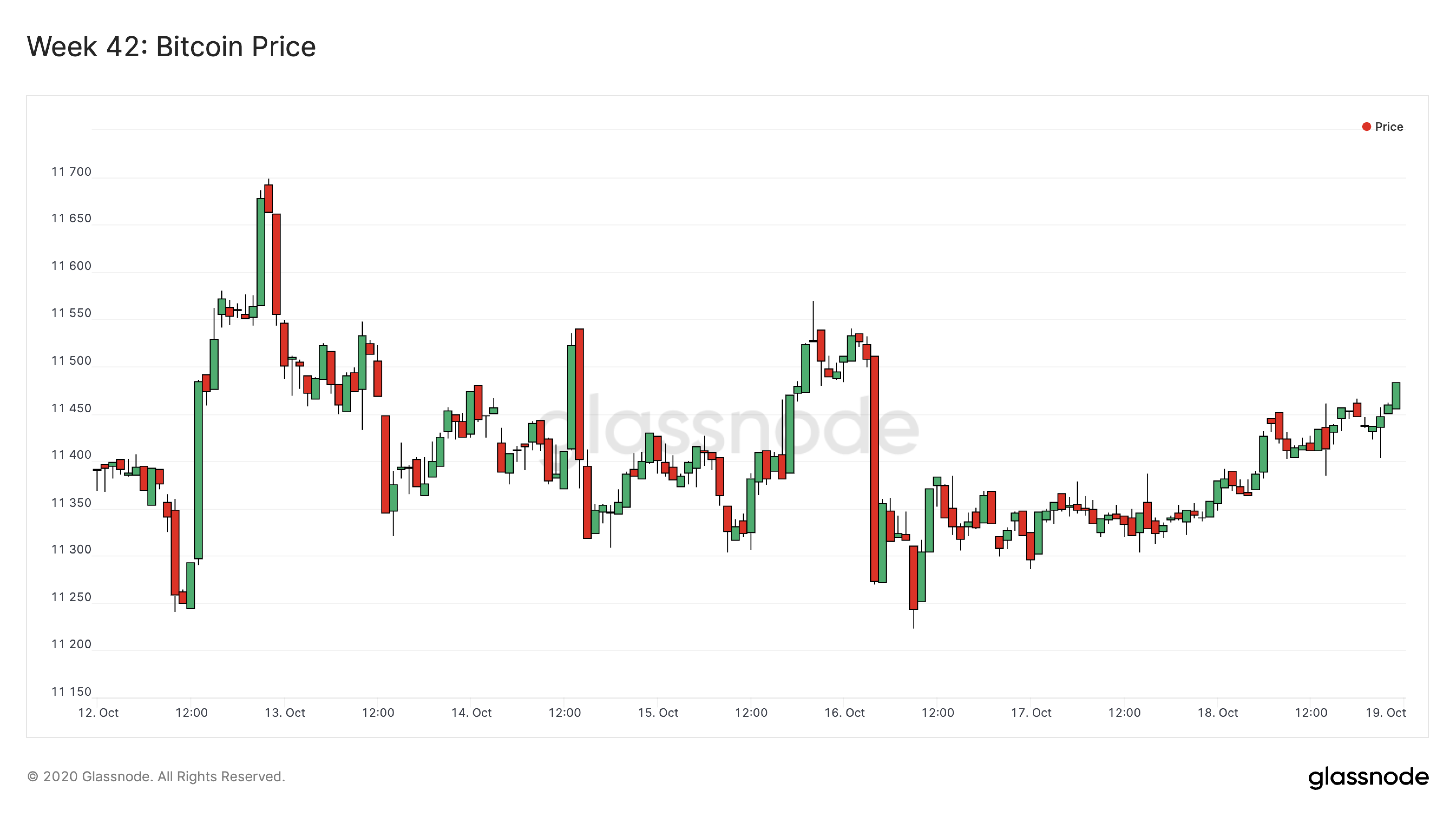 Bitcoin on-chain fundamentals dropped slightly during Week 42. GNI dropped back down to 61 points, a 2 point decrease from the previous week. This decrease was triggered by a decrease in the Liquidity and Network Health subindices, while Sentiment remained strong.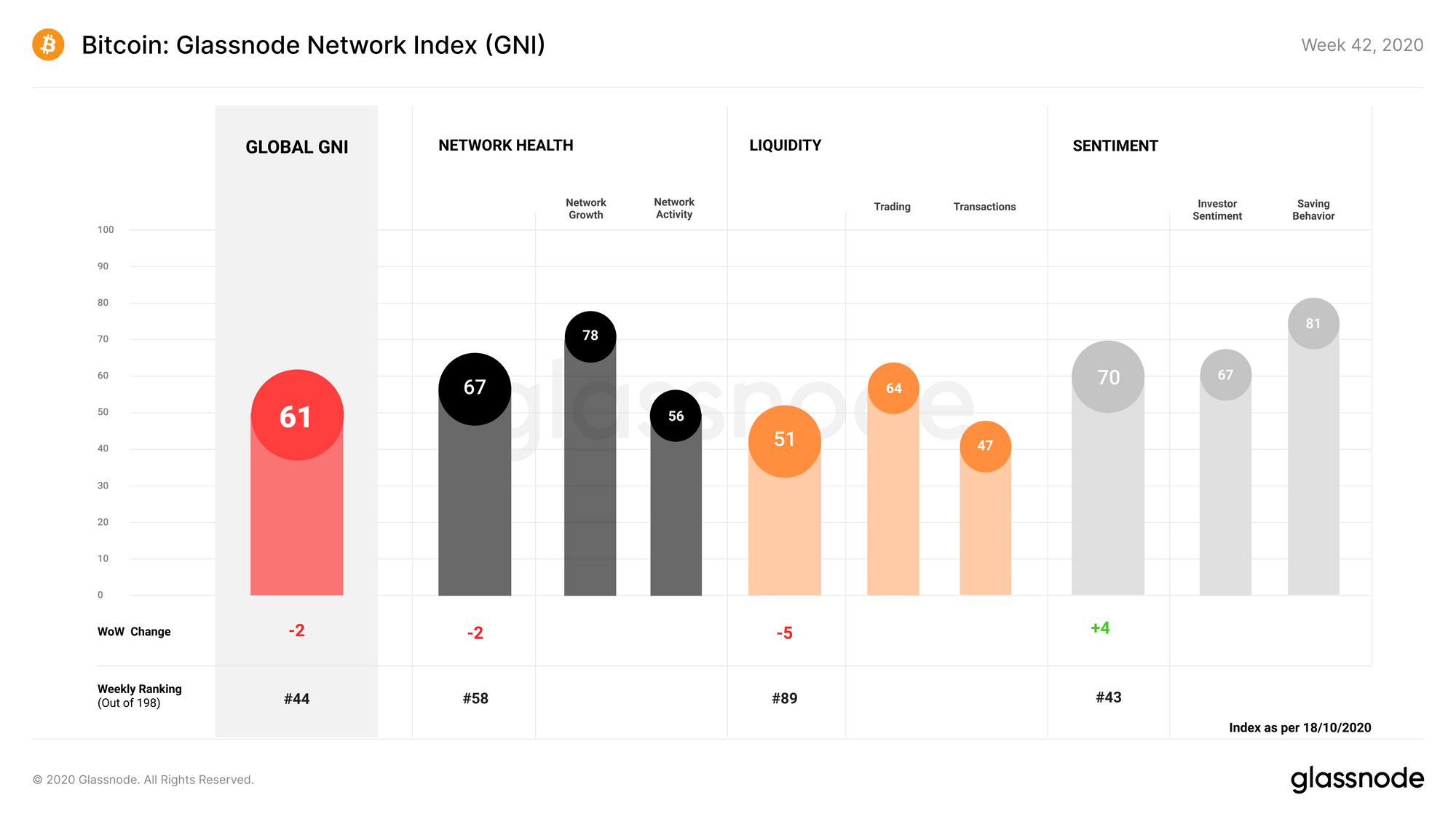 Network Health lost 2 points from the previous week, ending at 67 points for Week 42. While the network growth subcategory increased slightly, network activity experienced a 6 point drop due to a decrease in active entities and the on-chain transaction rate.
Liquidity ended the week at 51 points; a 5 point decrease. This was caused by a moderate drop in the transaction liquidity subcategory, which in turn resulted from a decrease in BTC's on-chain transaction count and transfer volumes.
Sentiment was the only subindex that saw an increase over the week, ending at 70 points. The investor sentiment subcategory rise by 5 points thanks to bitcoin's small price increase, which saw more addresses in profit, and less investors selling at a loss.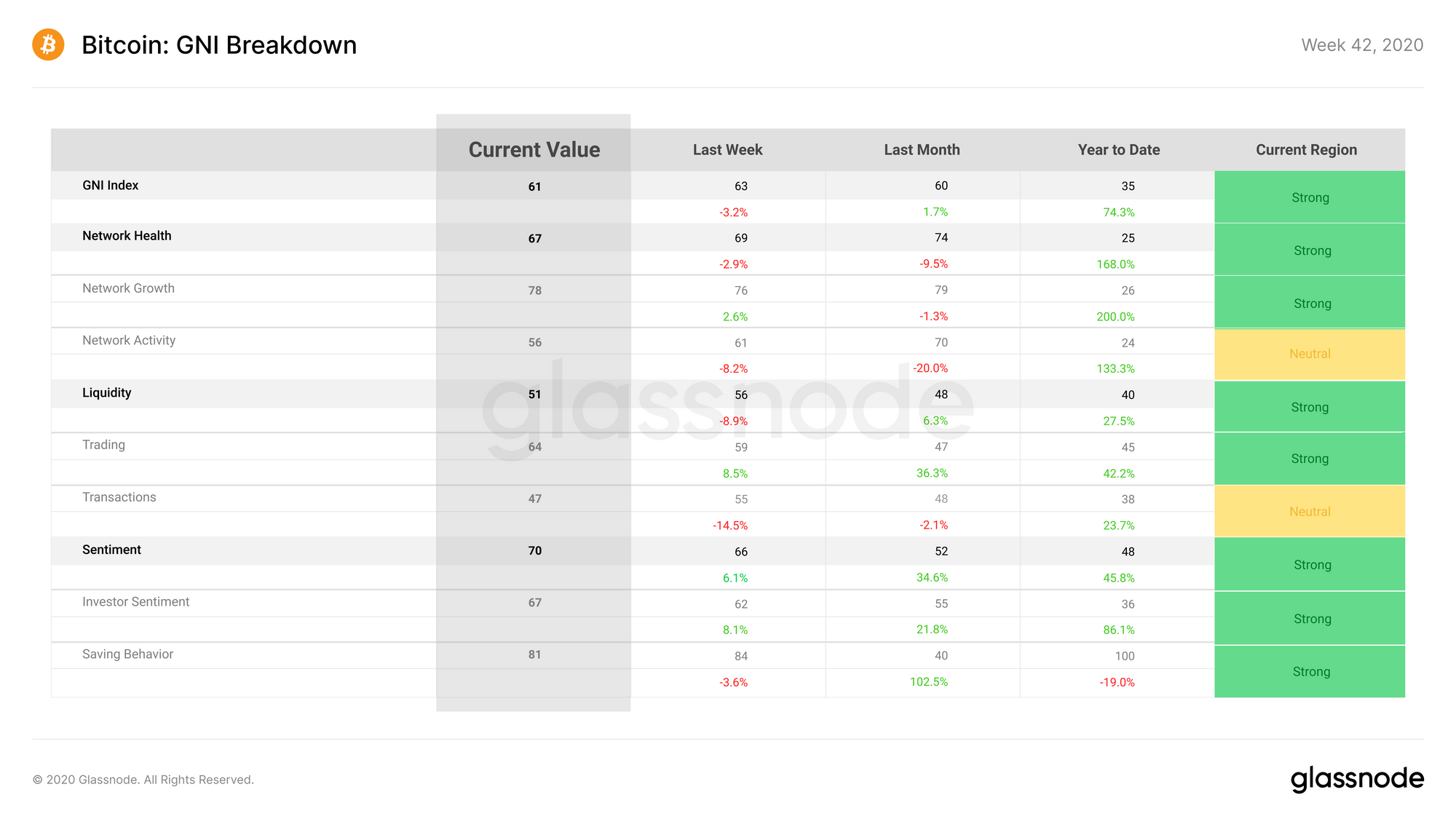 ---
Glassnode Compass
The compass stayed in the bullish Regime 1 for the 21st week in a row - meaning that it has now been in this zone consecutively for half of 2020.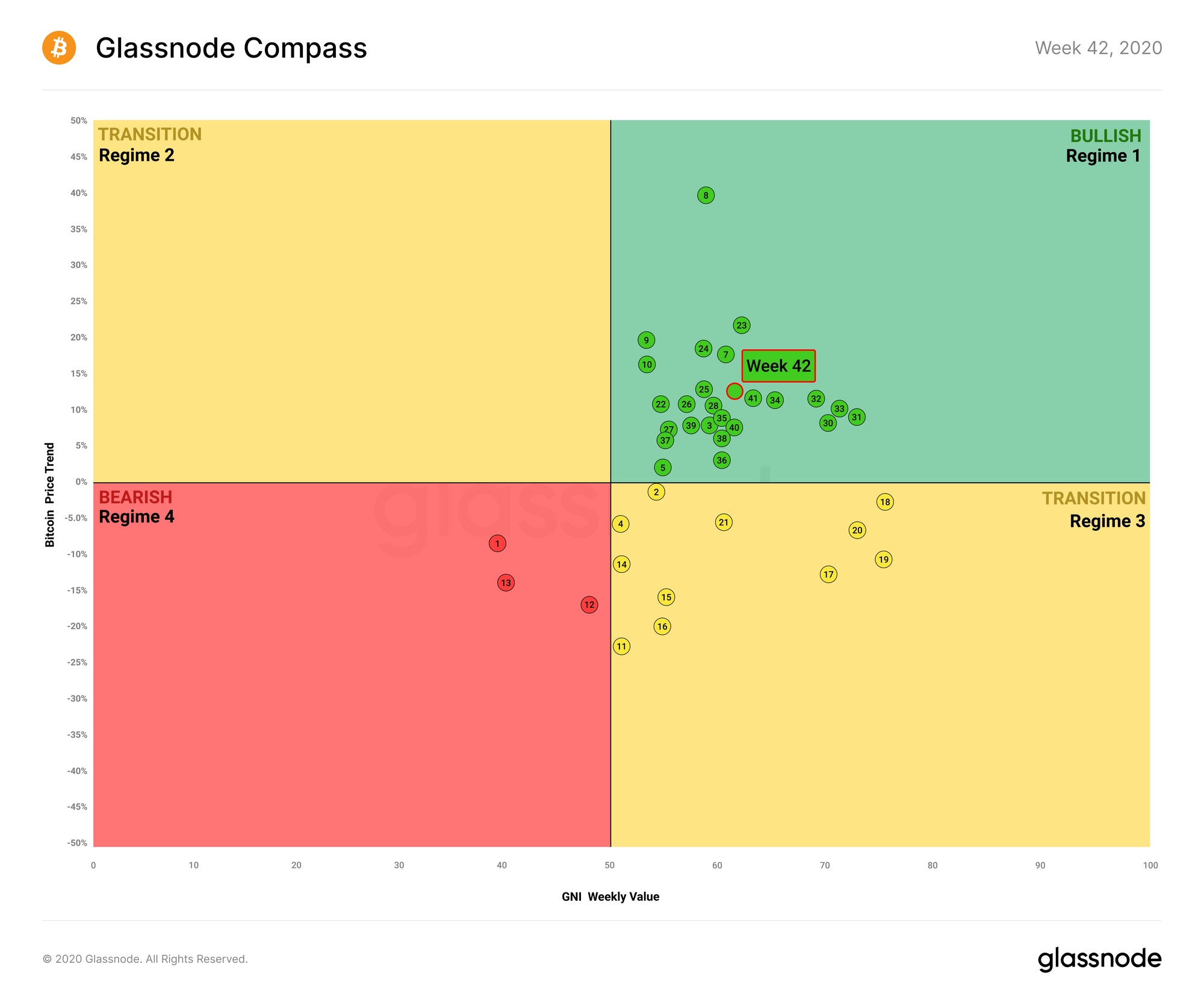 Bitcoin's bullish on-chain fundamentals and price trend suggest that its continued support above $11,000 is stable. However, BTC is still closely tracking movements in the stock market, preventing it from seeing another breakout.
A decoupling from traditional financial markets would still be necessary for BTC to see another period of extreme rapid growth.
---
Altcoin Digest
Performance against BTC
Over Week 42, the top altcoins once again saw mixed performance against bitcoin. ETH stayed on par with BTC, while BCH rose ahead by 3.5% and BNB by 6.3%.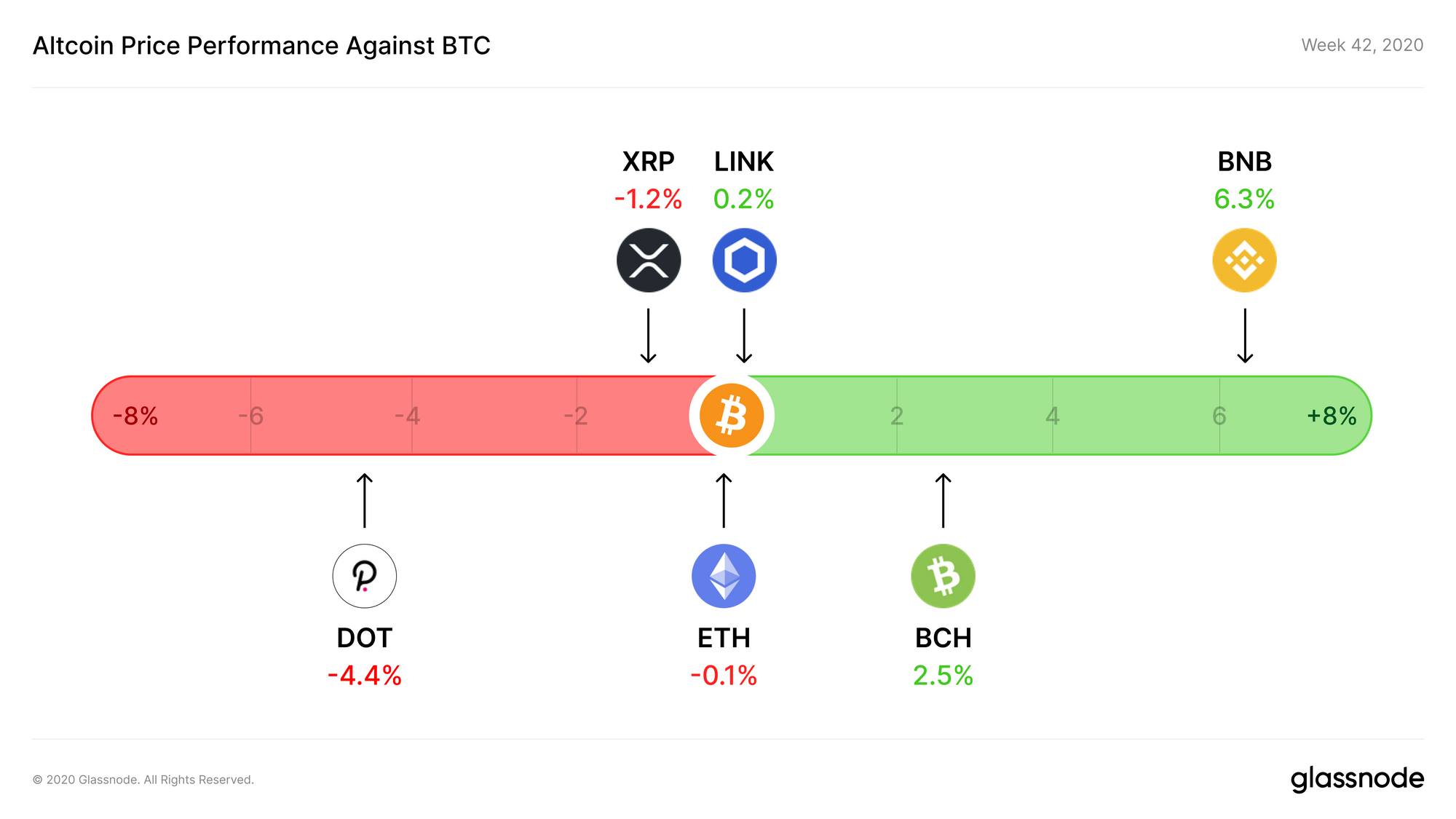 DOT lost value against BTC for the second week in a row, dropping by 4.4% and staying in its position as the 8th highest market cap cryptocurrency.
Performance against USD
Meanwhile, most of the top altcoins saw small gains in their USD value over the week, with BNB rising by 7.1%. BTC also rose in price slightly, by 0.8%.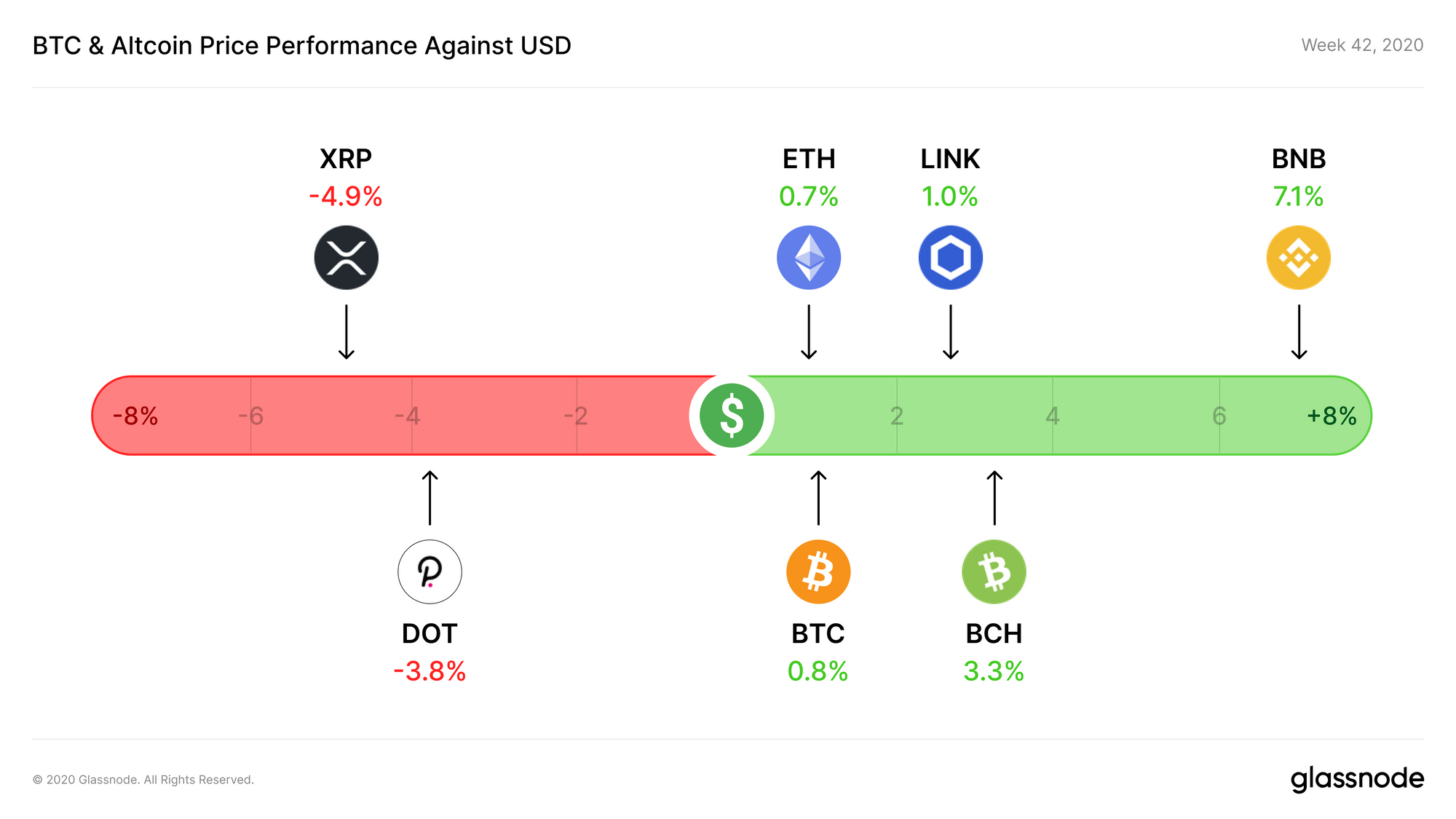 XRP lost 4.9% of its USD value over the week, but started recovering on Monday morning.
Which altcoins would you like to see us cover in future editions of The Week On-Chain? Let us know on Twitter.
---
Filecoin Network Launches - But Mining Incentives May Be Misaligned
On 15 October, Filecoin launched its mainnet after over 3 years of development. FIL tokens from its presale started to vest, and miners started offering their storage services on the network.
Despite the technical success of the launch, however, the network's token economics have proven to get in the way of mining. Filecoin miners have to buy and stake FIL tokens in order to provide storage services; the more storage they wish to provide, the more FIL they need to stake.
But the market price of FIL is prohibitively high in relation to the returns miners get from offering storage services. Not only that, but mining rewards vest over 180 days, meaning that miners have to account for significant overhead over a long period of time before they can expect to offer their services profitably.
In a tweet thread, Nico Deva outlined the issue in more detail:
With these misaligned token economics, will miners be able to maintain their services long enough to become profitable? If not, can the Filecoin network survive? And what does this mean for the token price?
Stay tuned on Glassnode Insights for an in-depth analysis of the FIL token launch and the new network's potential pitfalls.
---