The Week On-Chain (Week 43, 2020)
Bitcoin saw some impressive gains over Week 43, surpassing $13,000 and staying confidently above that price point into this week. Its on-chain fundamentals remain strong, and it appears to be deviating from traditional financial market trends.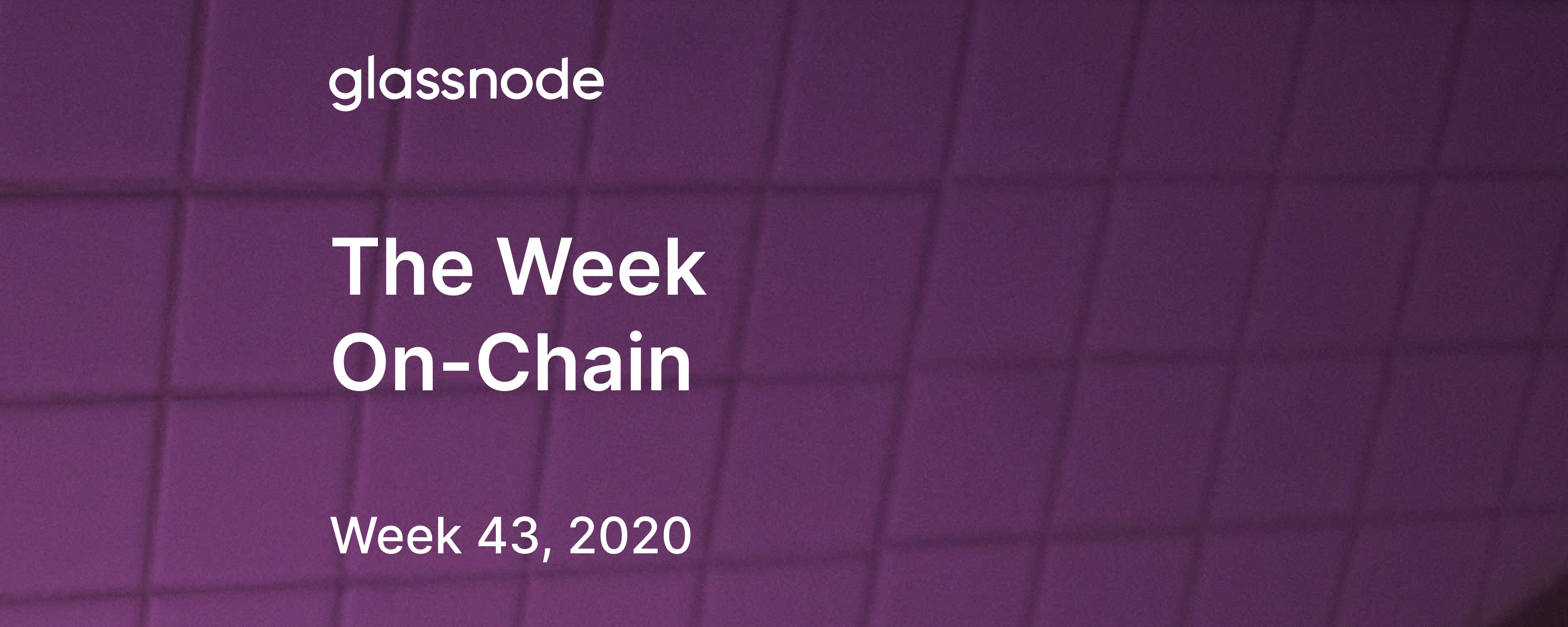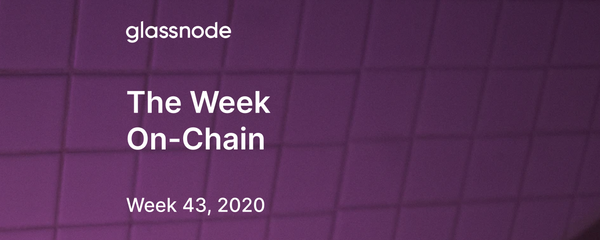 ---
Bitcoin Market Health
Bitcoin gained an impressive 13.7% over Week 43, starting the week at $11,450 and ending it at $13,020. After rising above $13k on Wednesday evening, BTC managed to retain support at this level, occasionally slipping down into the $12,000s but quickly rising back up.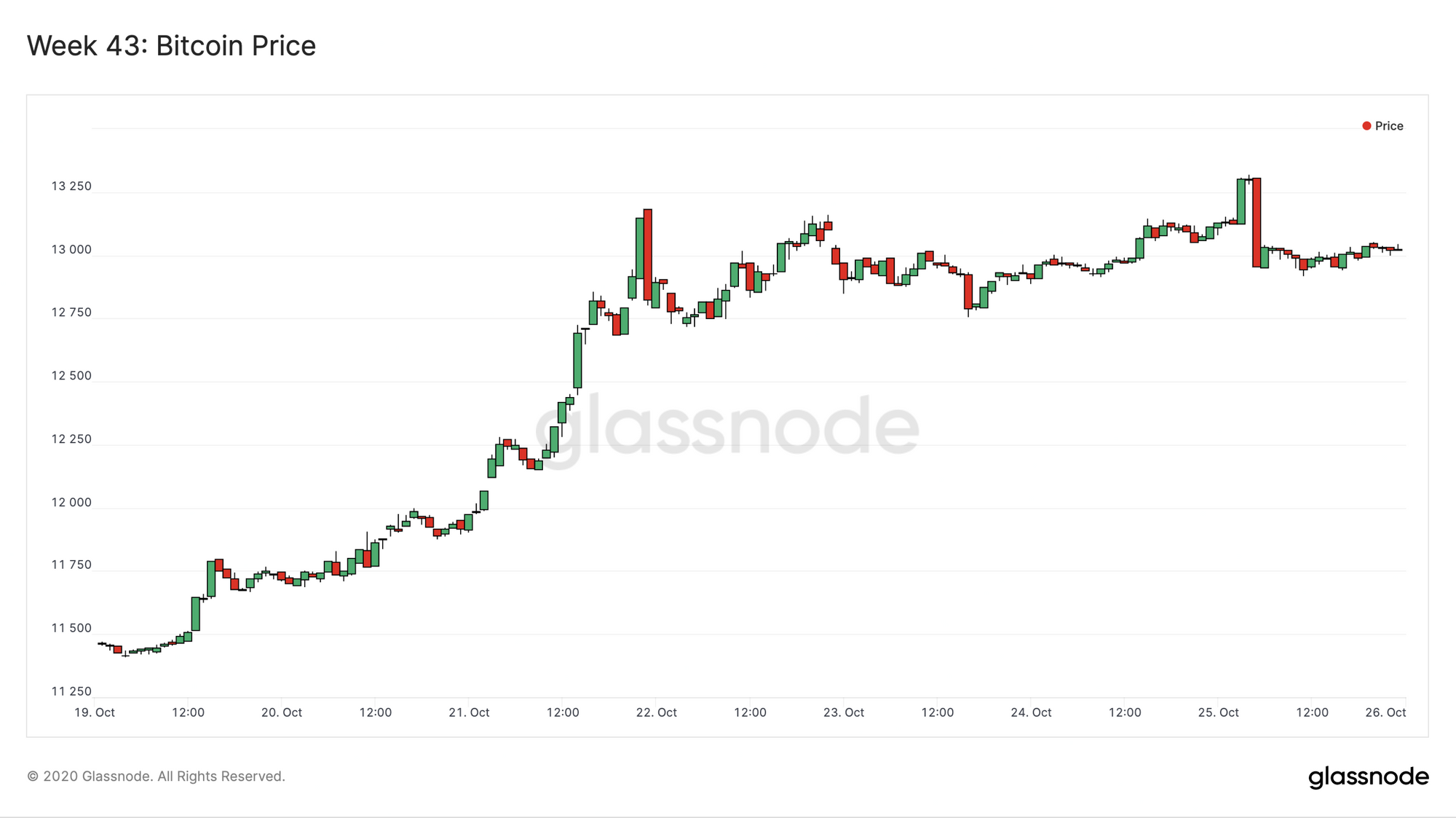 Bitcoin on-chain fundamentals increased alongside the price of BTC throughout Week 43. GNI gained 5 points, rising to a score of 66 points from 61 the previous week. This increase was due to gains in the Network Health and Liquidity subindices, while Sentiment dropped slightly.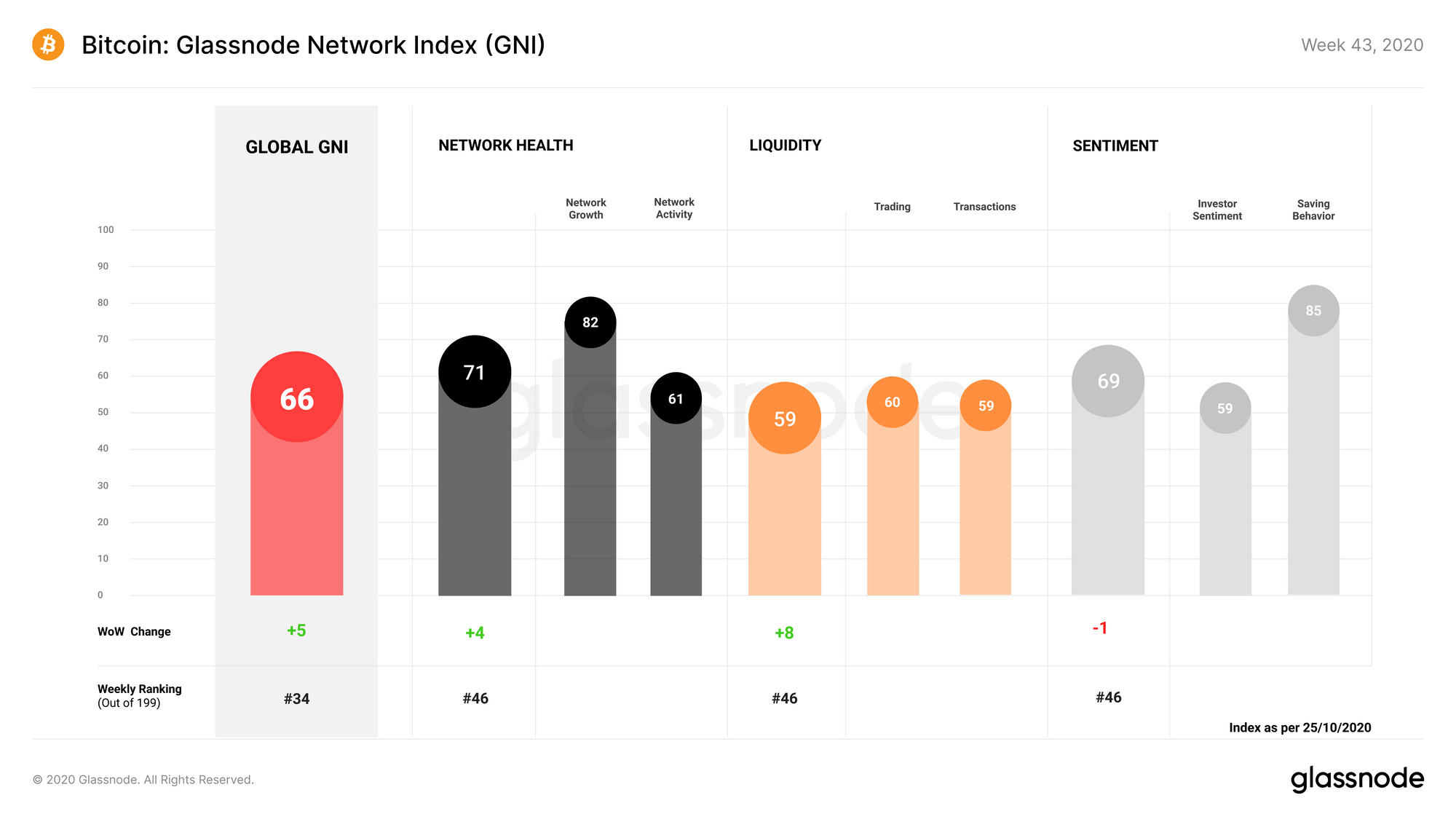 Network Health gained 4 points over the week, ending at a score of 71 points. Both the network growth and network activity subcategories saw gains, thanks to an increase in the number of active entities, new entities, and the transaction rate on the Bitcoin blockchain.
Liquidity saw an 8 point increase, ending the week at 59 points. Trading liquidity decreased by 4 points due to a decrease in exchange inflows, but transaction liquidity increased by an impressive 12 points, benefitting from high on-chain transfer volumes throughout the week.
Sentiment dropped by 1 point, taking it to a score of 69 points for Week 43. While saving behavior saw an increase, the investor sentiment subcategory decreased slightly, negating these gains.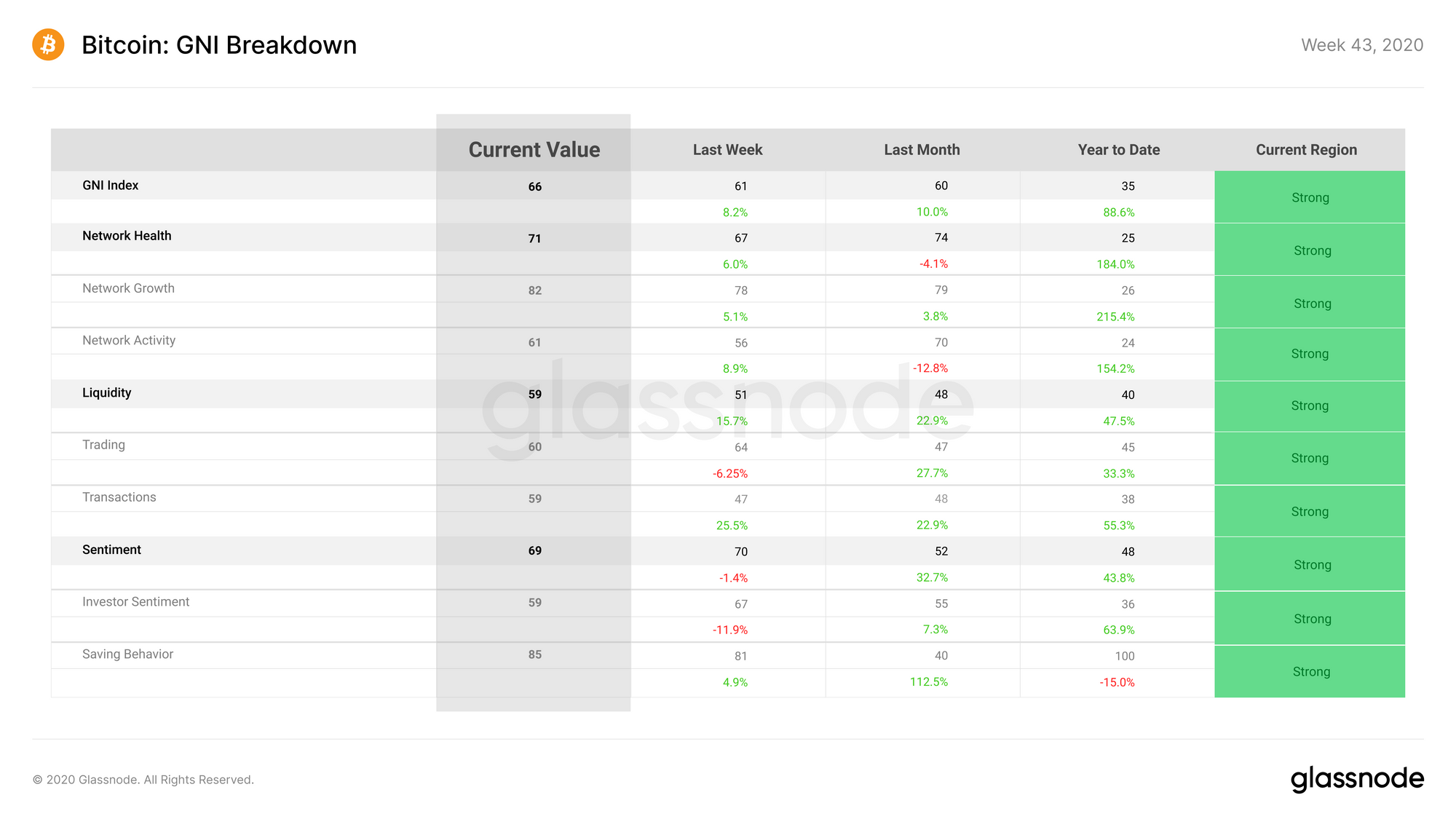 ---
Glassnode Compass
Once again, the compass remains in the bullish Regime 1 for Week 43 of this year. Now its 22nd consecutive week in the green zone, this indicates strong on-chain fundamentals and a positive price trend for BTC.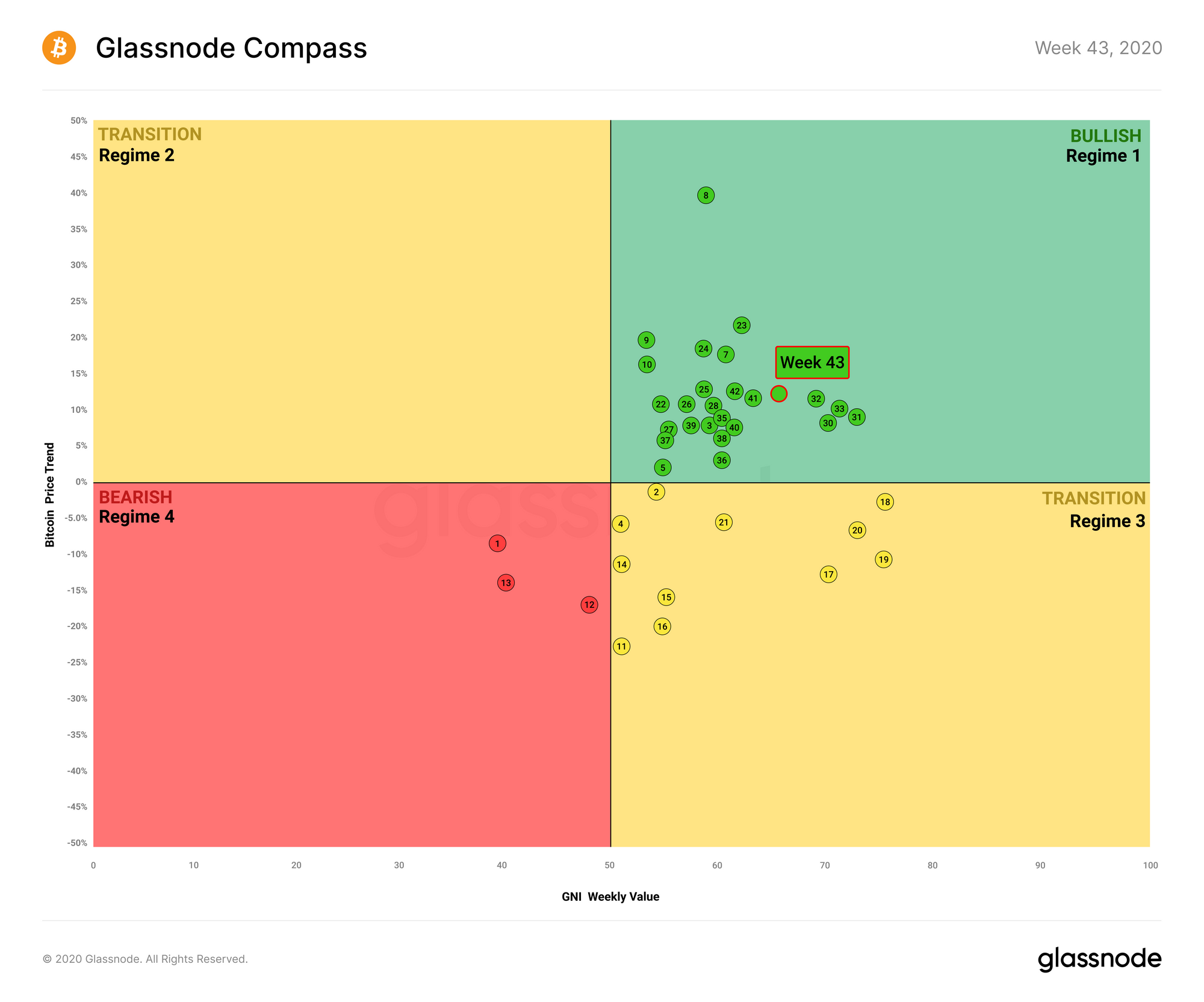 The past week's price increase coincided with an increase in stock prices, but whereas stocks have increased by only a small amount, the price of BTC spiked significantly. This represents bitcoin's largest deviation from the stock market since July this year.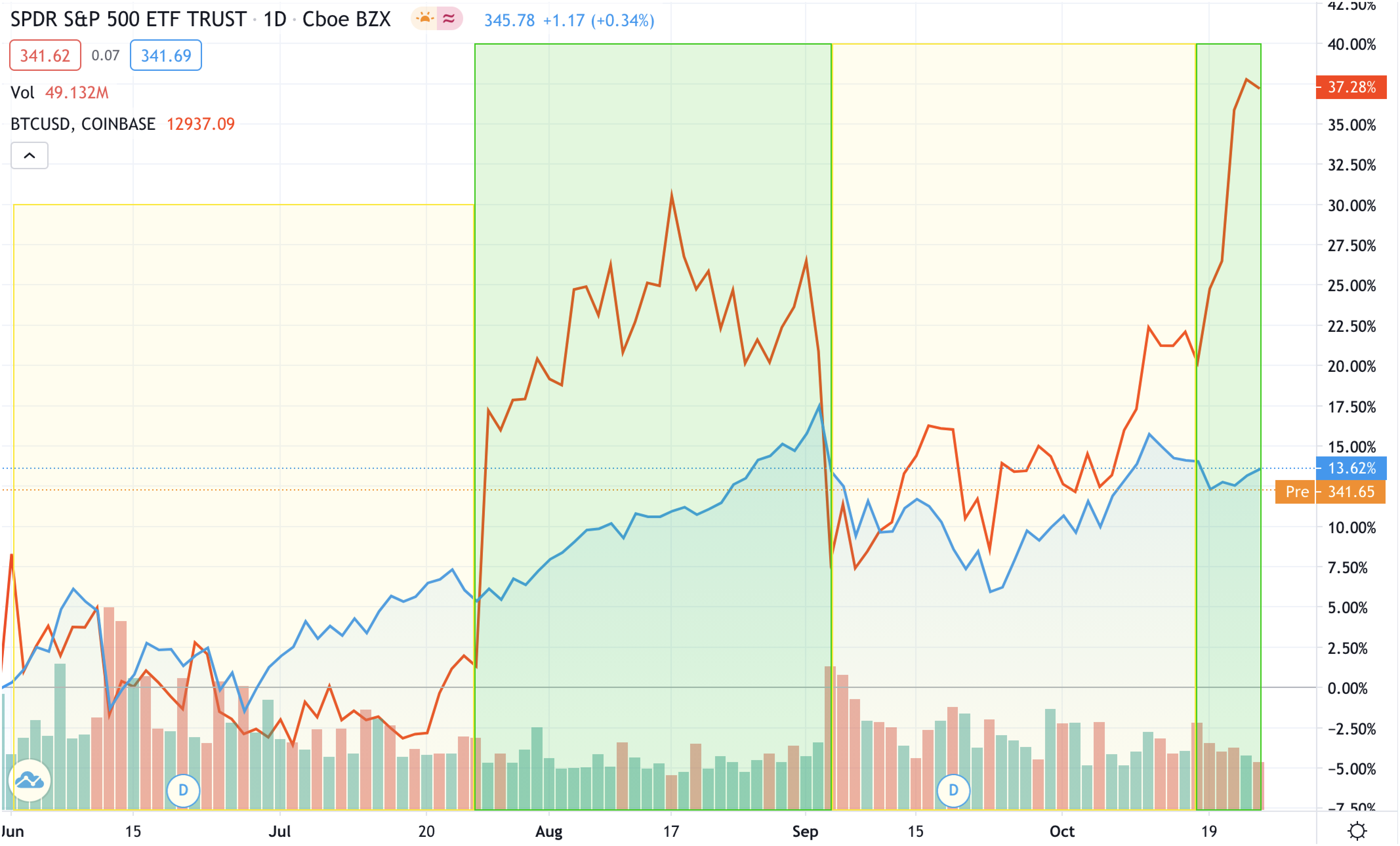 In previous issues of this newsletter, we have discussed the potential for a decoupling from traditional financial markets - and while it is too early to tell whether the past week's deviation is indicative of a longer-term trend toward decoupling, it is a promising sign for BTC.
---
Altcoin Digest
Performance against BTC
With BTC's impressive performance over Week 43, the top altcoins performed comparatively badly, with none of them beating bitcoin's gains.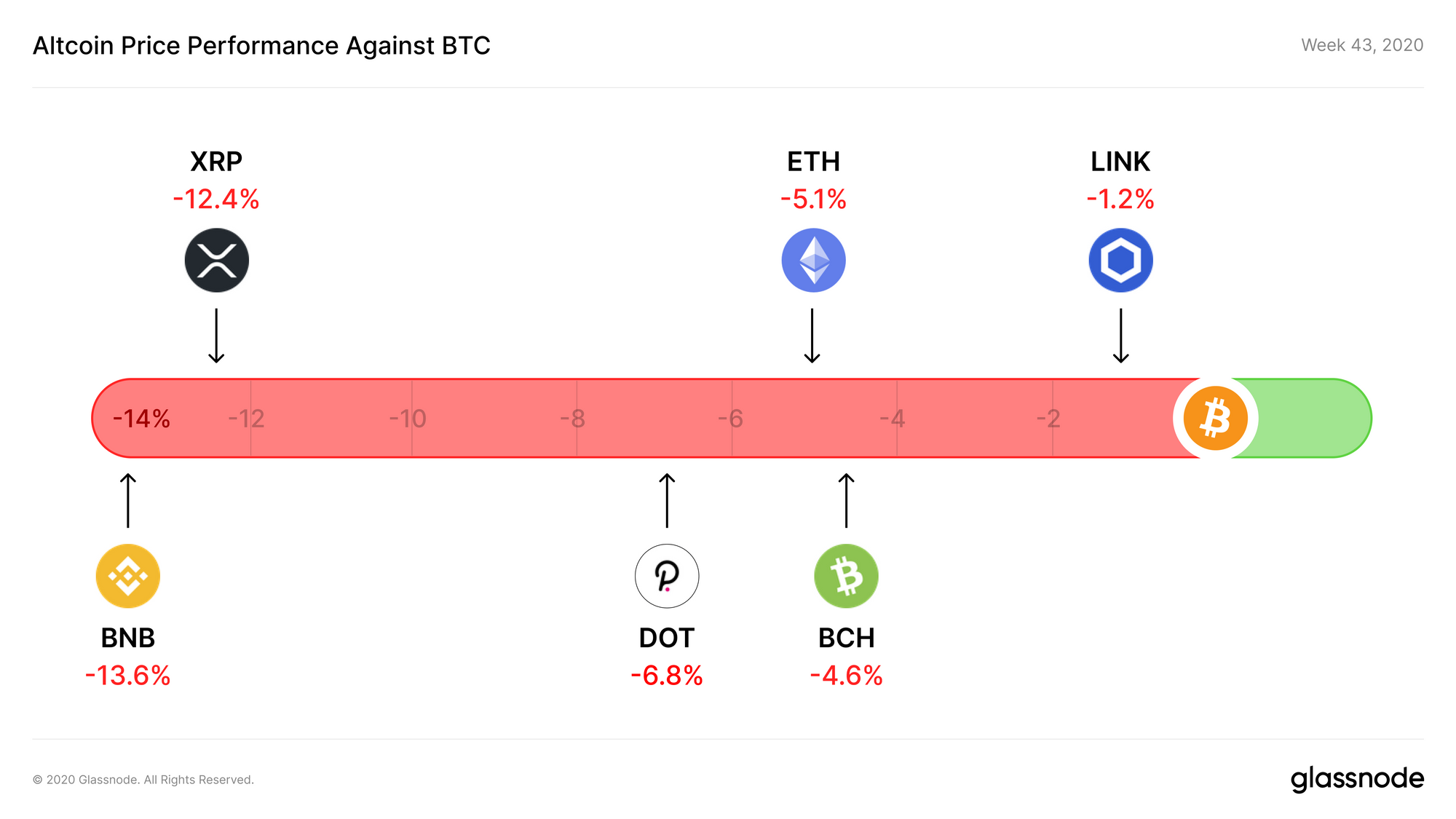 The best performing top 10 altcoin was LINK, losing only 1.2% against BTC. Meanwhile, BNB lost 13.6% next to bitcoin, being the only top altcoin to also drop in USD value over the past week.
Performance against USD
BNB lost 1.7% of its USD value over Week 43. Meanwhile, all other top 10 altcoins saw price gains, despite underperforming against BTC.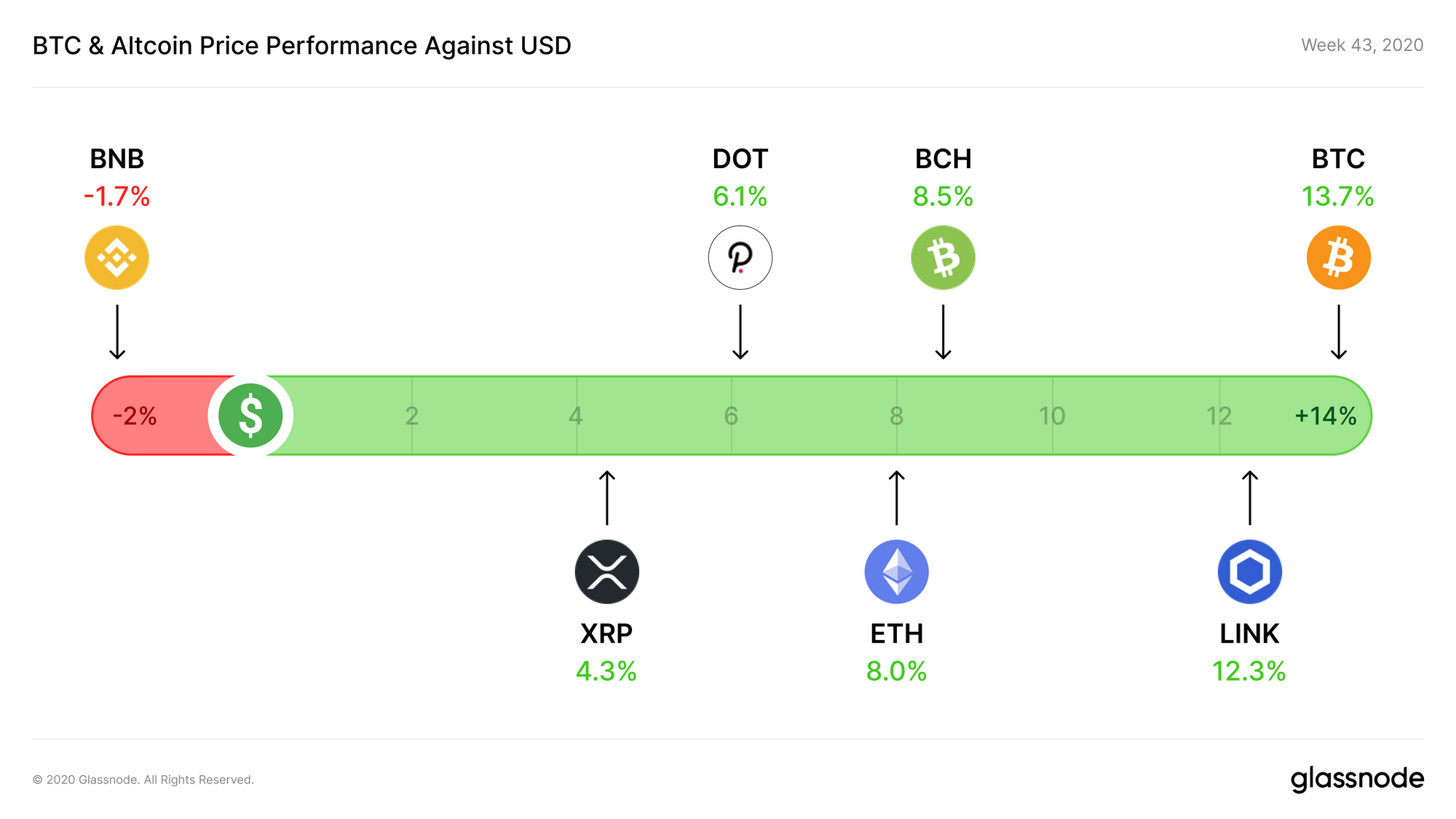 LINK gained 12.3% in USD value, while ETH increased by 8%. The rise of BTC seems to have lifted the rest of the market, which increased in value by 7.9%, with BTC rising back up to claim over 60% of the total crypto market cap.
Which altcoins would you like to see us cover in future editions of The Week On-Chain? Let us know on Twitter.
---
98% of Bitcoin UTXOs are in Profit
With bitcoin's latest run up to over $13,000, the portion of UTXOs in profit now stands at 98% - a value not seen since December 2017. This high value, typically seen during BTC bull runs, means that almost all UTXOs were created when the price was lower than it is currently.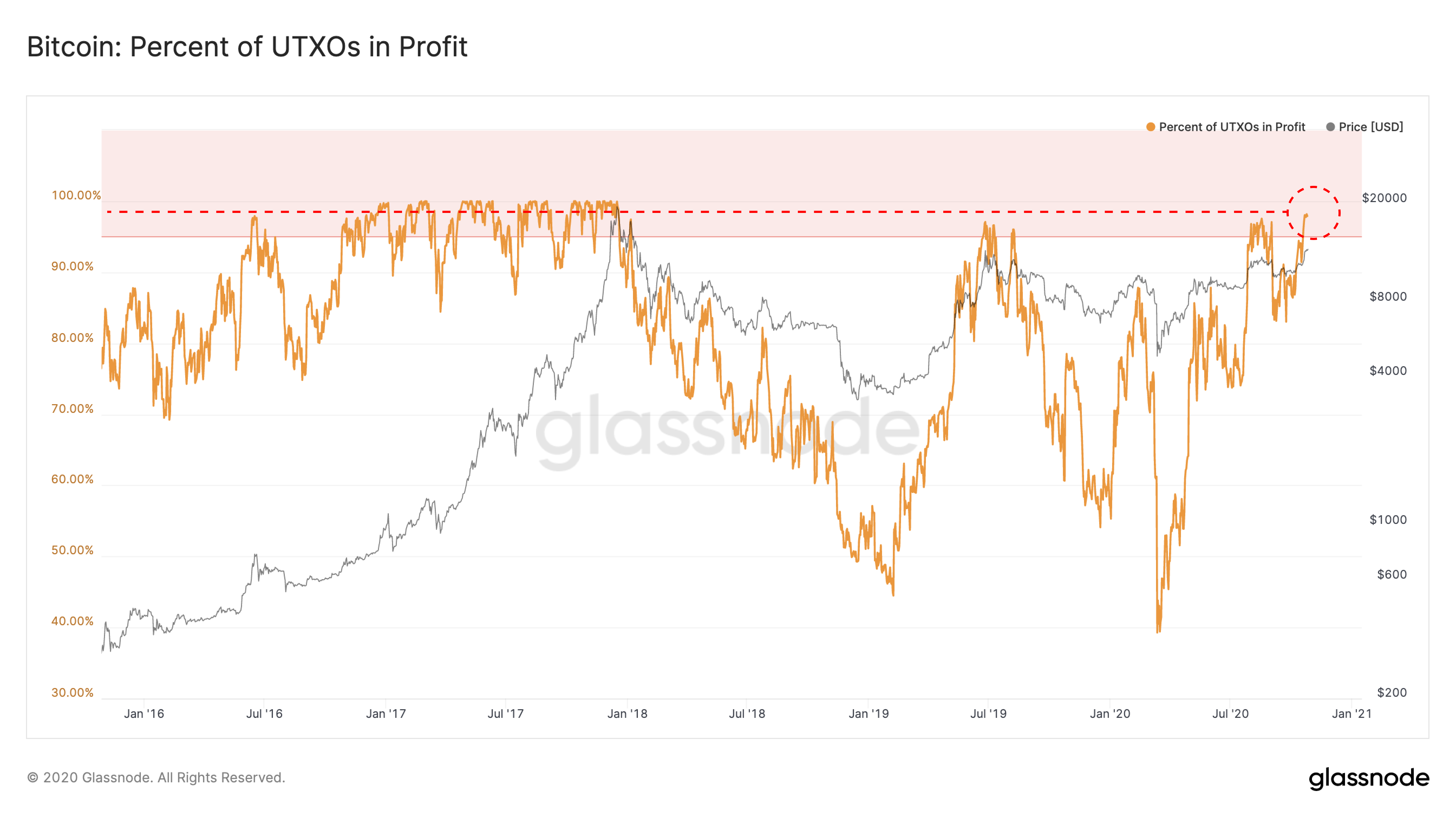 If we generalize to assume that a UTXO represents a sale/purchase of BTC, this means that 98% of all BTC trades so far have been profitable.
The fact that BTC has stayed above $13k throughout the week implies that extreme sell pressure is not present at this price; most holders are not selling their BTC yet, despite being in profit, meaning that they likely anticipate further price gains.
---
Product Updates
Metrics and Assets
Features
Coming Soon: Custom Dashboards - Keep an eye out for a new and improved dashboard experience on Glassnode Studio, coming soon! Build custom dashboards, save your favorites, and follow top on-chain analysts.
---