The Week On-Chain (Week 45, 2020)
BTC has continued its impressive streak, hitting $15k over the past week and showing few signs of slowing down. On-chain metrics suggest that it has more room to grow before reaching the next top.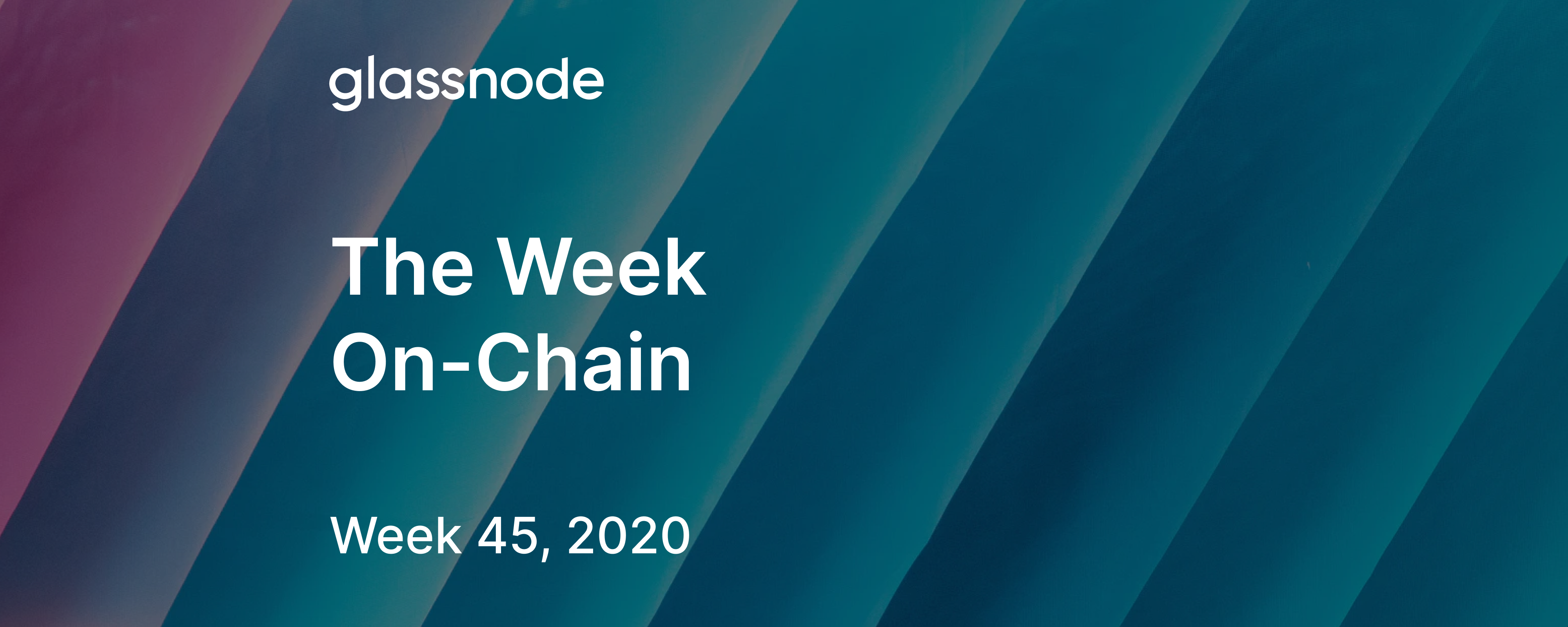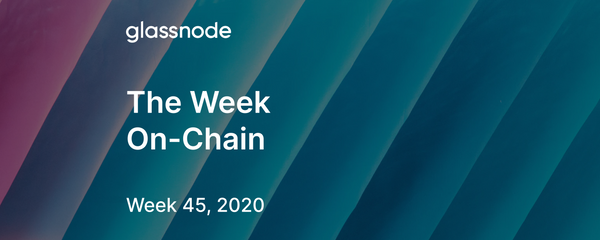 ---
Bitcoin Market Health
Bitcoin had yet another impressive week, starting Week 45 at $13,690 and ending it at $15,500. This represents a 13.2% increase, and marks BTC's first time venturing over $15k since January 2018, almost 3 years ago.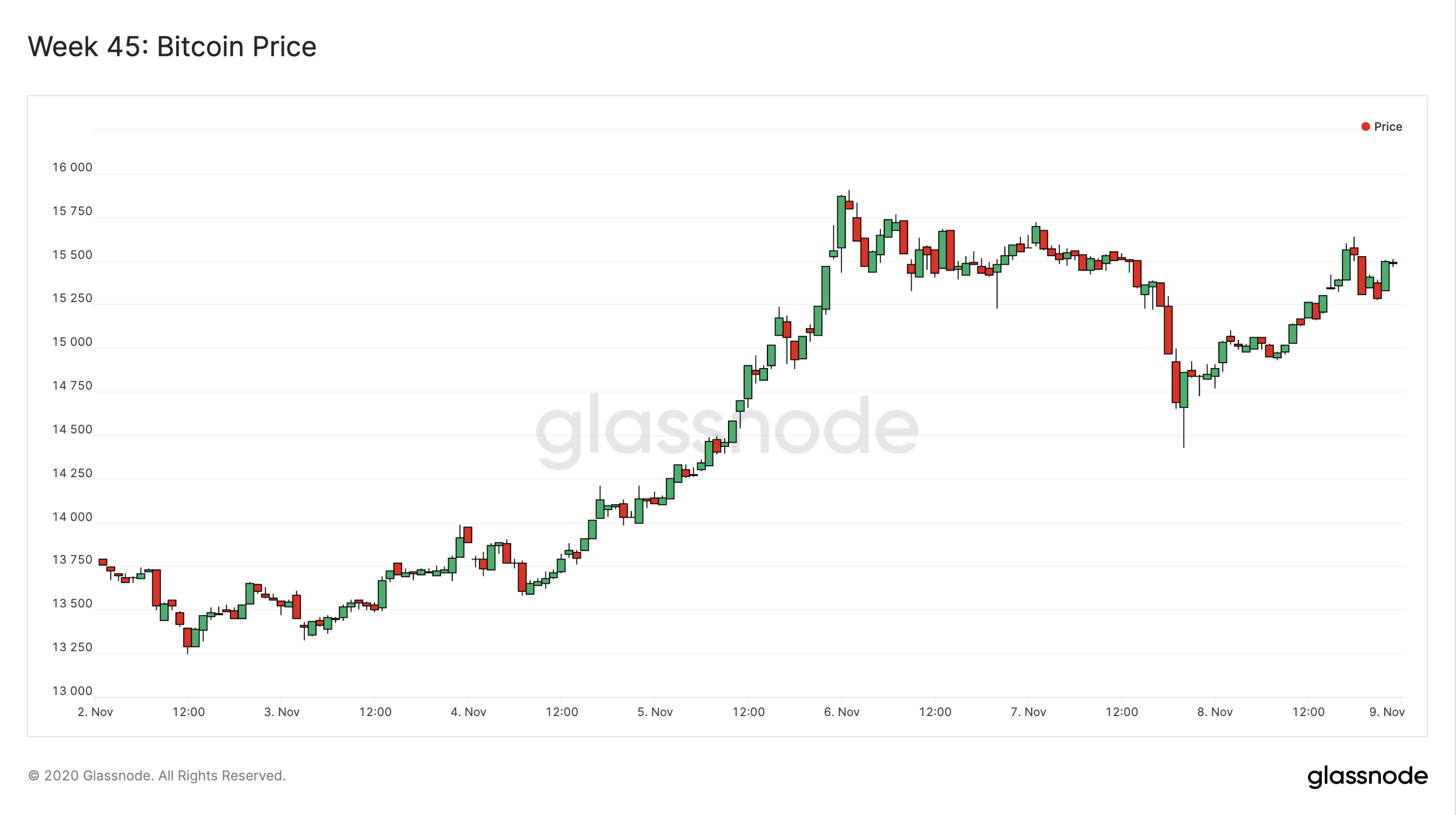 Bitcoin on-chain fundamentals rose slightly during Week 45, starting to make up for the previous week's losses. GNI gained 5 points to reach a score of 62 points. This increase was caused mostly by a rise in the Liquidity subindex, with Network Health also gaining some strength.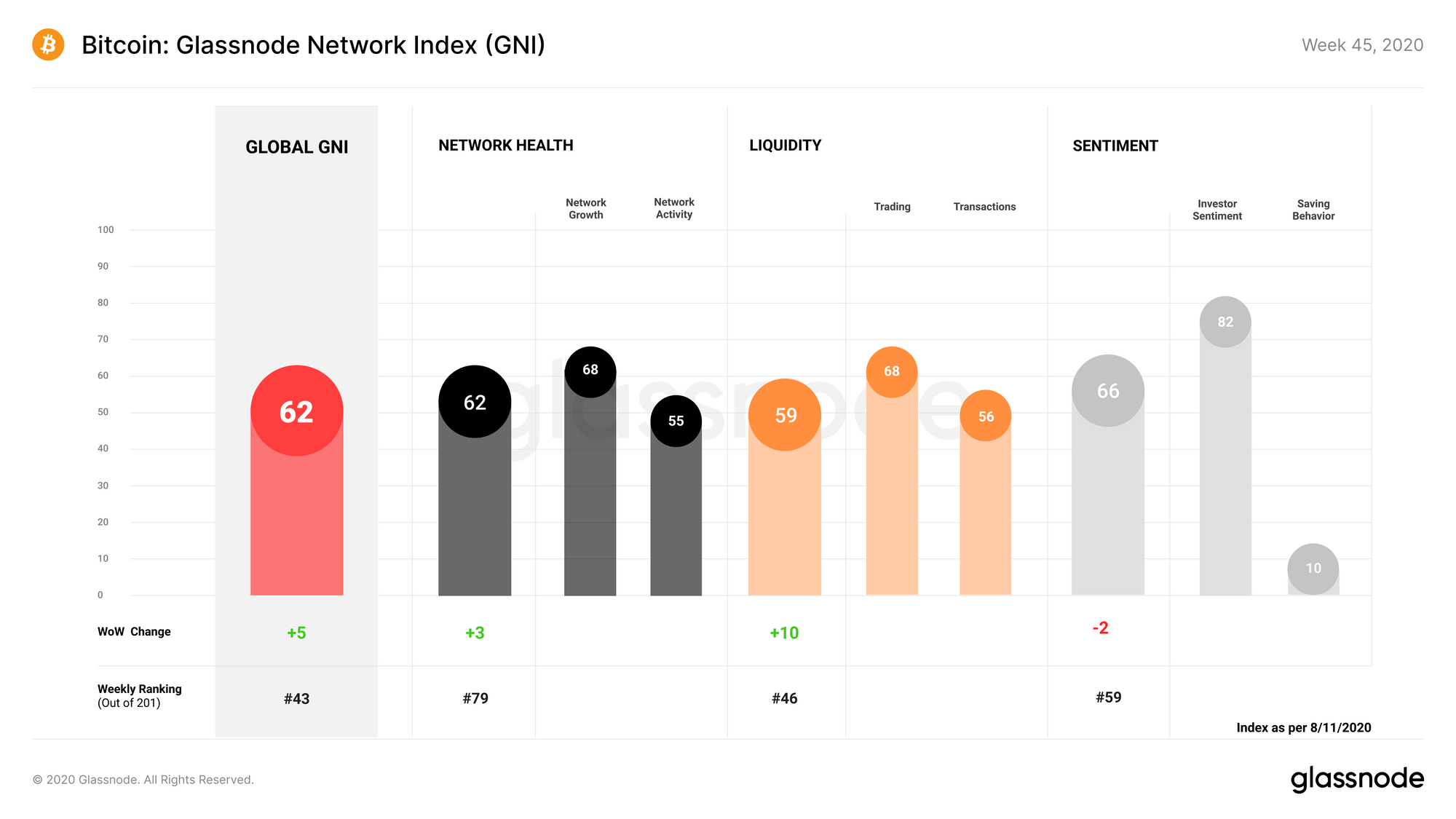 Network Health rose by 3 points over the past week, reaching a score of 62 points. This was driven by an increase in the network growth subcategory as BTC saw more new addresses and entities.
Liquidity gained 10 points, ending the week at a score of 59 points. Transaction liquidity performed particularly well, increasing by 11 points as the number of on-chain transactions and the total transfer volume of BTC on-chain increased.
Sentiment lost 2 points for Week 45, ending the week at a score of 66 points. The saving behavior subcategory was the main driver behind this decline, as hodlers continued to sell more than they were buying on average.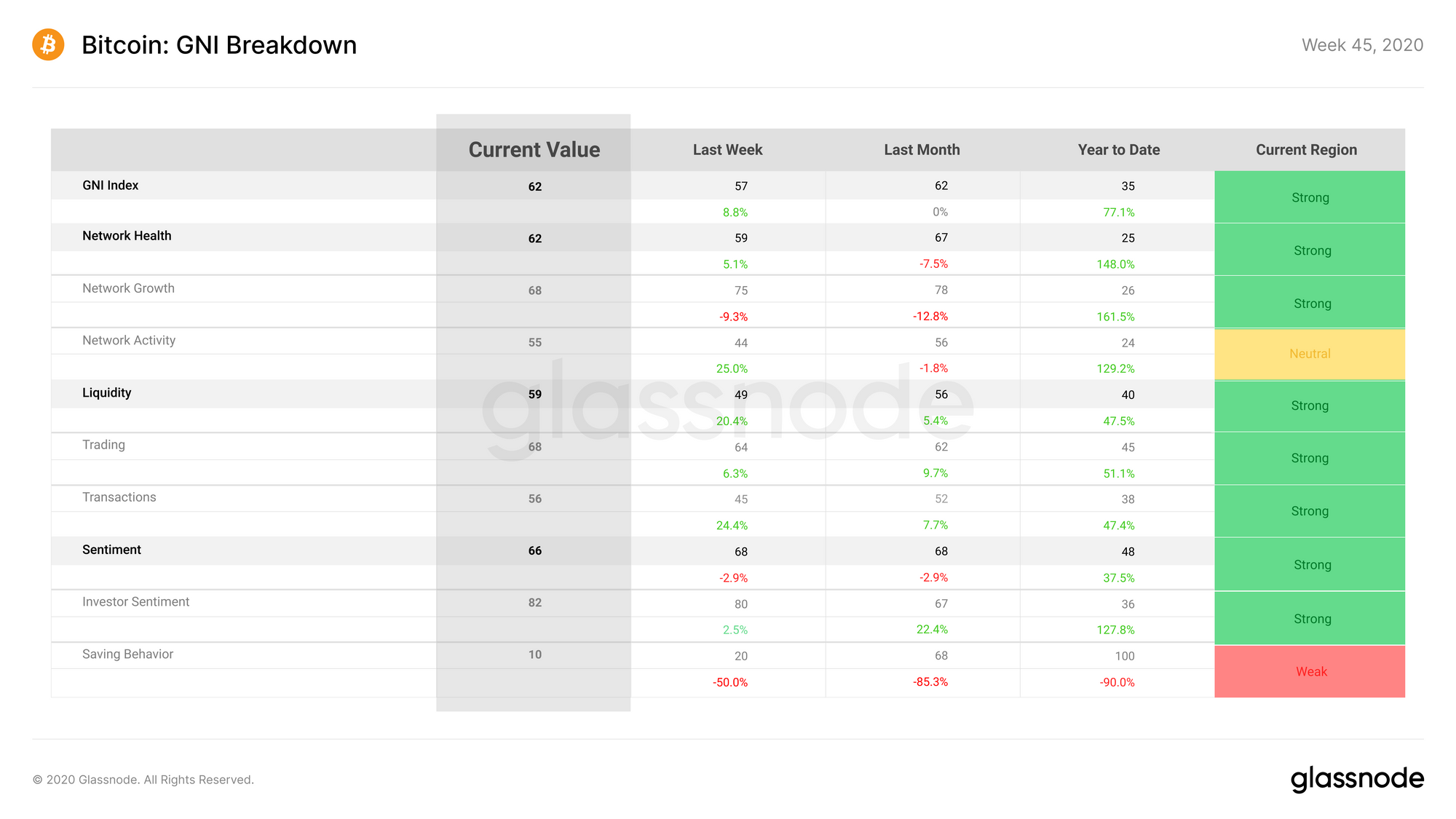 ---
Glassnode Compass
The compass once again sits firmly in the bullish Regime 1 for Week 45, marking an extremely strong week for BTC.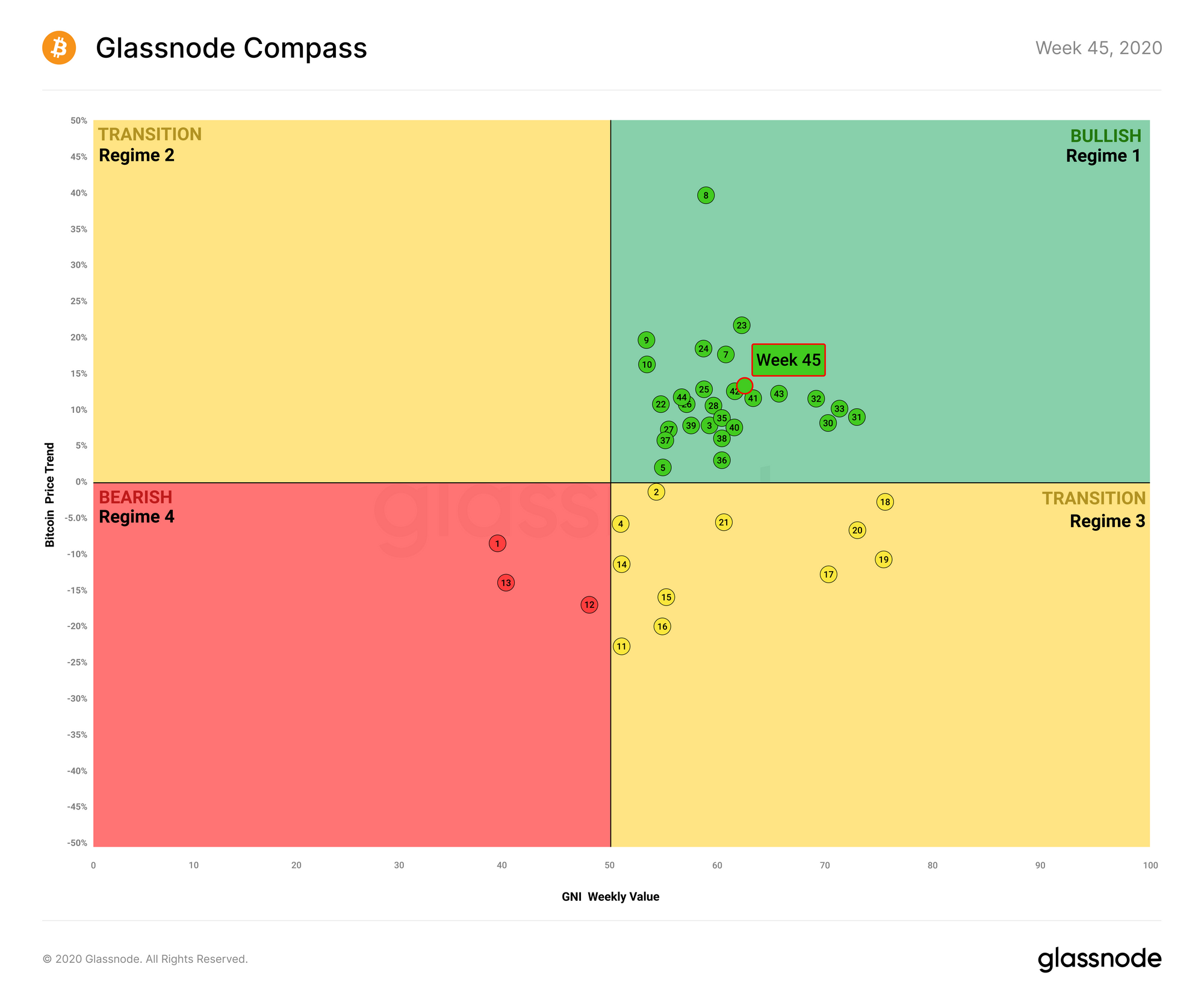 The continued price increases over the past week saw BTC exceed $15k for the first time since the early 2018 bull run, and this growth appears to be continuing, with strongly positive sentiment echoing throughout the community.
In the wake of the US election, the stock market has begun to rally - but BTC's growth has significantly outpaced this, putting more weight behind the possibility of a decoupling that we have been seeing over the past few weeks. If bitcoin's growth trajectory continues, it may be able to firmly decouple from traditional financial markets, opening it up for even further growth.
---
Altcoin Digest
Performance against BTC
Most of the top altcoins performed worse than BTC over Week 45, losing between 2.7% and 11.7% against the top cryptocurrency. One notable exception is ETH, which gained 1.2% against BTC for the week.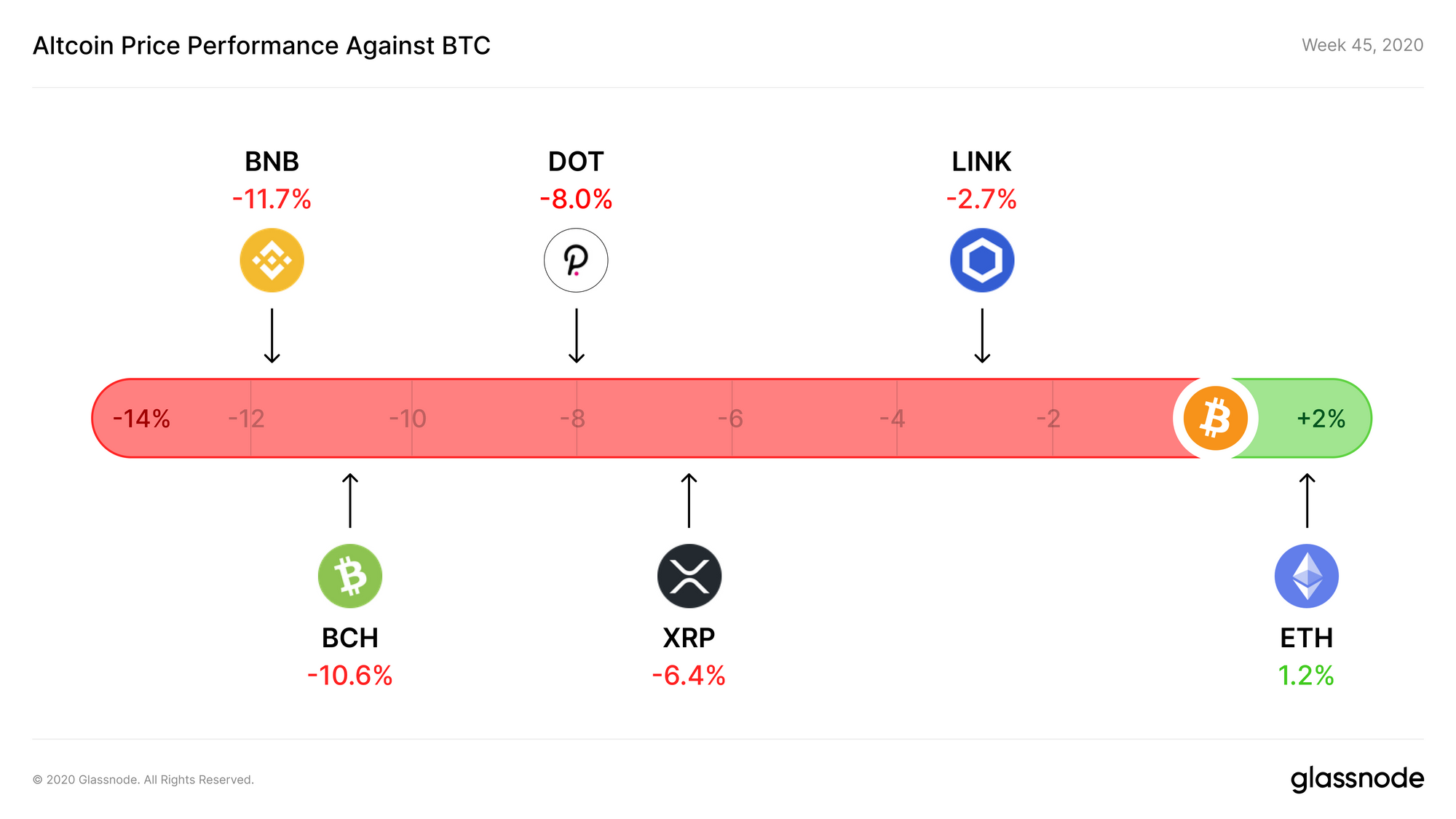 The worst performing top 10 altcoin was BNB, which lost 11.7% against bitcoin. In spite of this loss, however, it maintained its position at number 7 in terms of total market cap.
Performance against USD
Despite mostly losing value against BTC, the top altcoins all increased in USD value over the past week. The most impressive performer was ETH, gaining 14.6% and exceeding $450 for the first time since July 2018.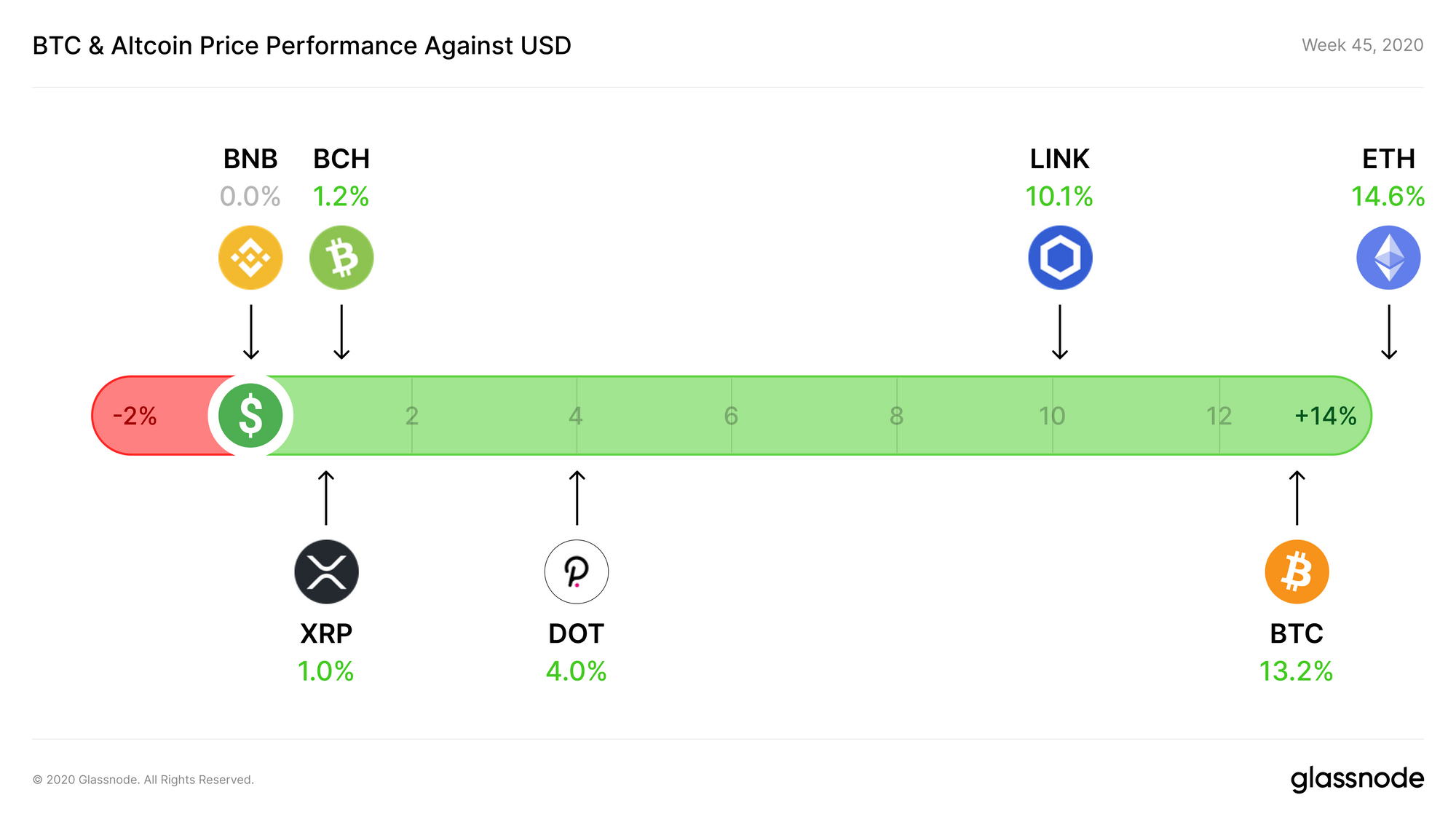 LINK also saw a comeback over the past week, gaining 10.1% and making its way above $12 once again. Meanwhile, BNB languished, gaining only a fraction of a percent in value.
Which altcoins would you like to see us cover in future editions of The Week On-Chain? Let us know on Twitter.
---
Bitcoin's Unrealized Profit Indicates Room for Growth
Bitcoin's Relative Unrealized Profit shows the total profit of all coins in existence whose price at realization time (i.e. when they were last moved) was lower than the current price, normalized by market cap.
This metric's current value is still low relative to previous tops, indicating more room for growth in bitcoin's price.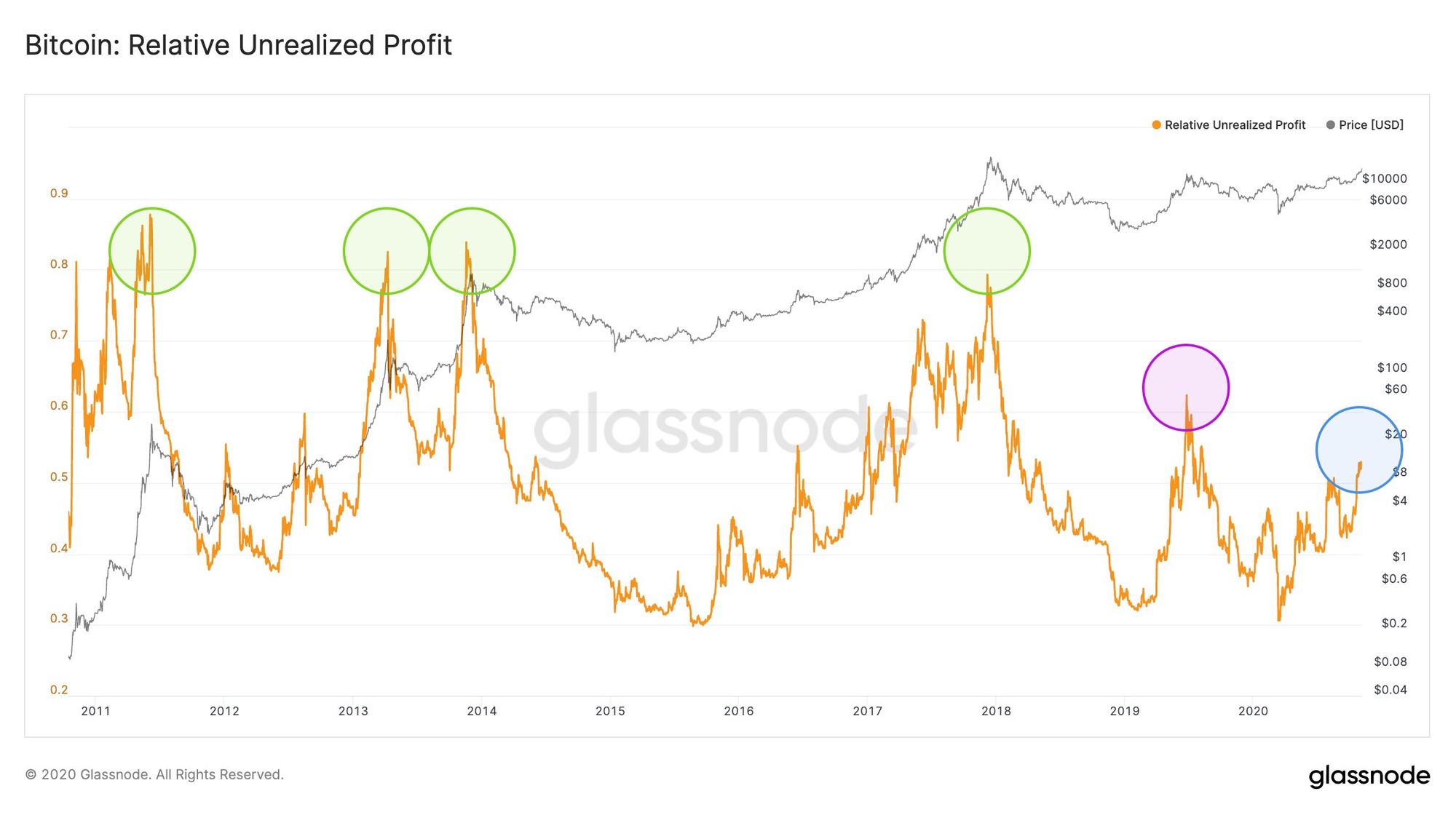 Previous global tops for this metric were hit at around 0.8, and last year's local top of $13k was hit at a value of 0.64. At the current price of over $15k, the level of relative unrealized profit is only 0.56.
These values suggest that BTC holders will wait to sell until we see significant further price increases, thus implying more room for BTC to grow before we see the next top.
---