The Week On-Chain (Week 47, 2020)
With prices exceeding $18,000 for the first time since 2017, BTC looks poised to break its previous all-time high. Meanwhile, plummeting exchange balances support the narrative that investors intend to hodl.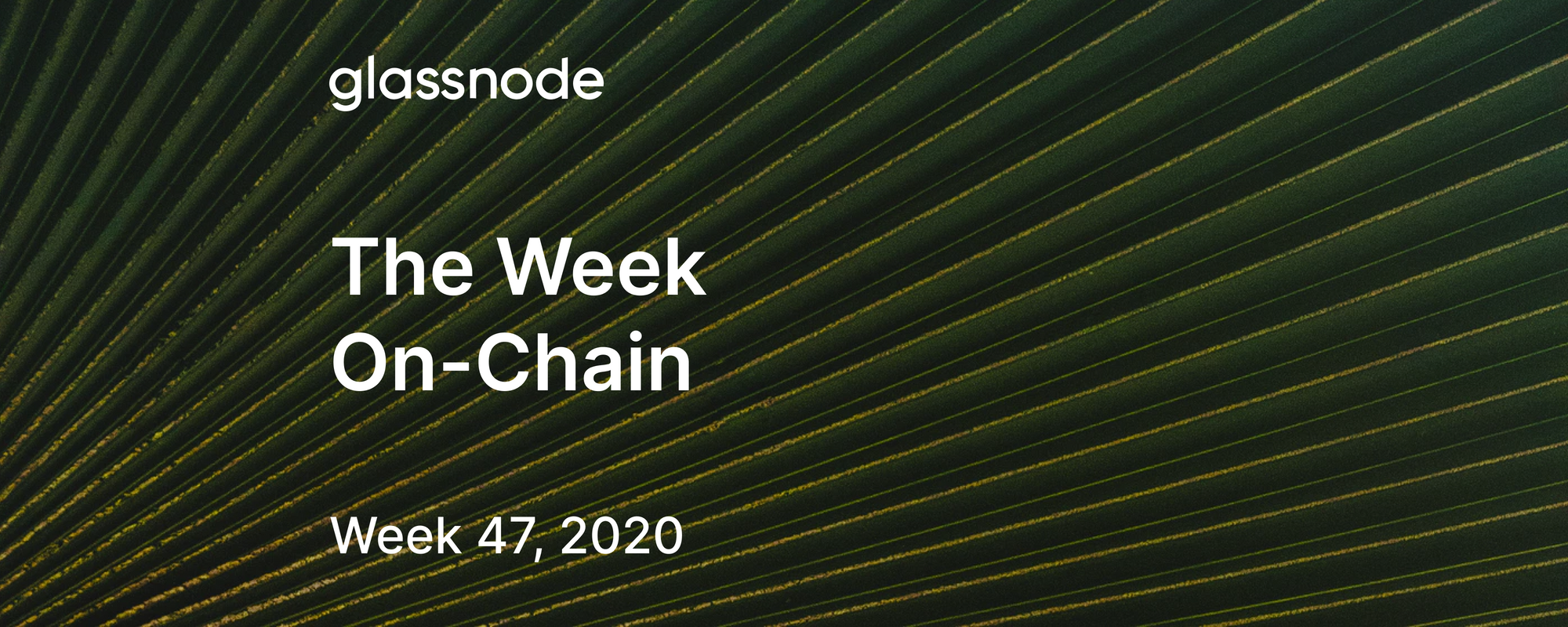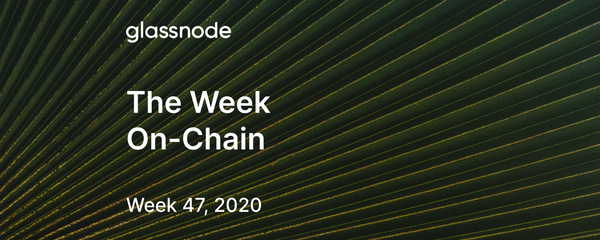 ---
Bitcoin Market Health
BTC had another impressive week, rising above $18,000 for the first time since December 2017 and coming close to reaching a new all-time high. Starting the week at $15,930, it quickly rose above $17k and then $18k, finishing off Week 47 at a price of over $18,600.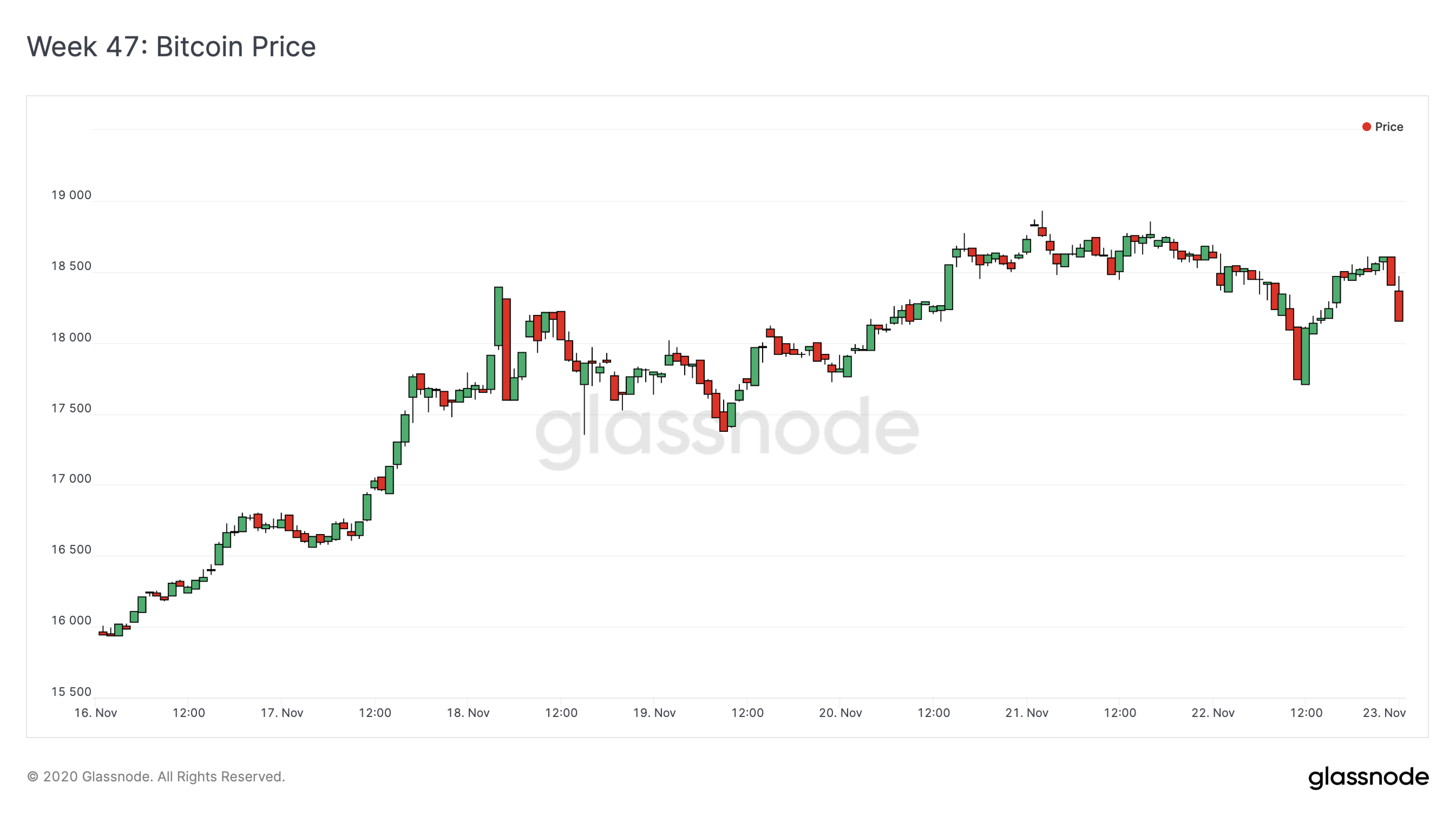 Bitcoin on-chain fundamentals experienced strong gains throughout Week 47. GNI rose by 6 points, reaching a score of 67 points, with all three major subindices experiencing growth.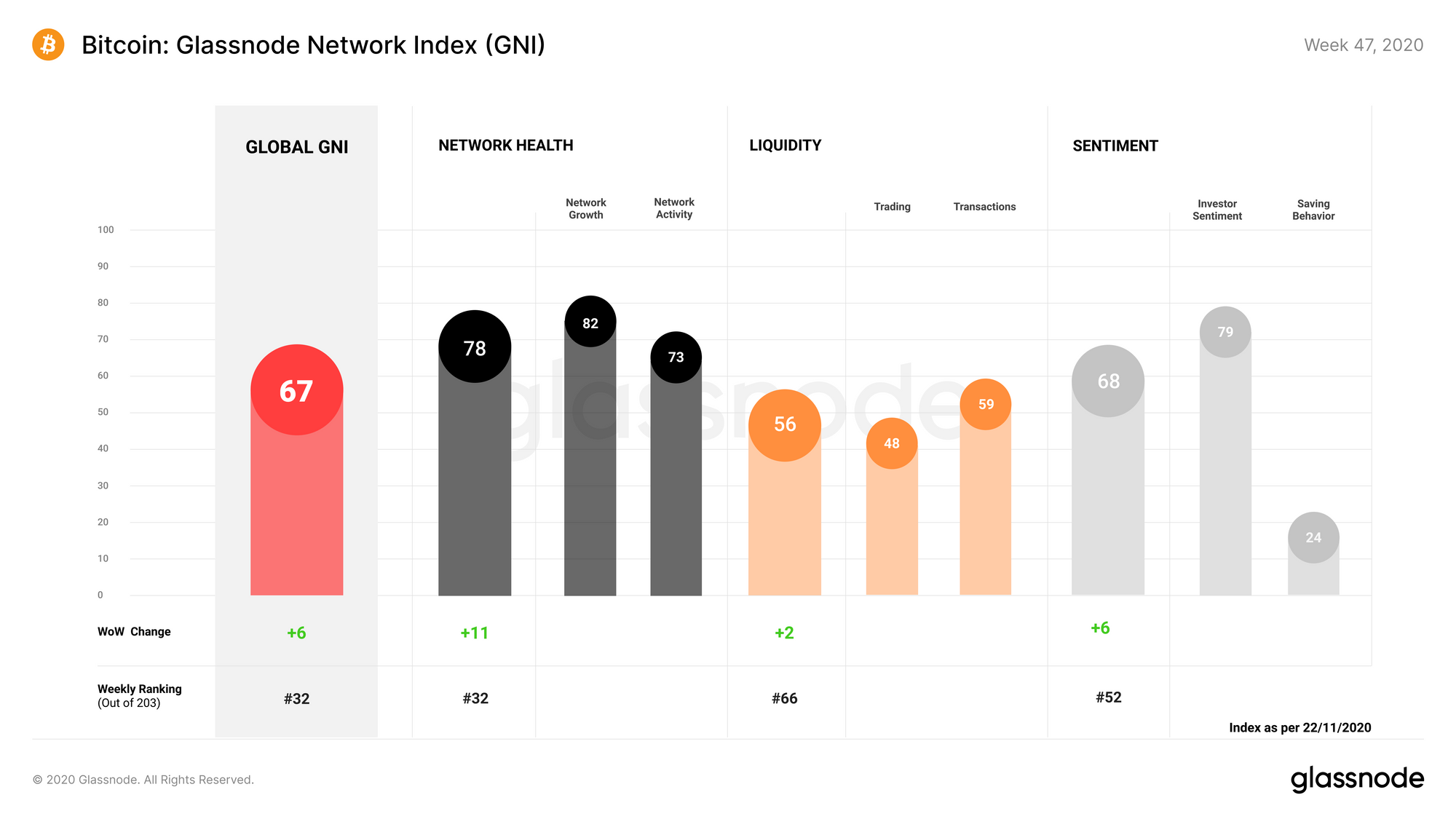 Network Health saw an 11 point increase throughout the week, ending at a score of 67 points. The network activity subcategory performed particularly well, growing by 13 points due to an increase in the number of active entities and the on-chain transaction rate.
Liquidity rose by 2 points, reaching a final score of 56 points for the week. While trading liquidity decreased due to BTC being continually withdrawn from exchanges, transaction liquidity grew as the number of on-chain transactions increased.
Sentiment ended the week at 68 points, representing a 6 point increase. The saving behavior subcategory made the largest contribution to this growth, increasing by 24 points (140%) as BTC hodlers slowed the rate at which they were selling.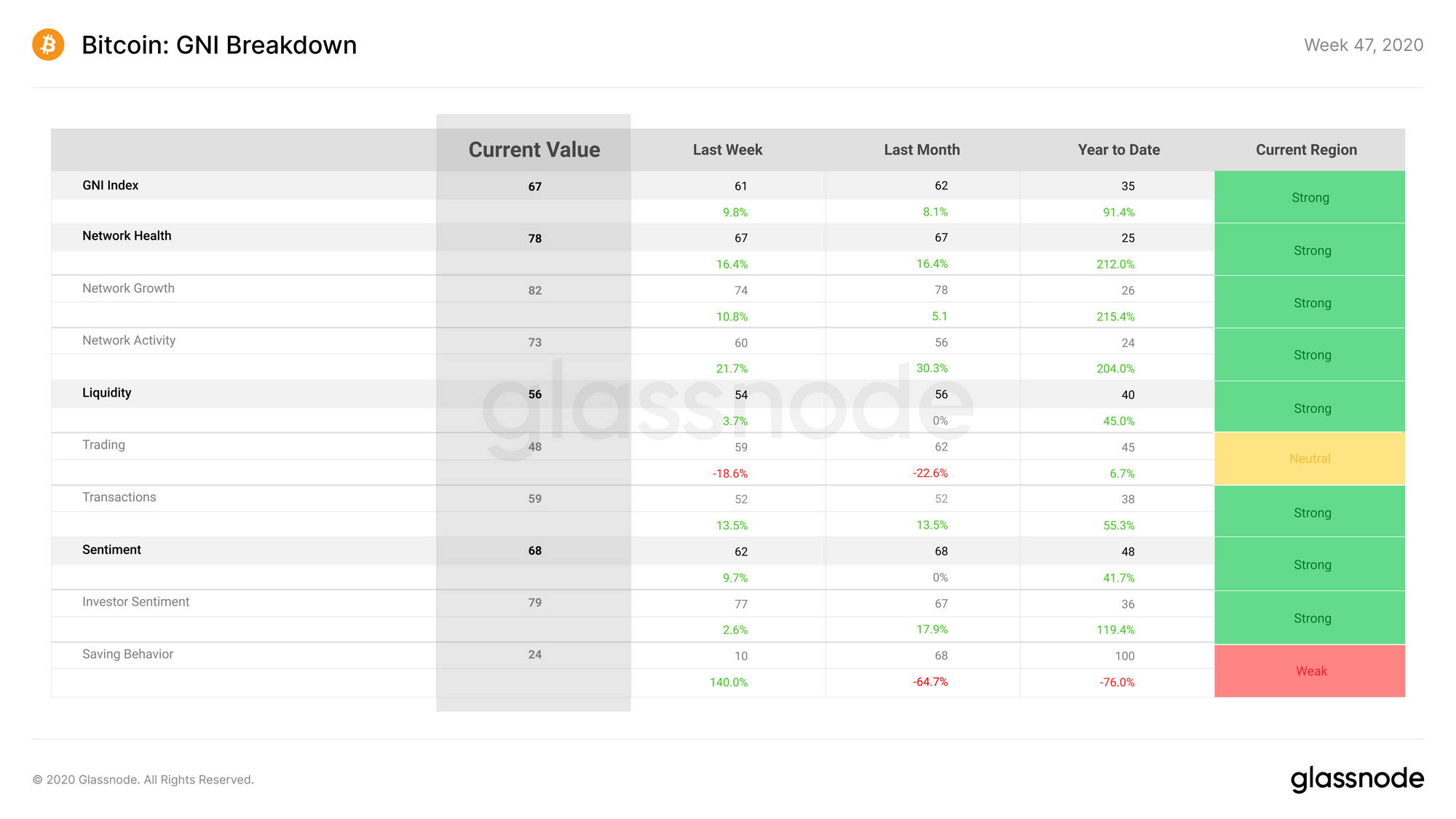 ---
Glassnode Compass
The compass shot high into the bullish quadrant over the past week, seeing impressive gains in terms of both GNI and price trend.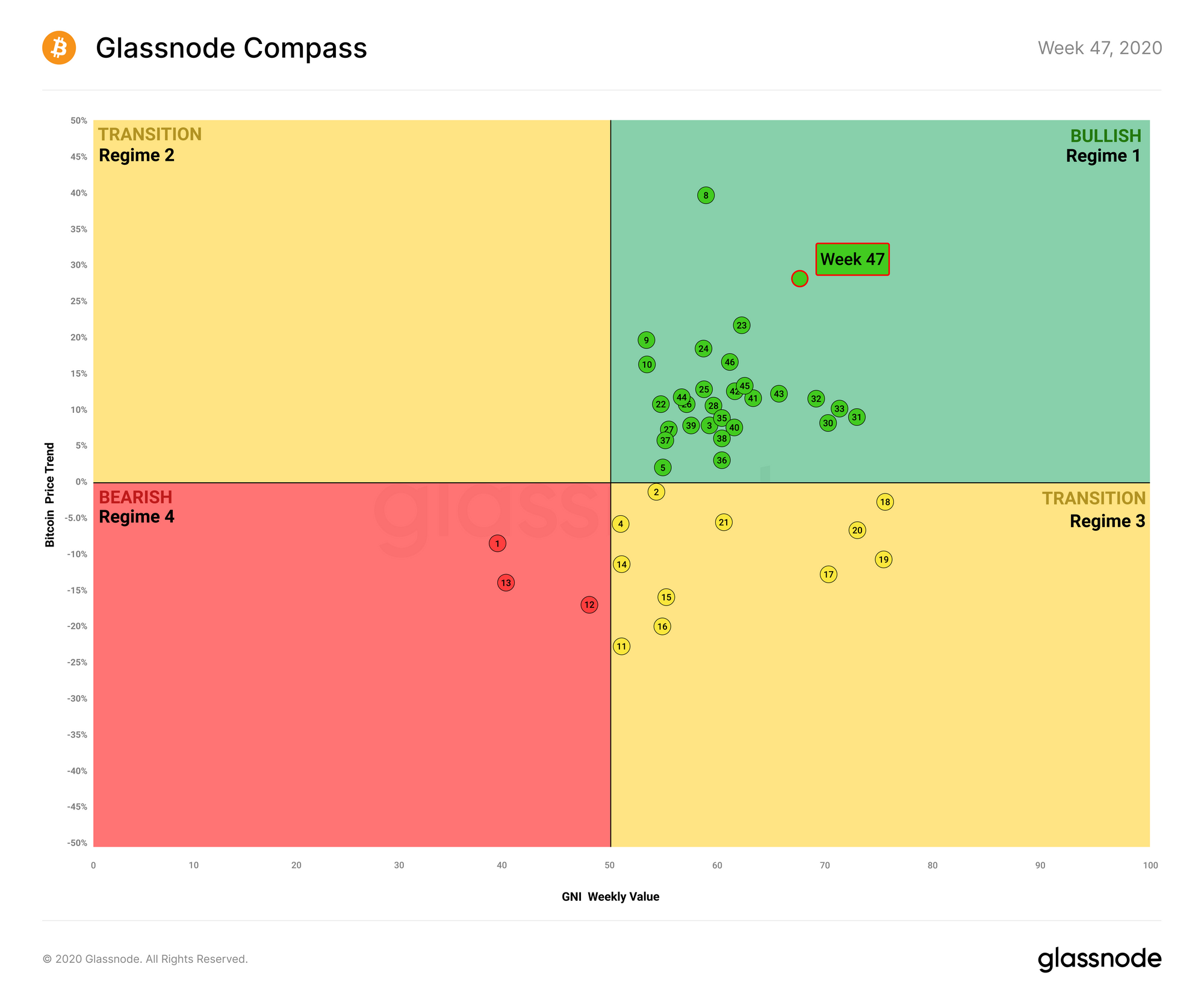 Its firm position in the bullish Regime 1 is bolstered by strong on-chain fundamentals, continued growth in terms of adoption, and impressive price gains over the past few weeks.
In addition, BTC has continued to significantly outperformed the stock market, growing by almost 17% over the past week in comparison with last week's 2% drop in the SPY index. This supports narratives around a potential decoupling, which - if it can be maintained - removes stock prices as an upper bound for bitcoin's growth.
---
Altcoin Digest
Performance against BTC
Aside from BNB, the top altcoins all performed well against BTC throughout Week 47. XRP saw the largest gains, growing by almost 50% next to bitcoin.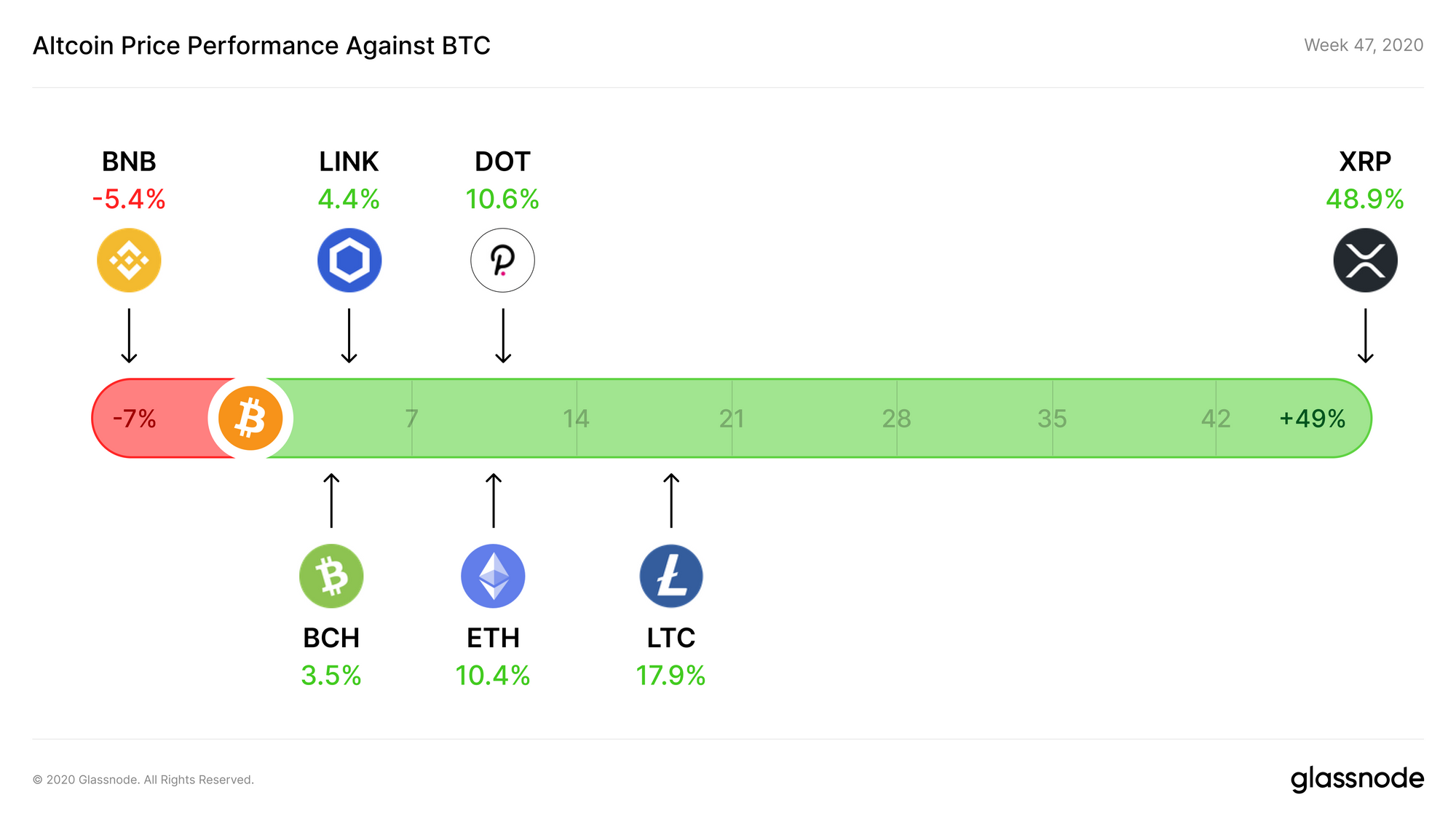 BNB continues to perform poorly in comparison with other altcoins, dropping down to 10th place in terms of market cap while the rest of the market thrives.
Performance against USD
In USD terms, all of the top altcoins saw gains over the past week - even including BNB, despite its losses in relation to bitcoin. XRP gained an impressive 73.9% over the week.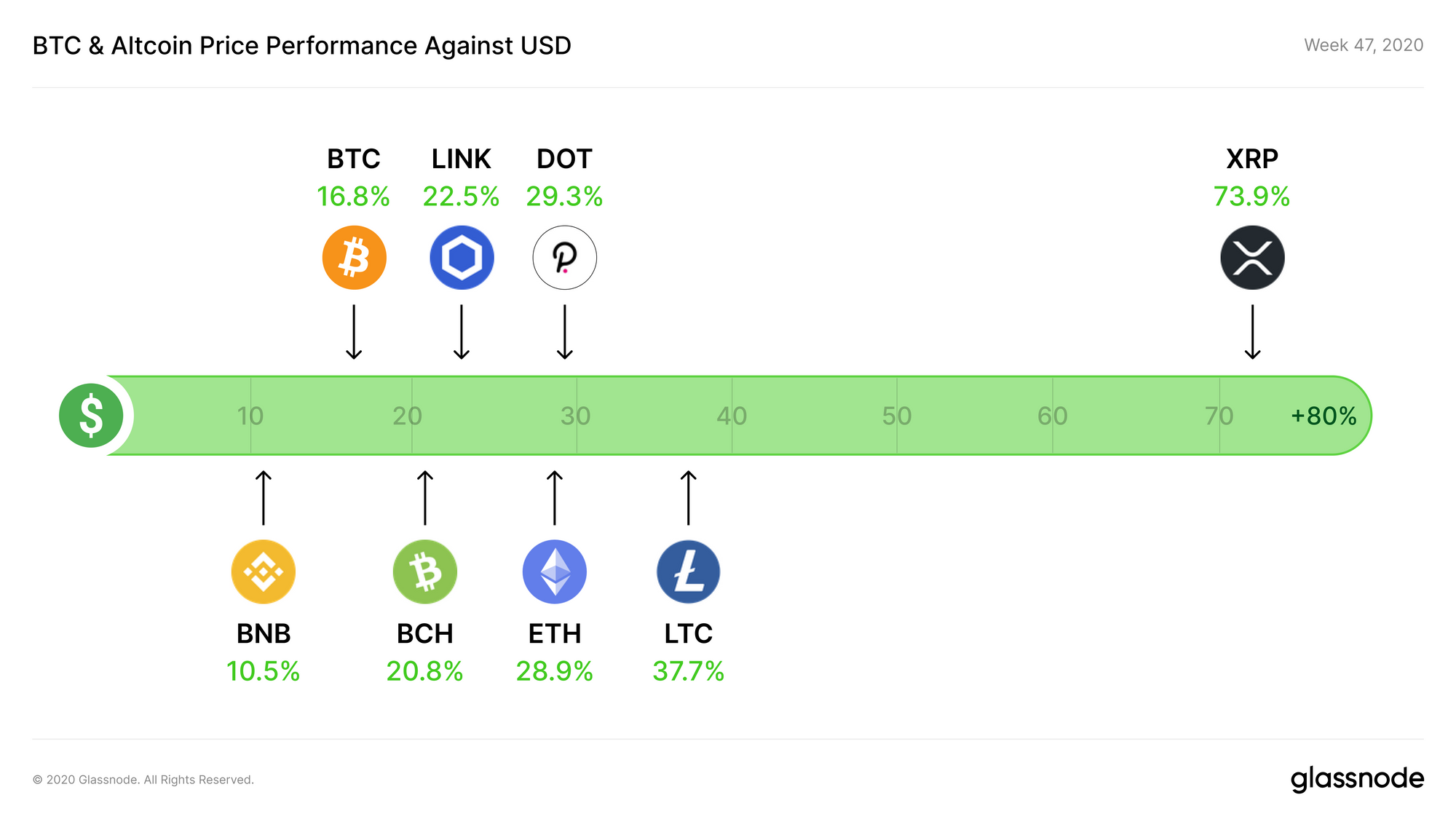 LTC has also made its way back into the top 10 over the past couple of months, now sitting at 6th place after languishing at number 12 just eight weeks ago.
Which altcoins would you like to see us cover in future editions of The Week On-Chain? Let us know on Twitter.
---
BTC Exchange Liquidity Continues on its Downward Trajectory
The number of BTC on exchanges has been on a near-continuous downward trend since the beginning of 2020, dropping by nearly 20% throughout the year. Since October, the withdrawal of bitcoin from exchanges has become even more rapid as BTC's price has increased more steeply.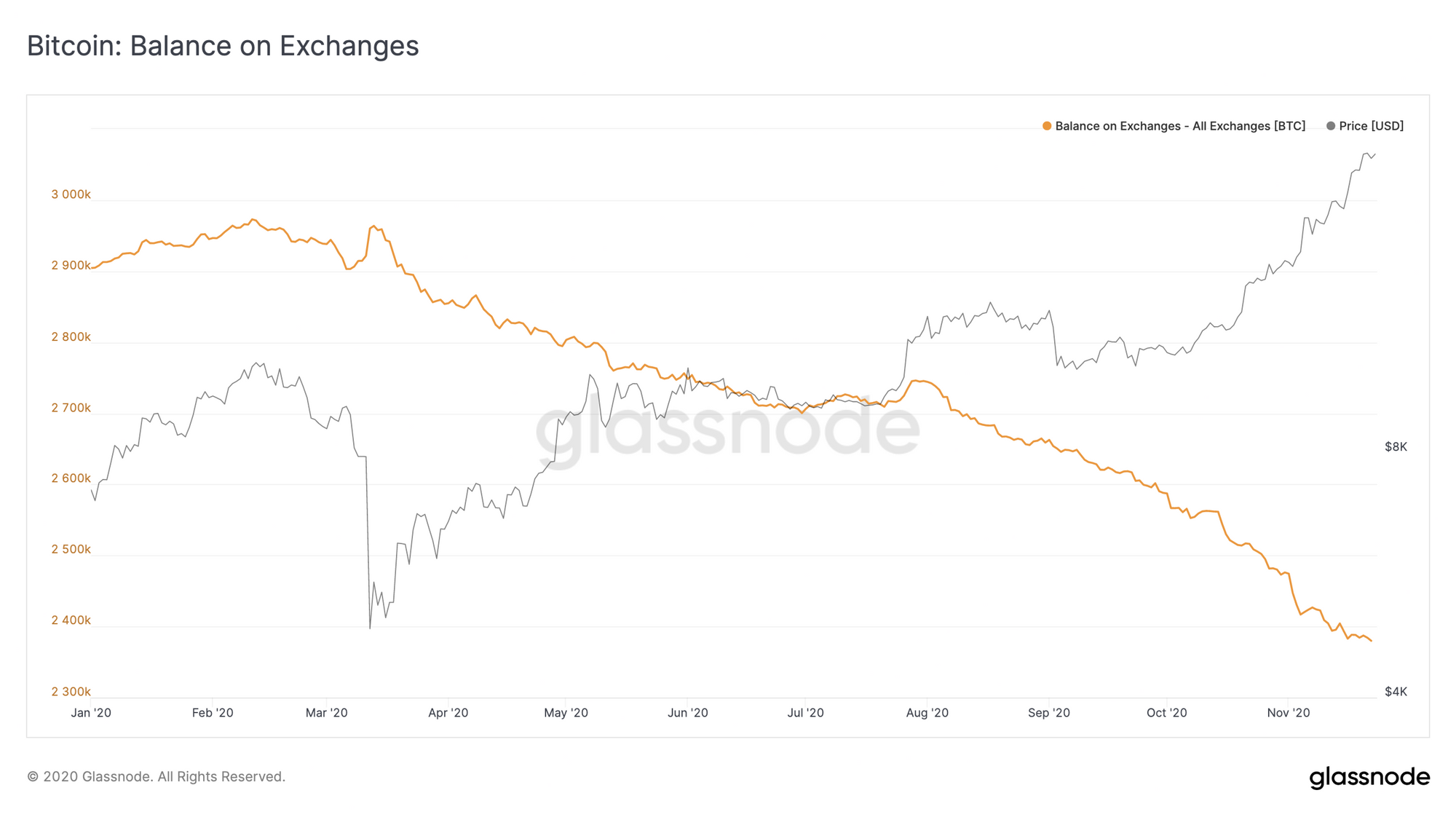 This represents a stark difference from the 2017 bull run, during which exchange balances rose rapidly. In general, withdrawals from exchanges indicate that investors intend to hold BTC, rather than planning on selling it in the near future. In contrast, less committed retail investors tend to leave their BTC on exchanges, ready to be liquidated.
As such, many believe that this trend means more investors are committed to holding for the long term, as opposed to being retail investors cashing in on the hype. The withdrawal of BTC from exchanges is therefore a bullish sign for bitcoin, suggesting that investors believe the asset has more room to grow despite approaching a new all-time high.
---
Product Updates
Metrics and Assets
Features
Custom Dashboards - Personalized dashboards are now live on Glassnode Studio! Build custom dashboards and save your favorite metrics for easy access and comparison. Analyst dashboards coming soon - follow top on-chain analysts.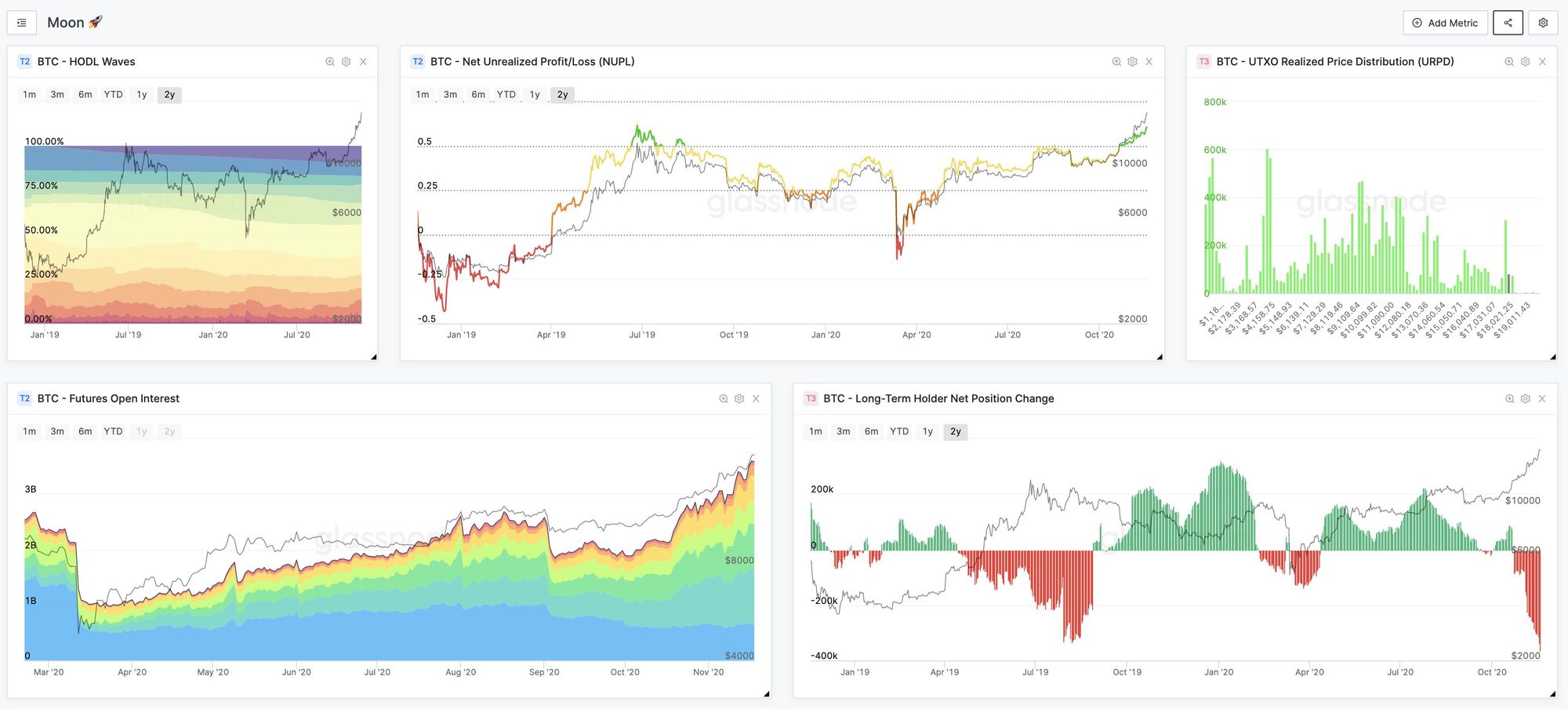 ---