The Week On-Chain (29 Apr 2020 - 6 May 2020)
As the price of BTC continues to increase, hodlers are still accumulating as we approach the halving and bitcoin becomes more popular as a safe haven asset.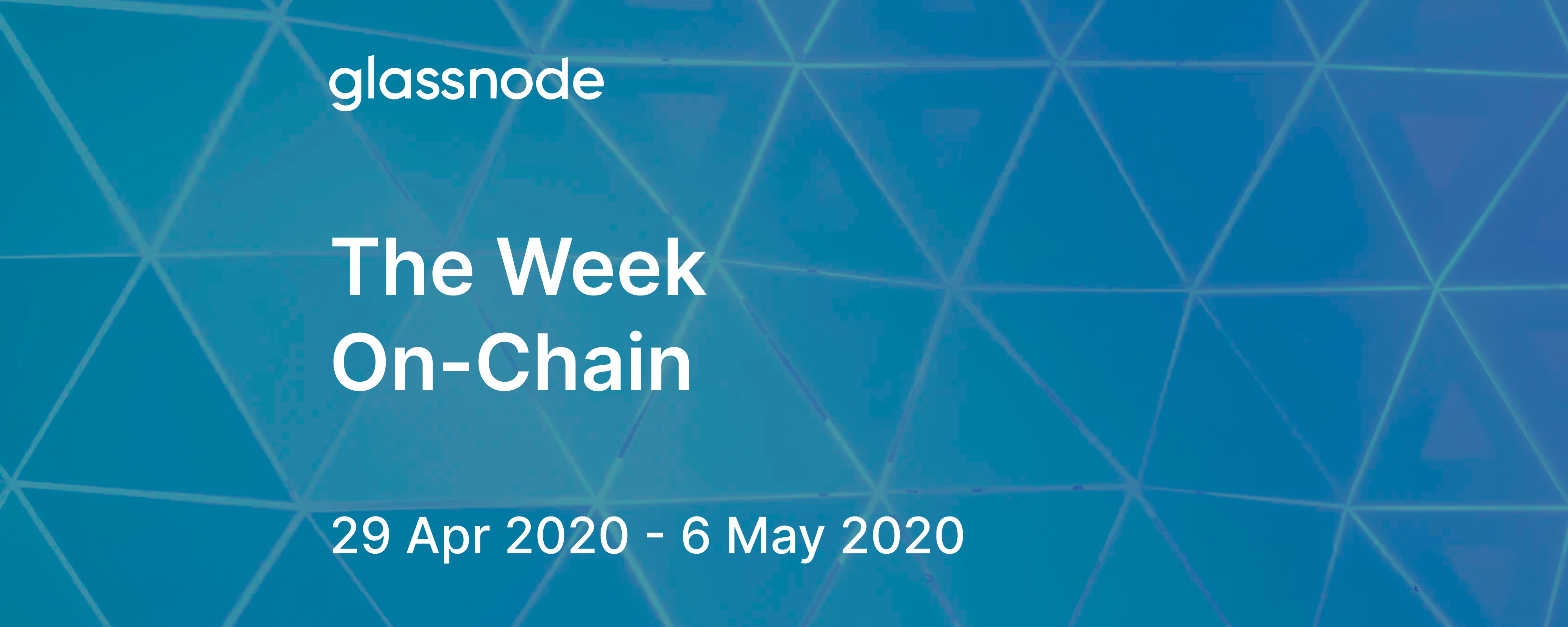 ---
Announcement: The Week On-Chain is Evolving
As our offering of on-chain metrics grows and matures, so does our ability to provide you with contextualized, actionable market insights. Some of you have already seen our new on-chain index, the GNI. With this new toolset, we are bringing you an updated version of The Week On-Chain, with better insights into Bitcoin's behavior than ever before.
Subscribe to our newsletter, and keep an eye on your inbox for our new weekly market summary, released each Monday, which will provide a recap of BTC's performance over the previous week and an outlook for the future based on GNI and Glassnode's Market Compass.
---
Bitcoin Market Health
After spiking above $9k last Thursday and dropping back down to the high 8000s shortly afterwards, BTC has experienced a gradual increase back up to levels above $9000, currently sitting at around $9300.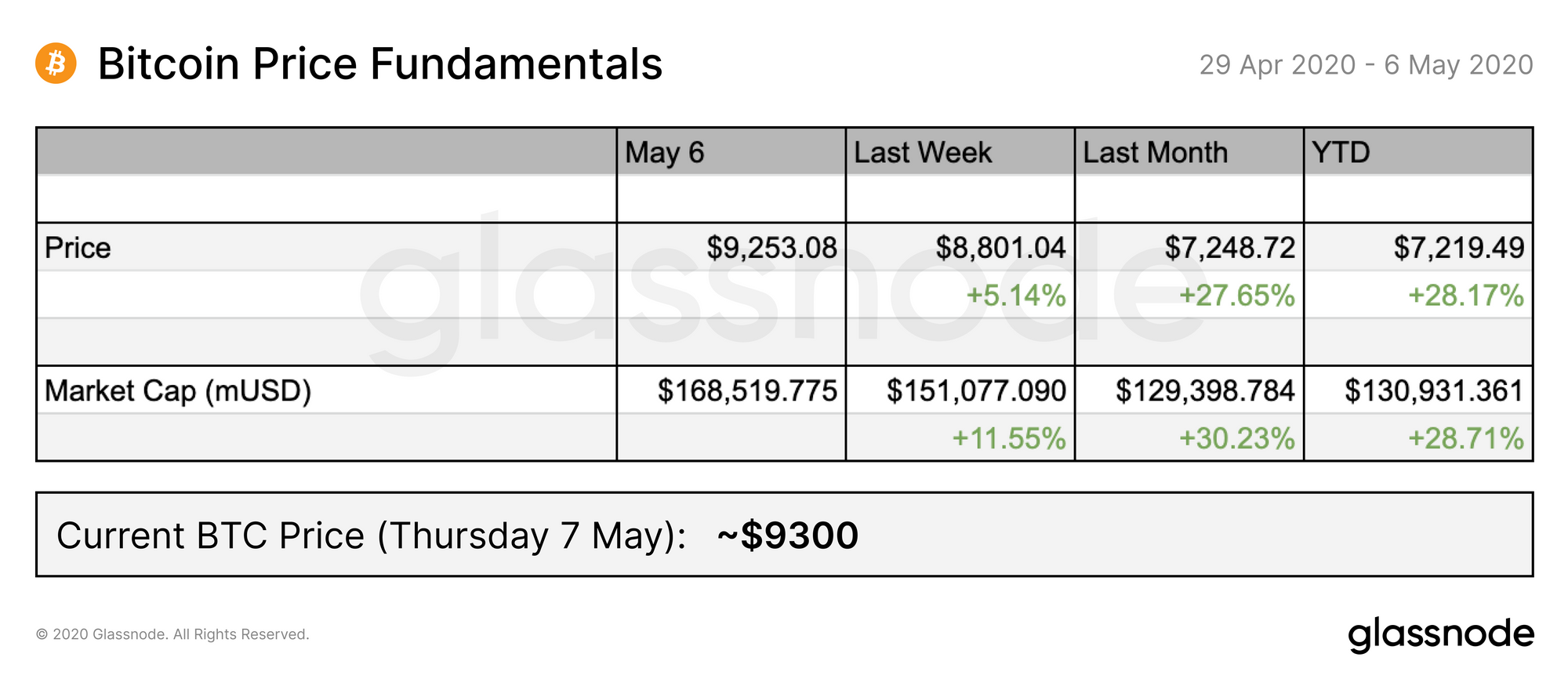 Alongside BTC's price growth, on-chain fundamentals have seen increases across the board for the second week in a row. The number of transactions, number of active entities, and total volume have all increased as on-chain economic activity surges before the halving.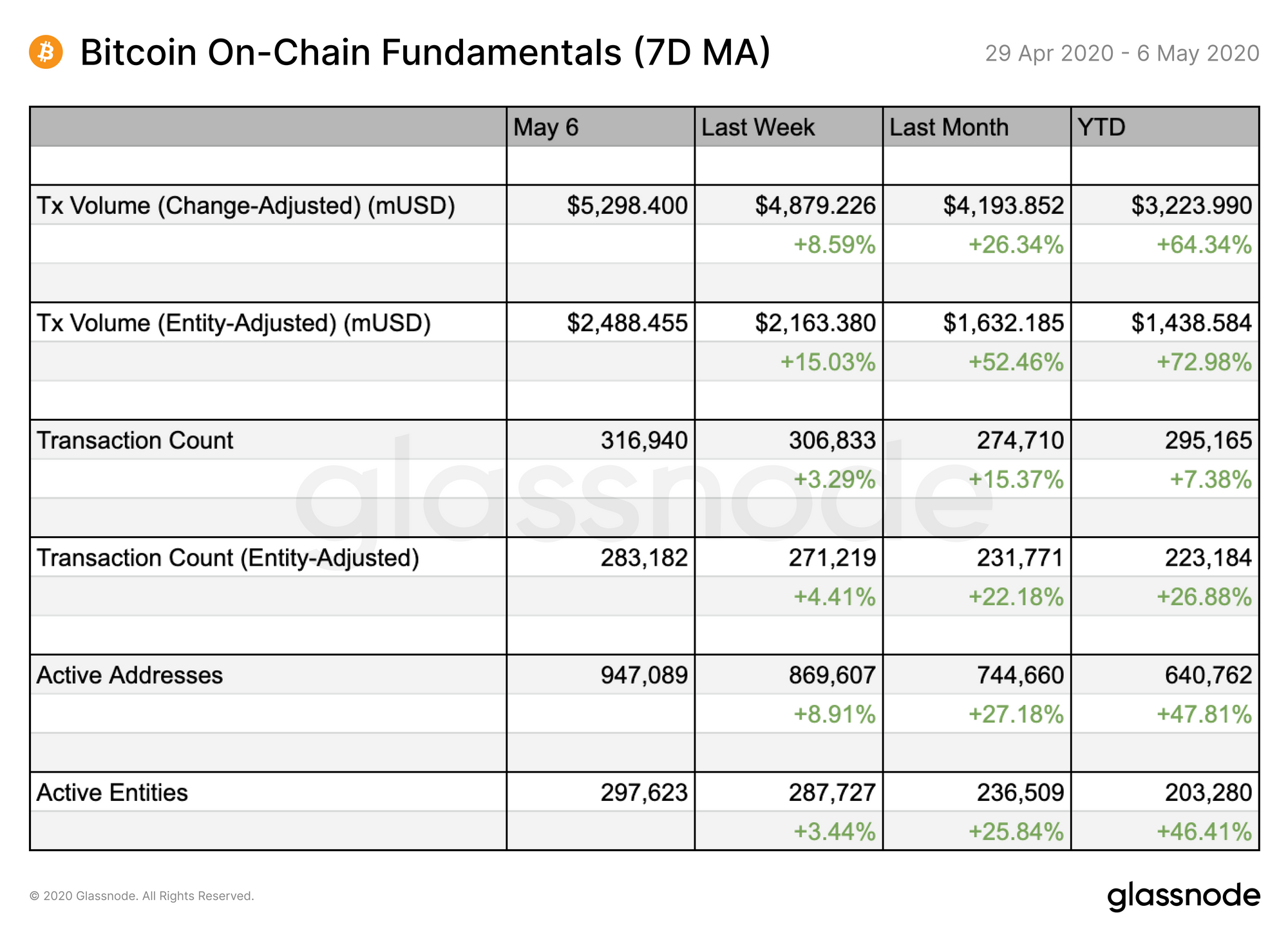 The number of active addresses (and entities) has increased to levels not seen since the 2017 bull market - as has the number of new addresses - suggesting an increase not just in activity, but also in adoption.

Not only are we seeing increased on-chain activity from new adopters, but also from longer-term investors; specifically, hodlers and whales.
---
Hodlers Continue Accumulating BTC as Halving Approaches
Hodler Net Position Change has stayed positive during the recovery of the past 8 weeks, indicating optimistic sentiment and longer-term confidence as we approach the Bitcoin halving next week.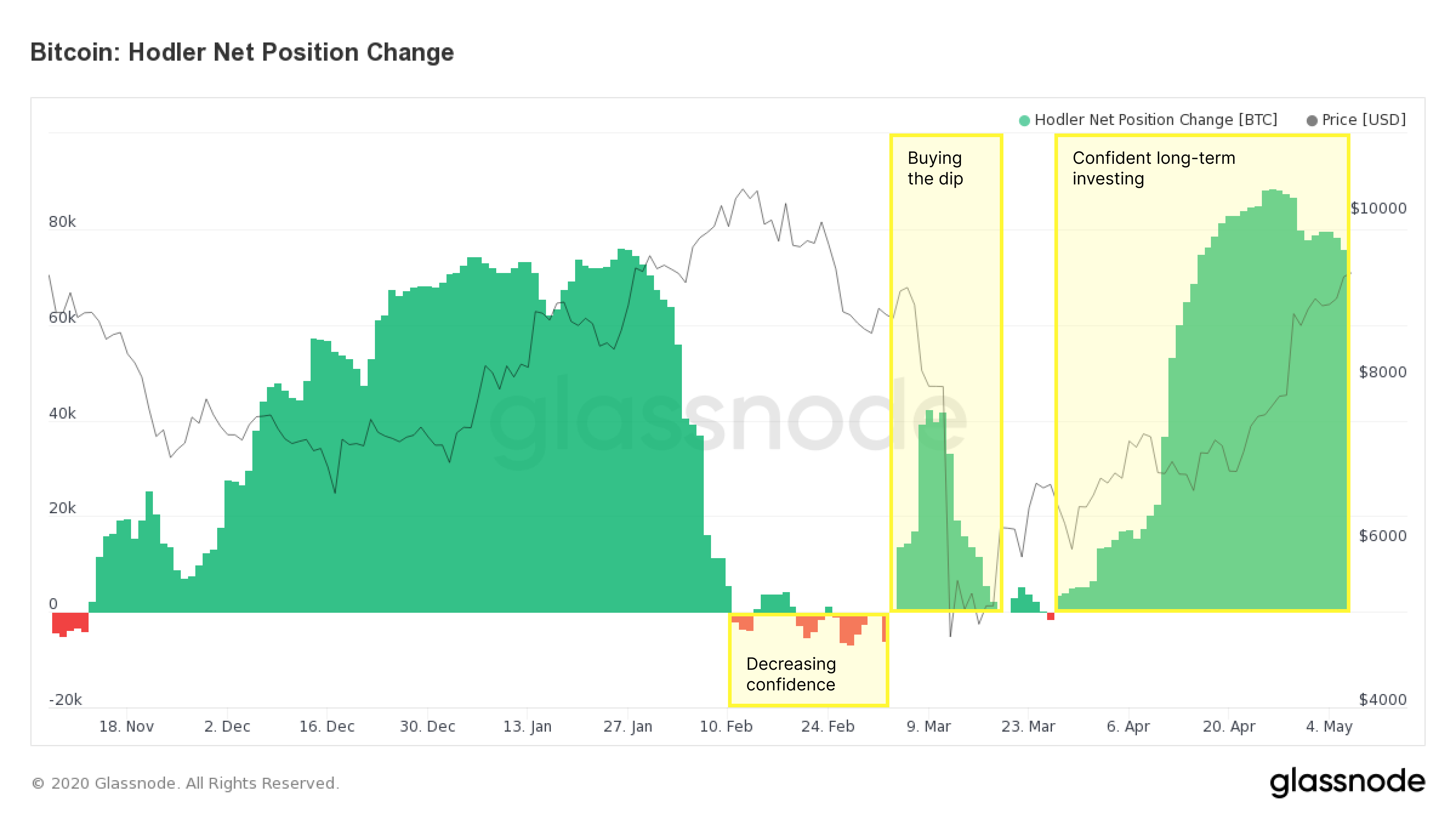 In February this year, hodlers stopped accumulating BTC as the price rose over $10,000, indicating decreasing confidence in prices at that level. However, during the crash in mid-March, we saw meaningful accumulation as longer-term investors bought the dip. This quickly dropped away as the price began to recover, but once investors saw that another crash was seeming less likely, they started accumulating again.
Hodlers' continued accumulation even at these price levels suggests confidence in the near-term and longer-term future, likely spurred by the upcoming halving, which tends to drive higher prices historically. This accumulation can also be partially explained by the increasing adoption of bitcoin as a safe haven asset amongst uncertain financial markets.
---
Community Insight
Content and insights derived from Glassnode data by our community
On-chain analyst Willy Woo highlighted the "macro bullish" trend of BTC accumulation by smart investors, using Glassnode's data on whales.
Looking at the gray-blue line in the above chart, we see that the number of whales has been growing consistently throughout the year, experiencing only a small drop during the crash in March.
On top of this, the consistent increase in the number of addresses with more than 10k BTC implies that not only is the number of whales increasing, but the size of their holdings is as well.
Stay updated on the Number of Whales to keep watching this trend, and remember to send us your own content using Glassnode data to be featured in our next weekly update.
---