The Week On-Chain (Week 4, 2021)
Despite briefly dropping below $30k over the past week, on-chain fundamentals for BTC remain strong, indicating room for further growth. Meanwhile, the rest of the crypto market is growing even faster.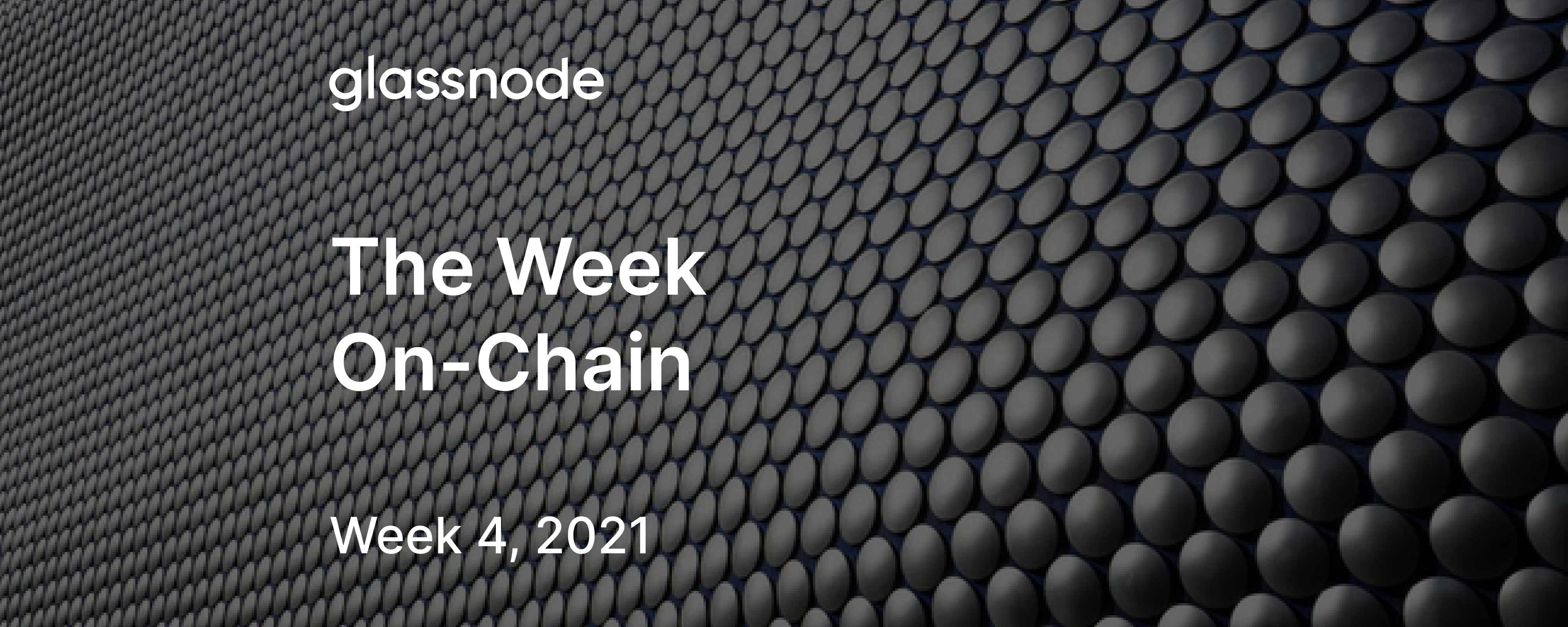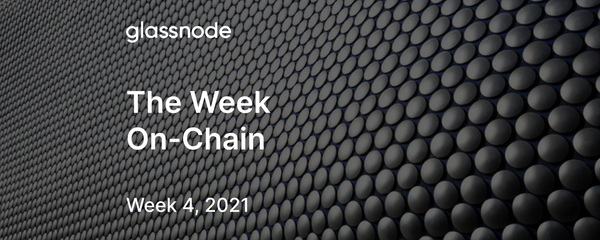 ---
Announcing Our Latest Newsletter: Uncharted
We have recently started a brand new bi-weekly newsletter, Uncharted. This newsletter covers BTC from both an on-chain and off-chain data perspective, and uses beautiful charts and brief commentaries to give readers an intuitive snapshot of what is happening in the markets.
Check out Uncharted on our Substack, and subscribe now!
---
Bitcoin Market Health
Bitcoin had another tumultuous week, dropping below $30k for the first time since early January. After starting the week at $35,870, it begun to decline on Wednesday, reaching a low of $29,100 early on Friday morning before gradually rising and ending the week at $32,300. Overall, it lost 10% over the past week.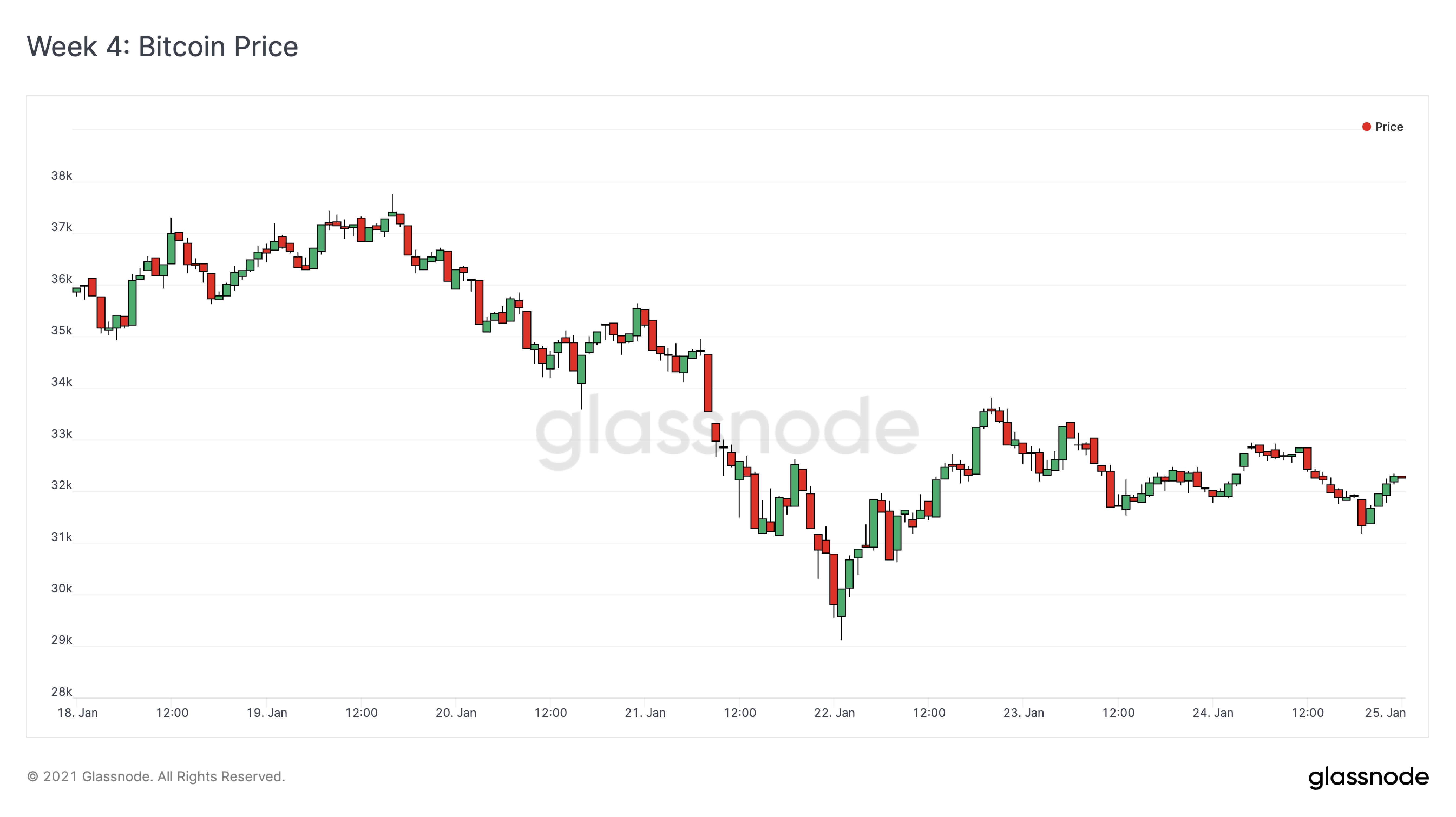 For the Bulls
Bitcoin's aSOPR (Adjusted SOPR) has reset after increasing for over several months. This means that coins moving between investors per hour (24h MA) are, on average, no longer being sold at a profit. In order for SOPR to go lower, investors would have to be willing to sell at a loss, which is unlikely given the current shape of the market.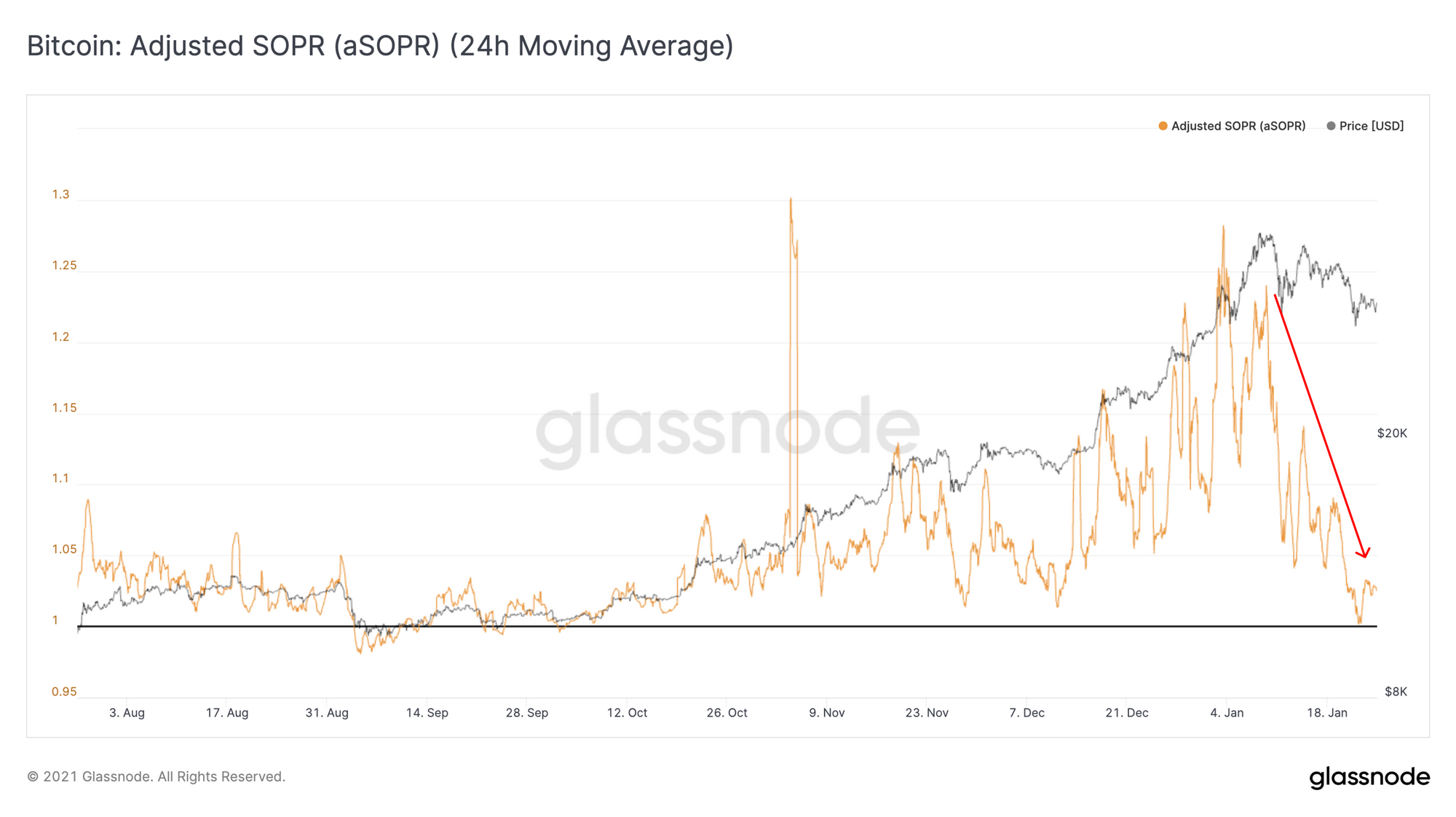 As mentioned in previous newsletters, we have been looking for this reset in order to generate some stability in the market and pave the way for the next bull run. The chart above suggests that the current correction is coming to an end, providing a bullish signal.
For the Bears
Bitcoin's NUPL (Net Unrealized Profit/Loss) is getting close to exceeding the green "Belief" range and moving into the blue "Euphoria" range. Previously, when NUPL has entered this range, this has signaled a global top (as signaled by the red circles below).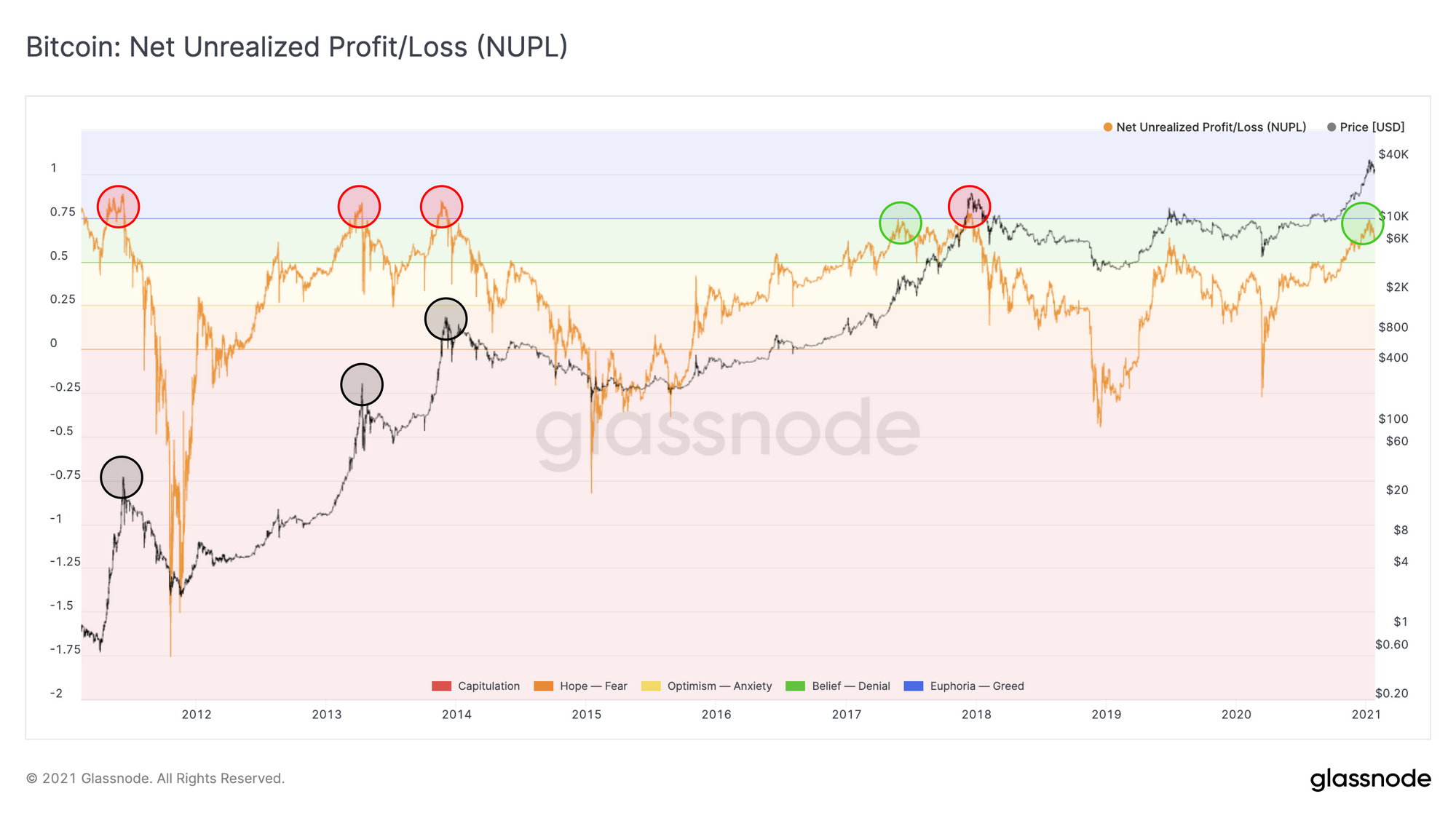 This may come across to some wary investors as representing the global top for this bull market. However, if you zoom in on this chart, it becomes clear that NUPL did not quite hit the blue range at its peak earlier this month. Its brush with the blue zone more closely resembles a similar event in mid-2017 (as shown by the green circles in the chart).
After this event in 2017, BTC still increased by over 900%, showing that a near miss of the blue zone does not rule out significant further growth for bitcoin. In addition, other on-chain indicators suggest much more room for growth for BTC.
A Bullish Comment from Willy Woo
Woo's Take: Investment activity is very high, buying dominates.
The quantity of coins moving between investors remains very high. While normally we see discrete impulses of coin movements, this last month just looks like a single very large buying impulse, I've been calling this the "mother of all impulses".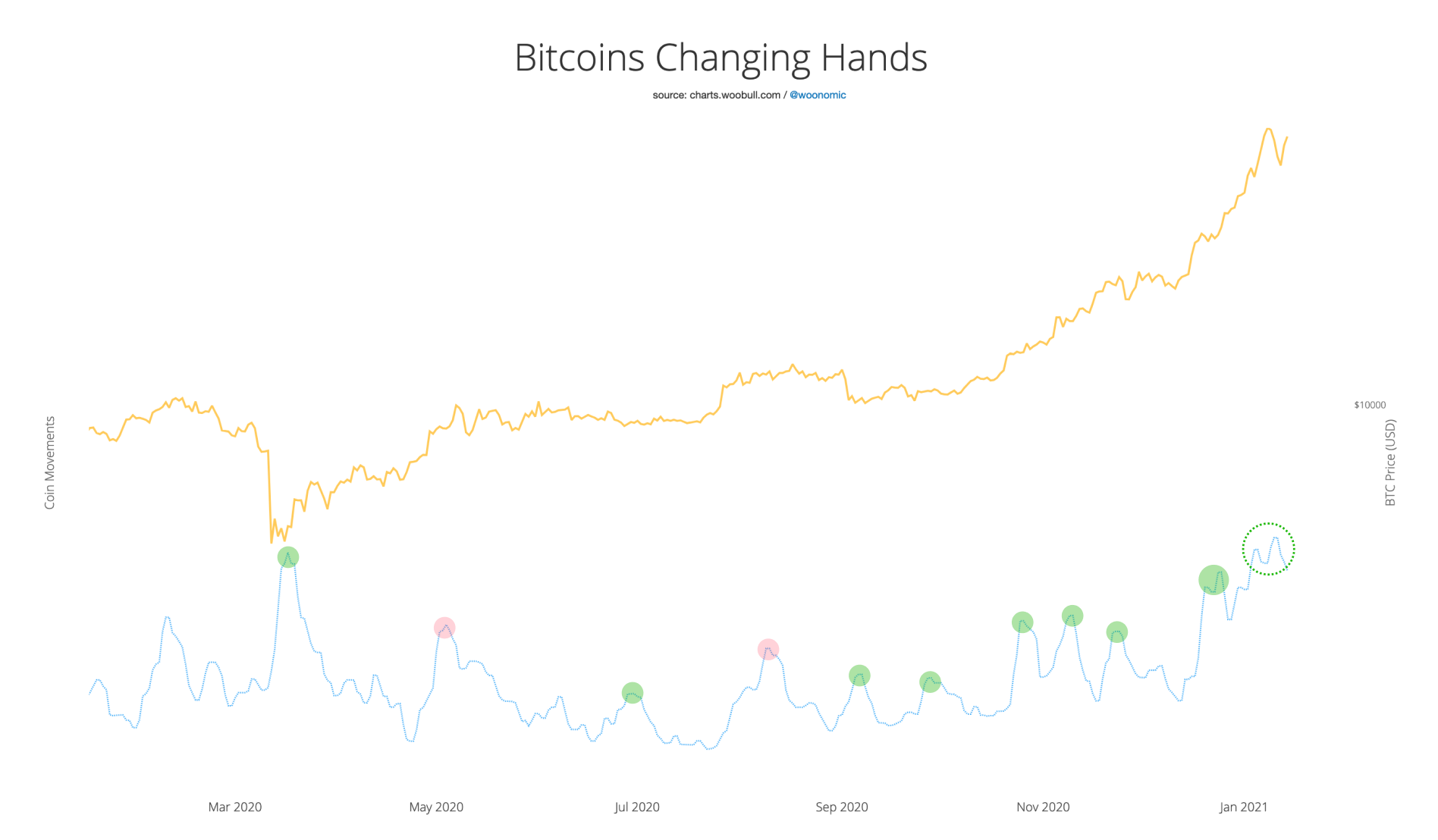 This is bullish and should provide fuel for further upside once consolidation completes.
Read more from Willy Woo in his newsletter, The Bitcoin Forecast.
---
Altcoin Feature: ETH Hits New ATH of Over $1400
ETH has hit a new all-time high after testing $1400 last week and then dropping down to just over $1000. Now at $1440 and rising, it looks set to increase even further.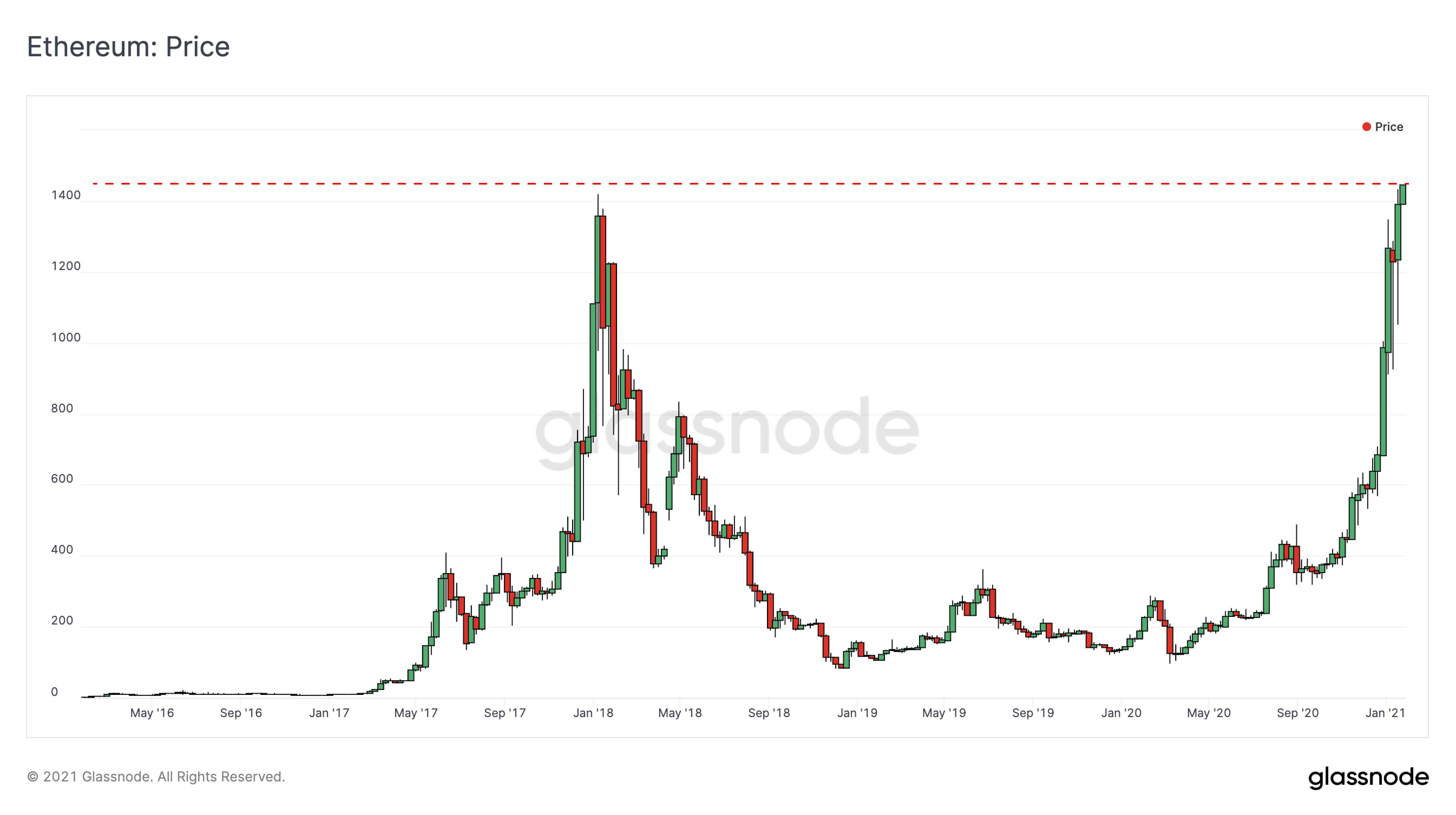 Meanwhile, ETH had an extremely high number of exchange withdrawals last week, with over one million ETH leaving exchanges as investors look to hold for the longer term.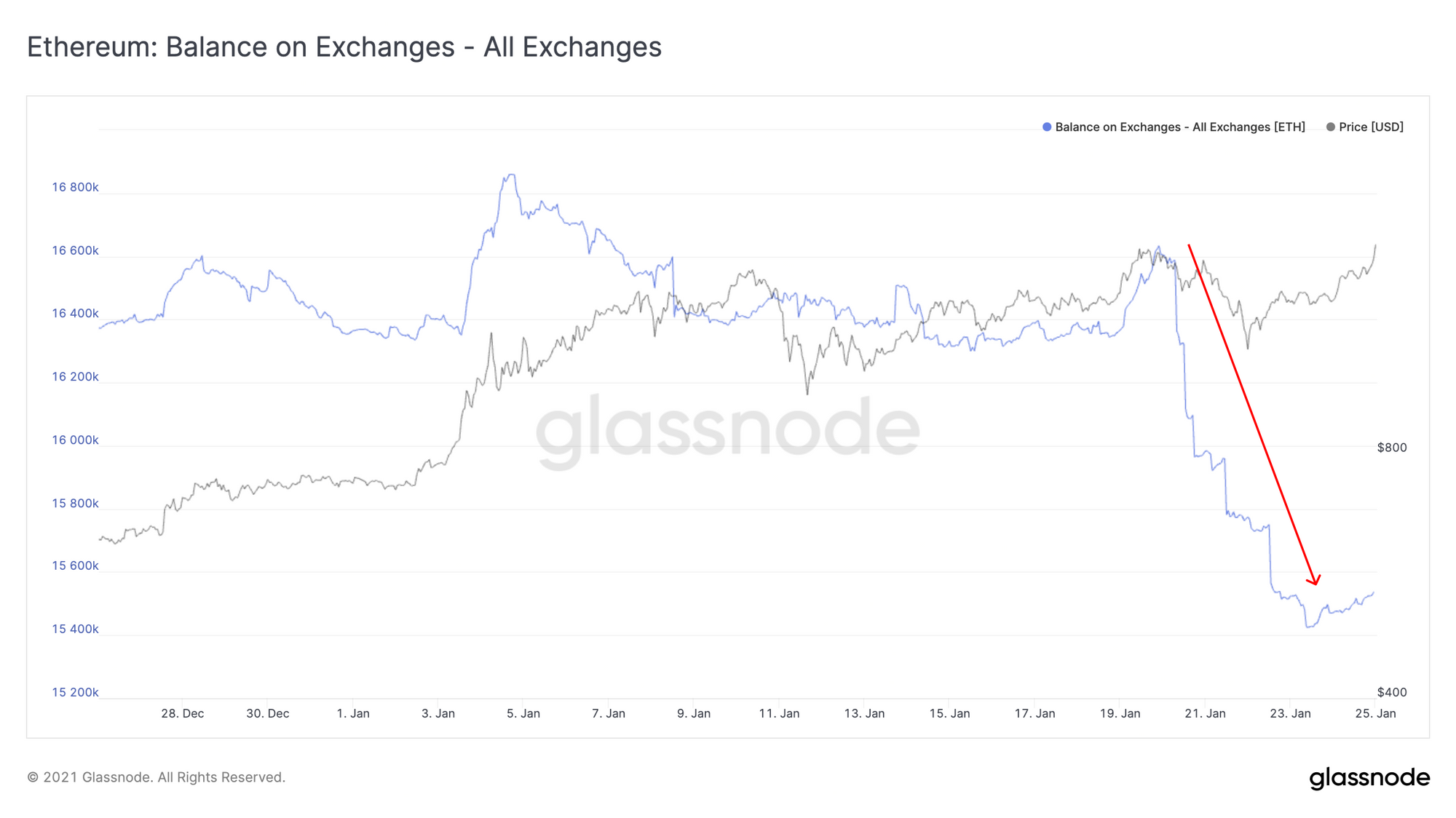 This is a strong bullish signal, as it indicates confidence in ETH's capacity for growth in the near and longer term.
Which altcoins would you like to see us cover in future editions of The Week On-Chain? Let us know on Twitter.
---
Weekly Feature: Number of BTC Whales Shoots Past Previous ATH
The number of BTC whales (entities holding at least 1000 BTC) has begun rapidly increasing after passing its previous all-time high in late December. Since the beginning of the year, we have seen the creation of 185 new bitcoin whales - an increase of 11% in January alone.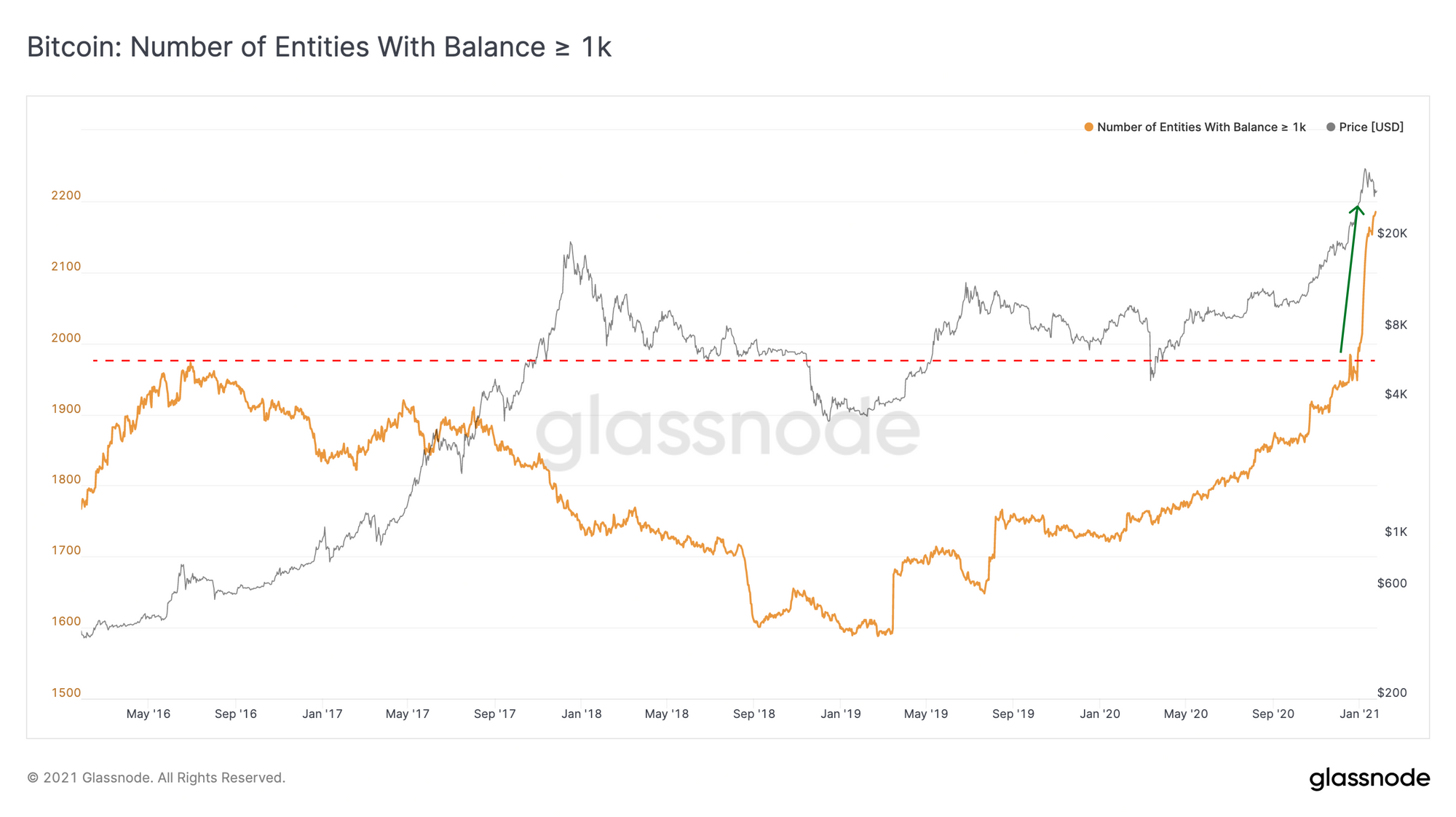 This is by far the most rapid increase in whales ever seen in the history of BTC. This indicates that large holders are acquiring more BTC, and the recent high number of OTC deals suggests that institutional investors are part of this cohort. The continued demand for BTC among large holders indicates ongoing bullish sentiment.
---