The Week On-Chain (Week 44, 2020)
BTC continued gaining momentum over Week 44, ending the week up over 5%. But despite these gains, a drop in on-chain fundamentals may prevent bitcoin from decoupling from traditional markets.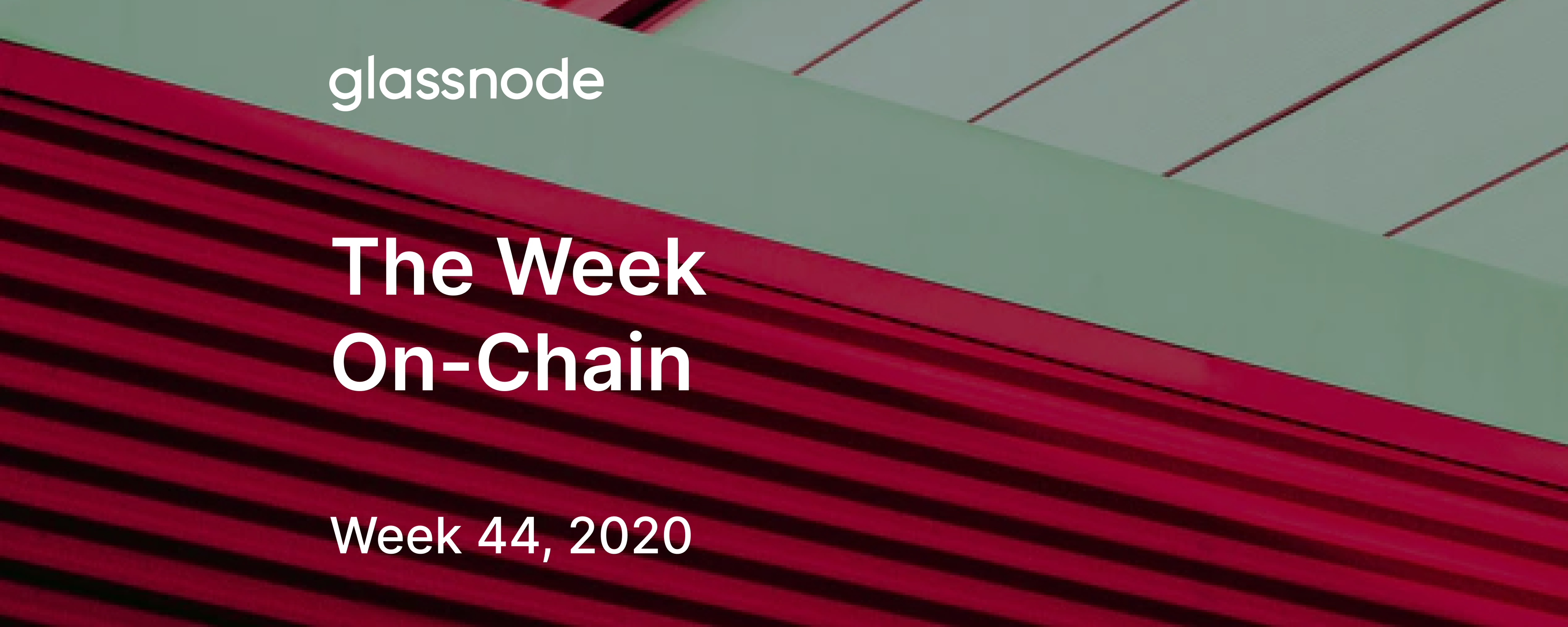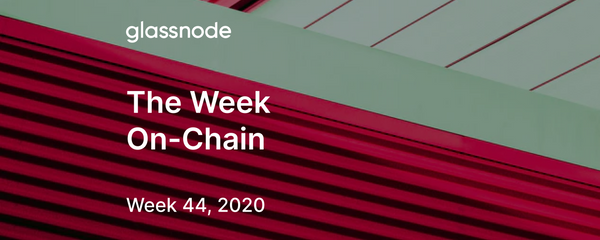 ---
Bitcoin Market Health
Bitcoin had yet another impressive week, starting at $13,020 and finishing up the week at $13,690. It dropped below $13,000 a few times throughout Week 44, but continually recovered from these dips, rising by 5.2% overall and regaining more of the total crypto market share.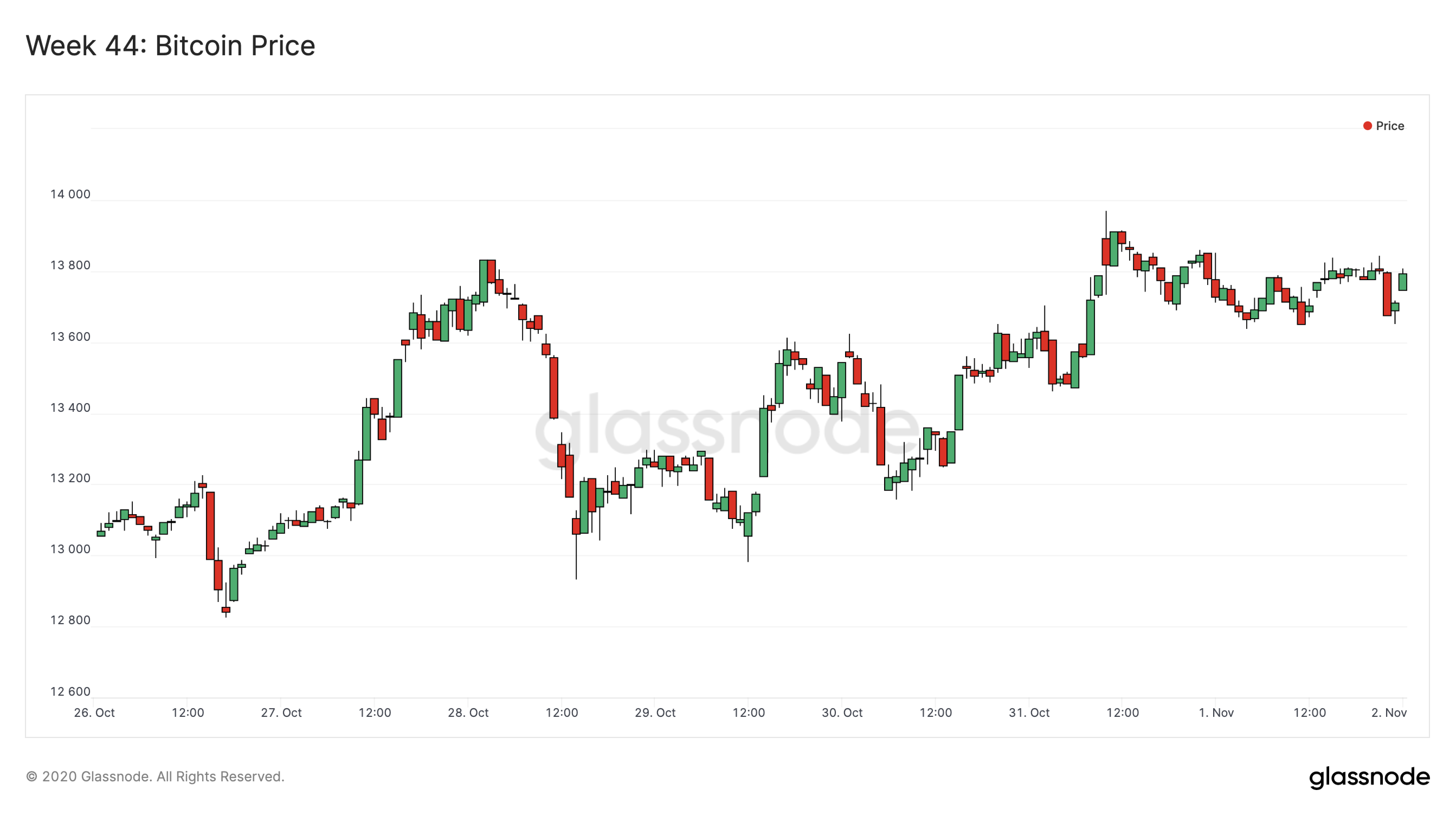 Bitcoin on-chain fundamentals decreased over Week 44, despite BTC's price gains. GNI lost 9 points, taking it to a score of 57 points. All of the subindices decreased, but the drop came mostly from Network Health and Liquidity, while Sentiment stayed relatively stable.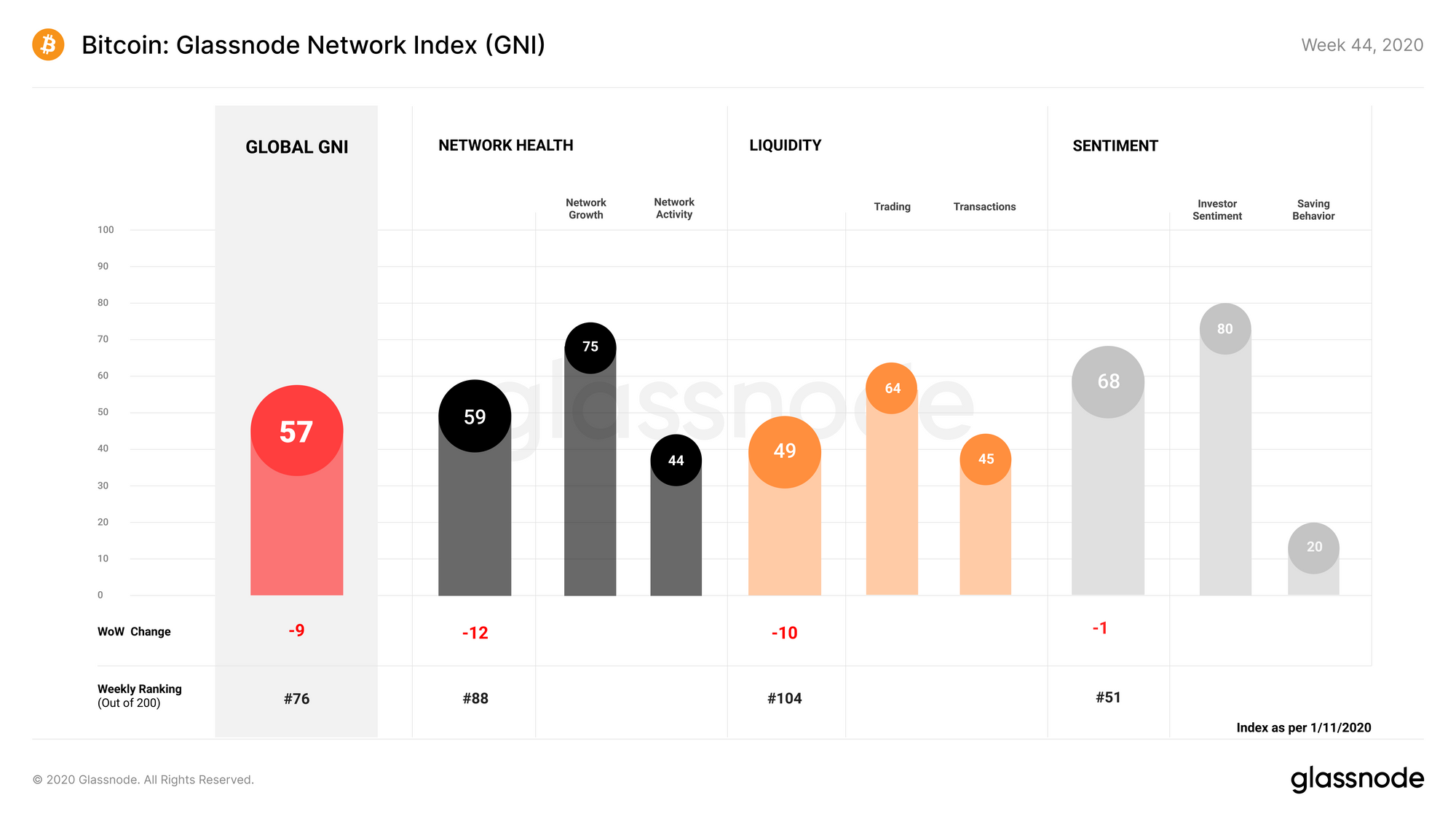 Network Health lost 12 points over the past week, taking it to a score of 59 points. The decrease was partially caused by the network growth subcategory, but the larger loss was the result of a decrease in network activity, which lost 17 points due to a drop in the on-chain transaction rate and the number of active addresses.
Liquidity saw a 10 point decrease throughout Week 44, ending the week at 49 points. While trading liquidity increased, the transaction liquidity subcategory lost 14 points, due to decreases in the on-chain transaction count and velocity, and an increase in on-chain transaction fees.
Sentiment performed the best out of all 3 subindices, losing just 1 point and ending the week at a score of 68 points. While investor sentiment increased, the saving behavior subcategory saw a large 65 point drop. This was caused primarily by the Hodler Net Position Change metric dropping into the negatives, meaning that hodlers sold more than they bought over the week.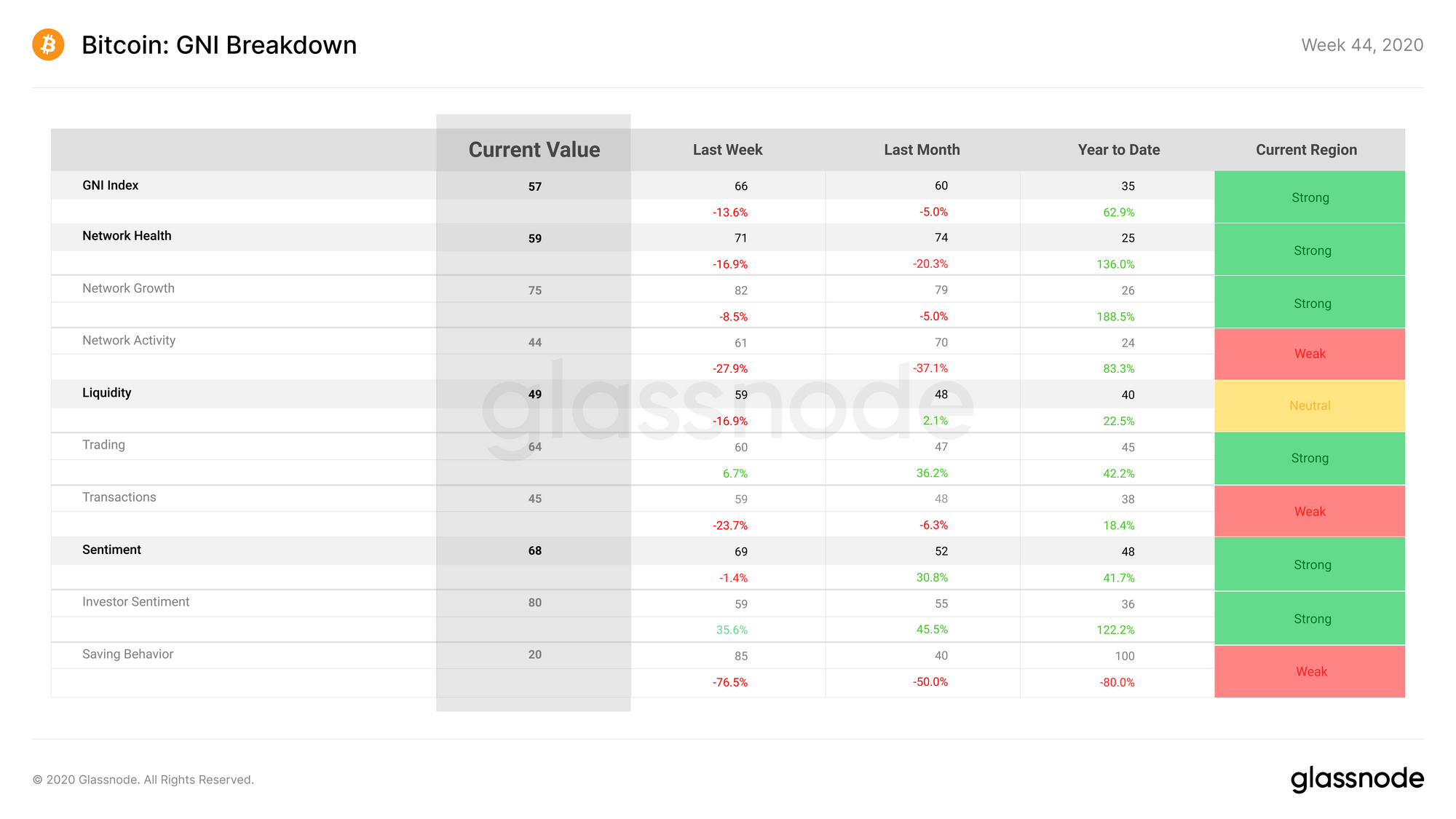 ---
Glassnode Compass
Despite the past week's decrease in GNI, bitcoin stayed in the bullish Regime 1 for Week 44, now for the 23rd week in a row.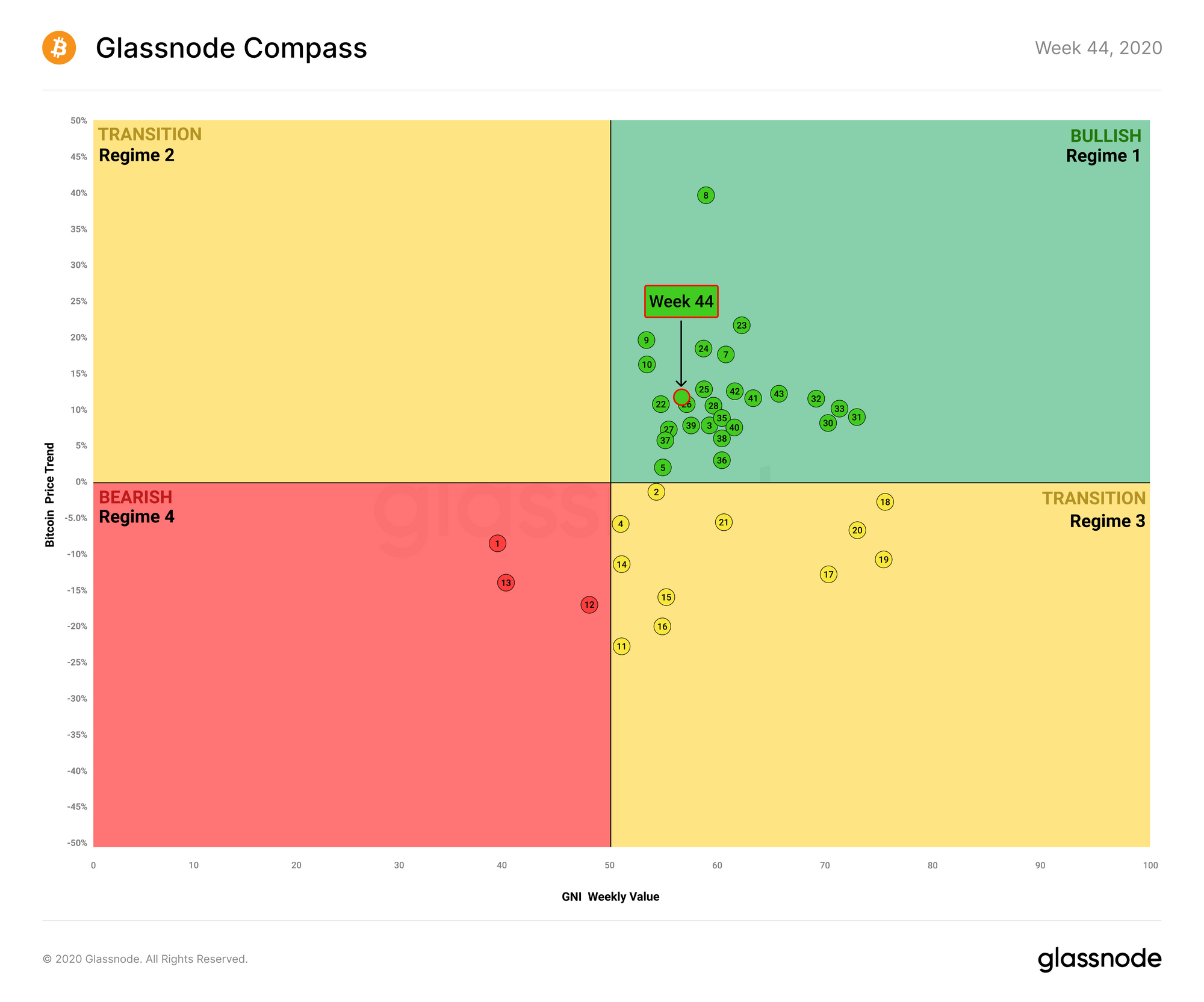 Although bitcoin's on-chain fundamentals saw a drop over the Week 44, it is still seeing positive price performance. Last week, we discussed a possible decoupling of BTC from traditional markets, and the past week's price movements have supported the idea that this may be an emerging trend.
While stock prices have continued decreasing, the price of BTC has kept increasing. If bitcoin can maintain this trajectory, it may be in for a bull run, with new all-time highs possibly in sight. However, the recent decrease in on-chain fundamentals may prevent BTC from breaking out at this stage.
---
Altcoin Digest
Performance against BTC
The top altcoins all performed poorly next to BTC throughout Week 44. For the second week in a row, they lost value in BTC terms, with the biggest loser once again being BNB, at -10.6% next to bitcoin.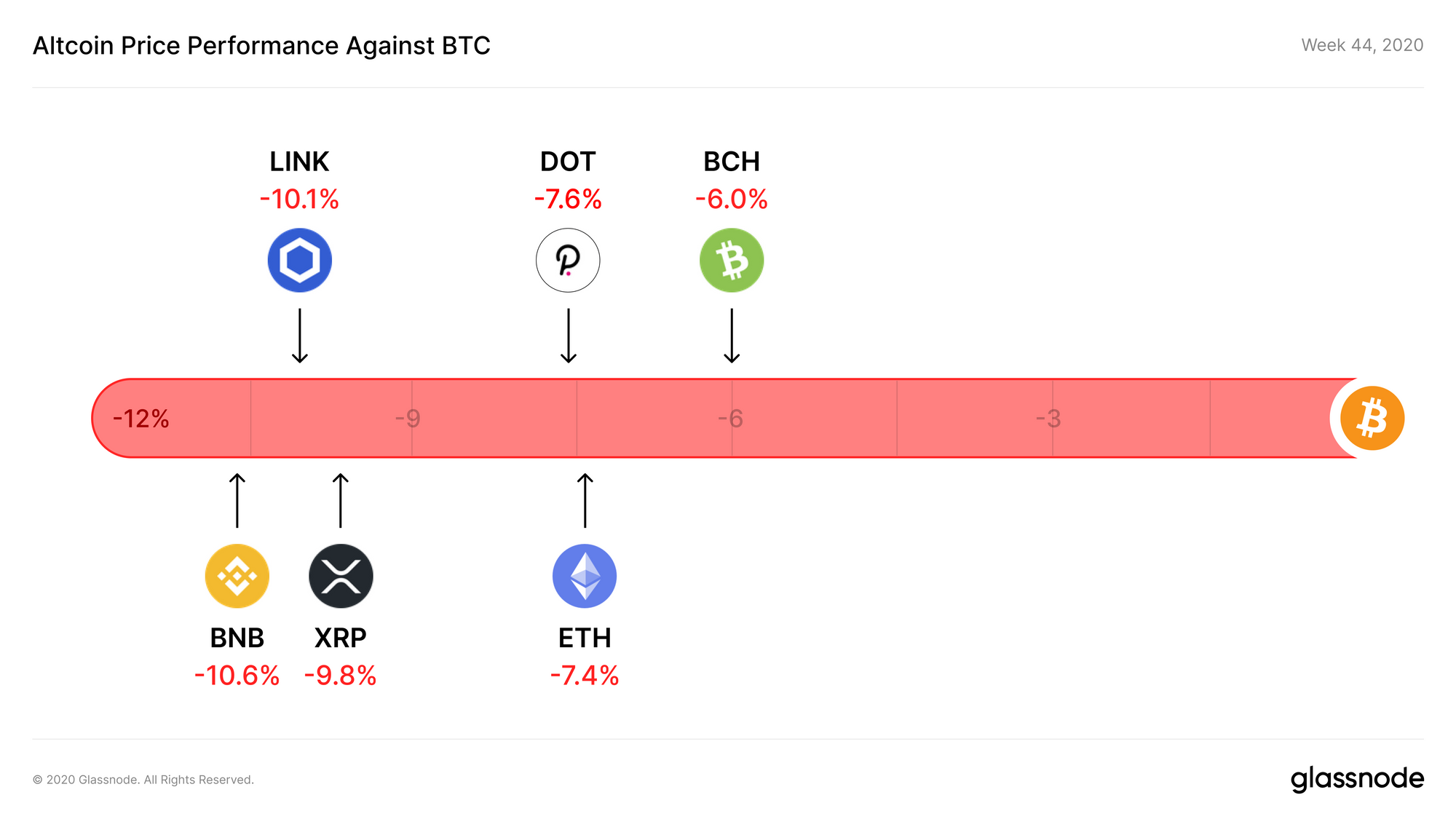 Meanwhile, ETH, which saw some gains the previous week, lost 7.4% next to BTC over the past week.
Performance against USD
As well as losing value against BTC, the top altcoins all decreased in USD value over the past week. Of the top cryptoassets, BTC was the only one to end the week in the green.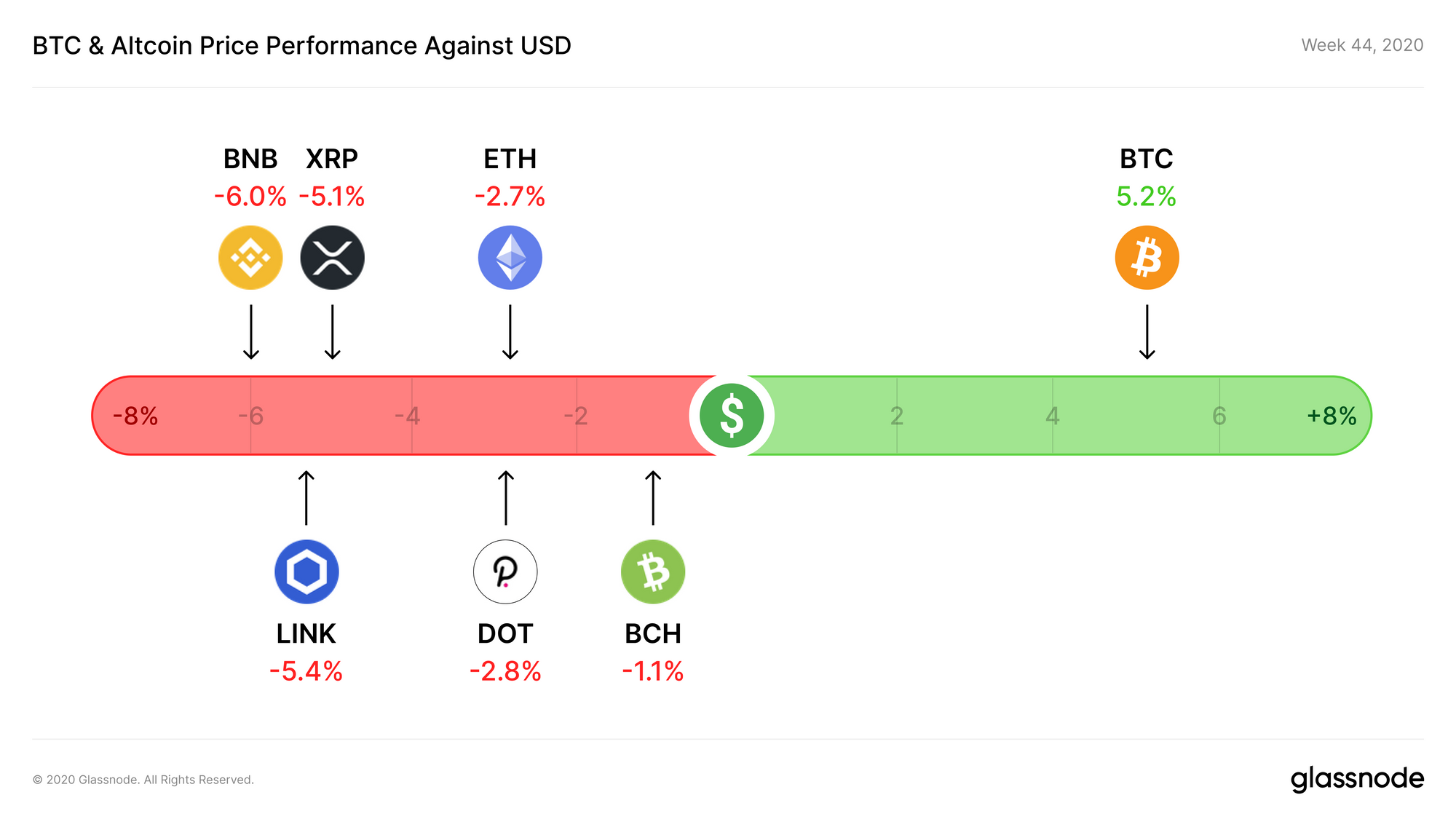 After losing 1.7% the previous week, BNB lost yet another 6% over the past week. BCH was the least hard-hit altcoin, losing only 1.1% of its value and maintaining the number 5 spot.
Which altcoins would you like to see us cover in future editions of The Week On-Chain? Let us know on Twitter.
---
USDC Approaching Supply of 3 Billion
USDC is an ERC-20 stablecoin that is 1:1 backed by regularly audited fiat USD reserves. The asset was launched in September 2018 by Circle, with support from the likes of Coinbase and Bitmain.
USDC grew slowly for the first year and a half of its existence, taking 21 months to attain a supply of 1 billion, which it reached in July 2020. However, after this milestone, the asset entered a rapid growth trajectory, taking only 2.5 months to double in supply and reach 2 billion.
Less than 2 months later, it is now the second most popular stablecoin, with a supply of nearly 3 billion, making it the 12th most valuable cryptoasset by market cap.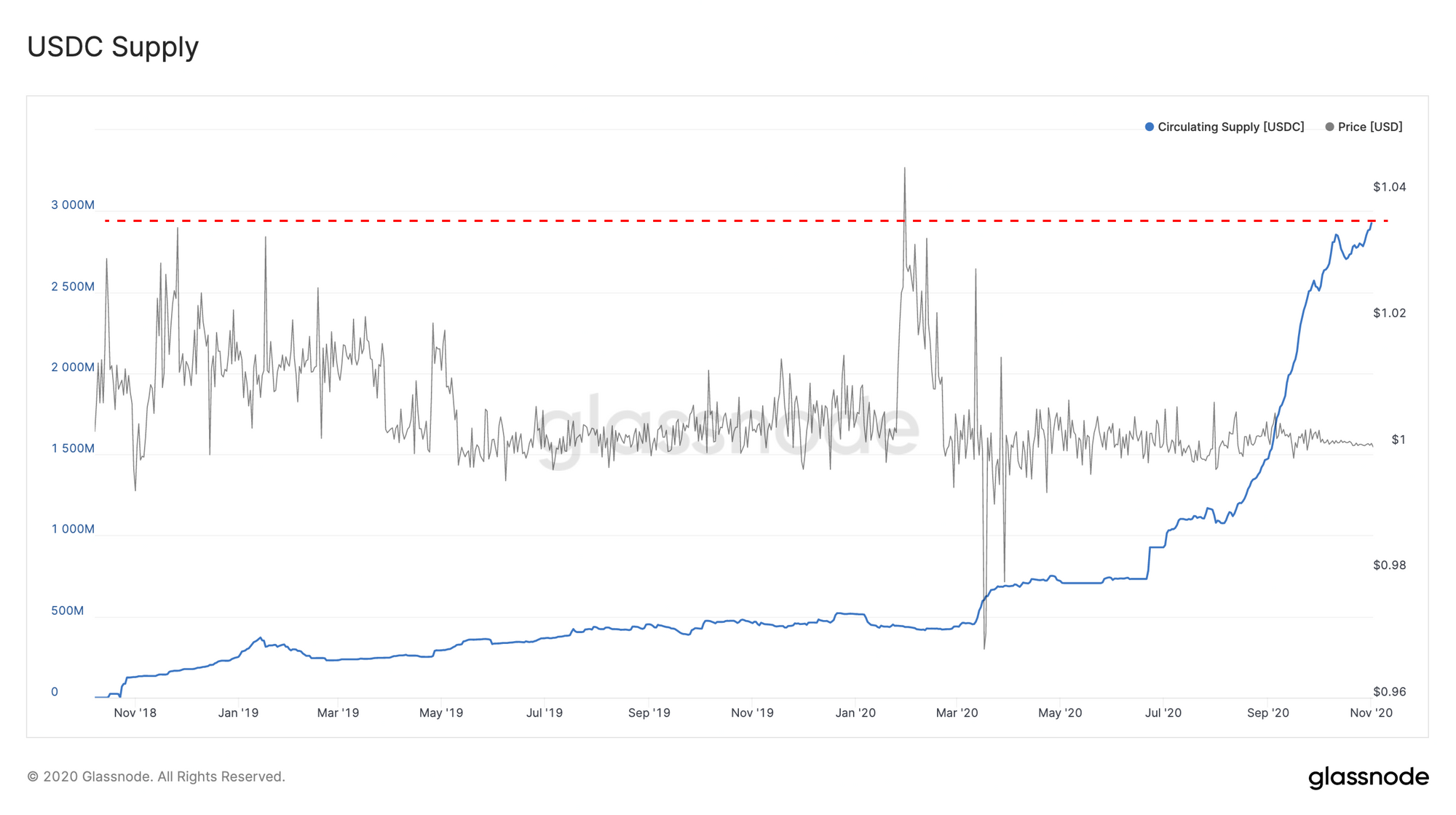 Its popularity is surpassed only by USDT (Tether), which has a supply of 16.7 billion, but a much shakier reputation. While USDT has also seen impressive growth in the latter half of 2020, there have been claims that it is not 1:1 backed, opening up the market for stablecoins like USDC to gain more popularity.
With this kind of growth, USDC will soon enter the coveted top 10, becoming one of the most valuable cryptoassets. Given the rise of stablecoin usage and its increasing popularity and reputation in comparison with USDT, it may even keep rising to become the most valuable stablecoin.
---
Product Updates
Metrics and Assets
Adjusted Circulating Supply (BTC) - New metric showing BTC's circulating supply, adjusted to account for lost coins. Coins are assumed to be lost if they have not moved in over 7 years.
---