The Week On-Chain (Week 7, 2021)
This week, the Bitcoin market opened up to the significant news of Elon Musk's firm Tesla, purchasing $1.5 Billion worth of BTC as part of the companies treasury balance sheet.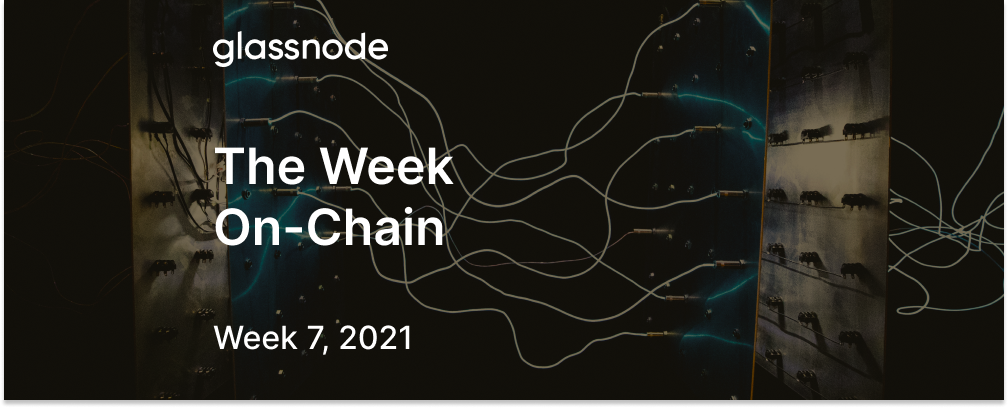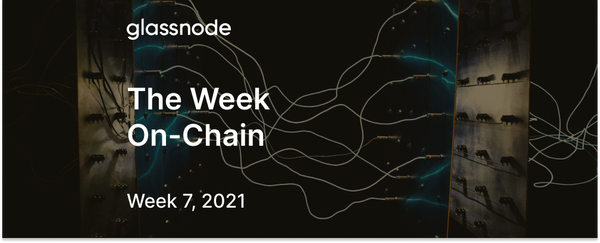 ---
Announcing Our Latest Newsletter: Uncharted
We have recently started a bi-weekly newsletter, Uncharted. This newsletter covers BTC from both an on-chain and off-chain data perspective, and uses beautiful charts and brief commentaries to give readers an intuitive snapshot of what is happening in the markets.
Check out Uncharted on our Substack, and subscribe now!
Bitcoin Market Overview
This week, the Bitcoin market opened up to the significant news of Elon Musk's firm Tesla, purchasing $1.5 Billion worth of BTC as part of the companies balance sheet strategy. Immediately following the news, BTC/USD printed the largest daily candle in history, up a staggering $7,162 (+18.45% on the day). The market has lovingly named this the 'Elon Candle'.
The market held onto these gains, and has since rallied to new all time highs of $49,485 after tagging an intra-day low of $43,909 along the way. There is no doubt, 2021 continues to shape up as a very exciting year for Bitcoin.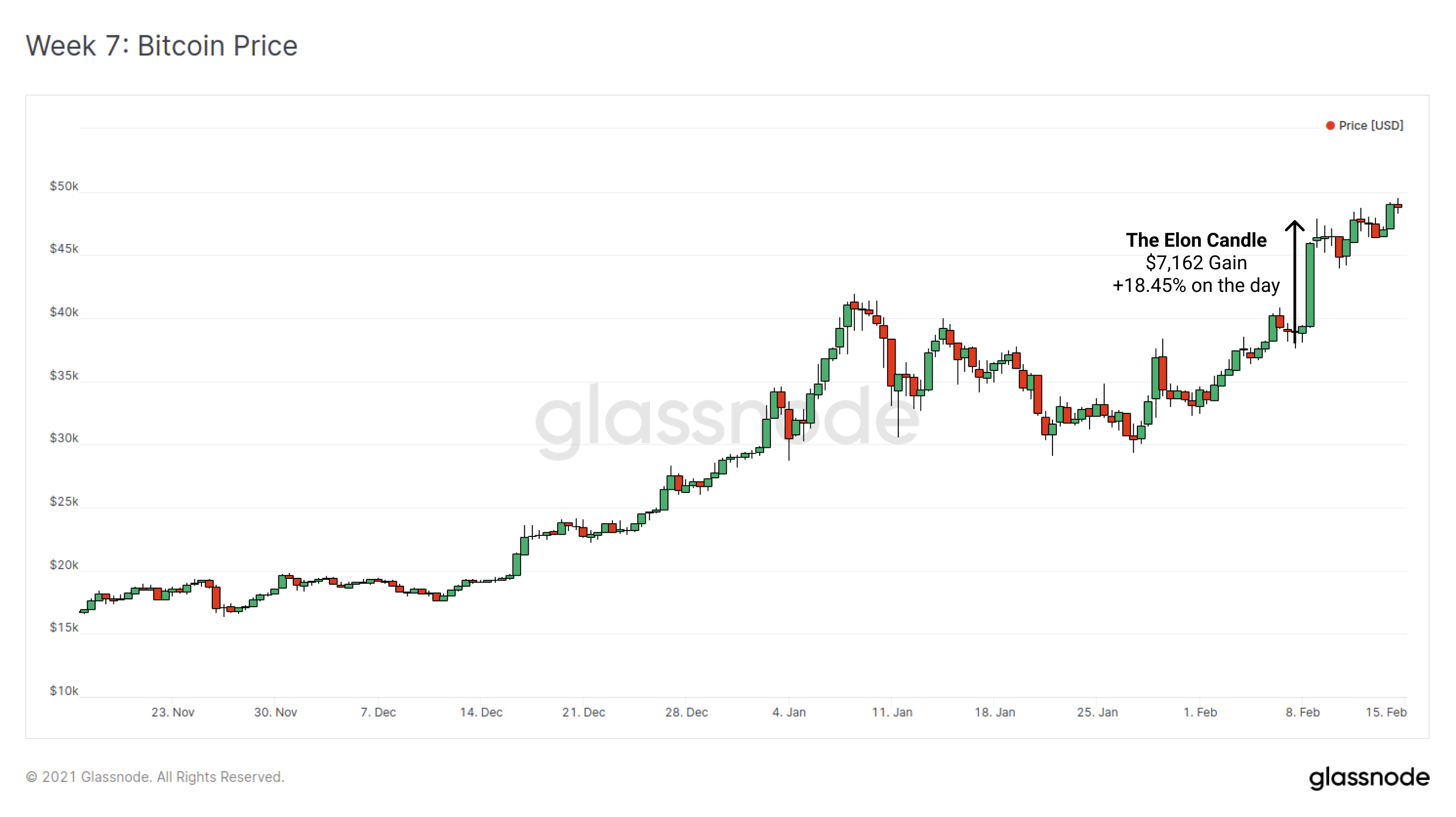 Market Reaction to the 'Elon Candle'
The balance of BTC held in exchange wallets has now been in a remarkable downtrend for over 12 months. The all time high for exchange balances occurred on 11-Feb-2020 (3.016M BTC) after which a total of 666.8k BTC have been withdrawn. This represents a 22% draw-down in exchange held coins leaving just over 2.346M BTC on exchanges.
This week, exchange balances have remained relatively flat seeing only a slight inflow of 3,000 BTC.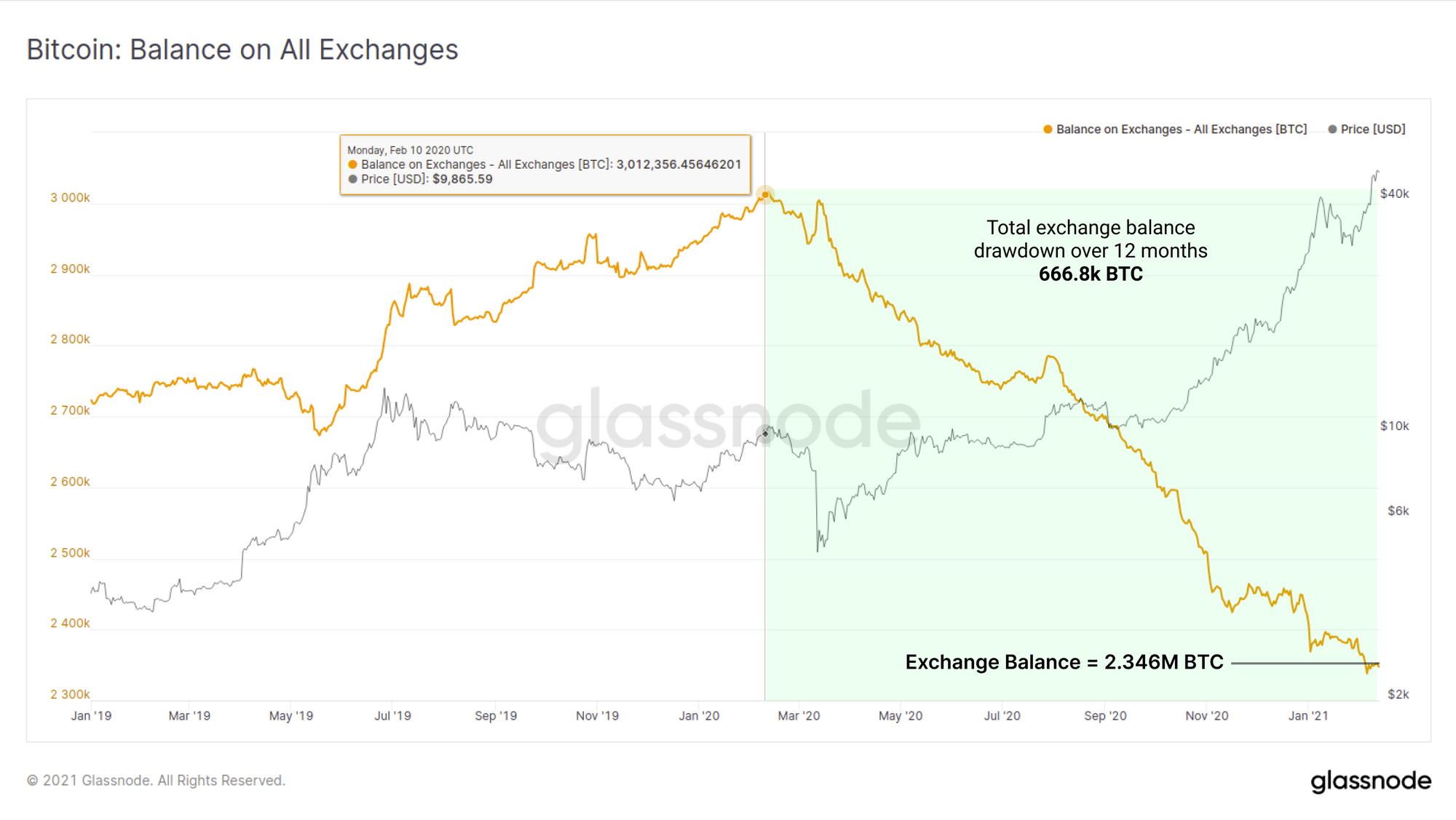 Meanwhile, derivatives markets experienced significant action with open interest across futures exploding to a record high of $16.48 Billion, eclipsing the previous peak by over $3.48 Billion.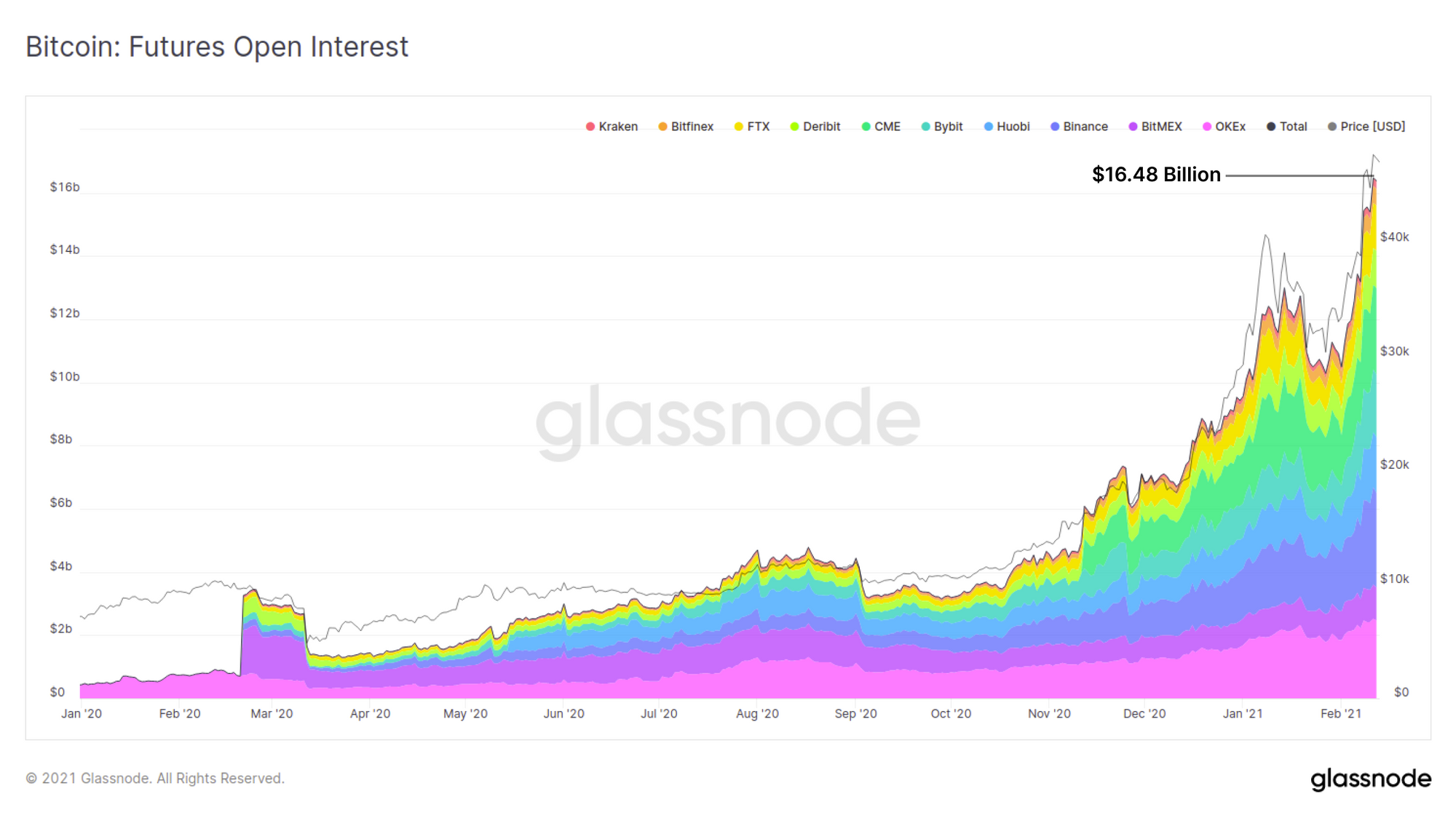 In true Elon form, a whopping $438m in short interest were liquidated between Binance and OKEx on the news.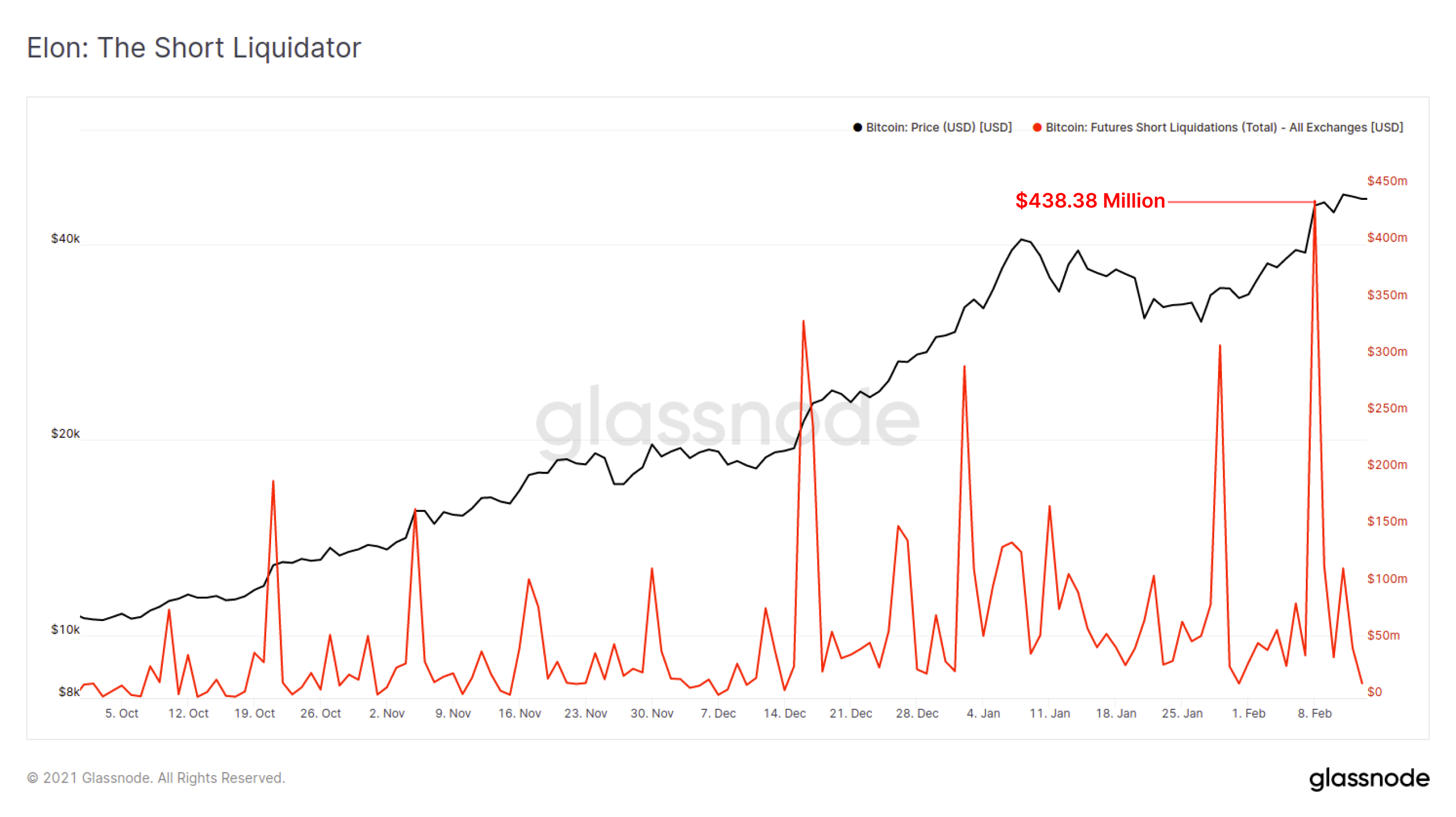 Reaction of Natural Sellers
There are two principal natural sellers of BTC during bull markets, miners and holders of older coins who accumulated in the past and are realising profits.
After a period of increased miner distribution during the rally and subsequent consolidation throughout January, miners have actually eased off their sell pressure this week. This suggests that miners have either completed adequate sales to cover costs, or could also mean they see Tesla's vote of confidence as fair reason to keep a strong grip on their treasuries.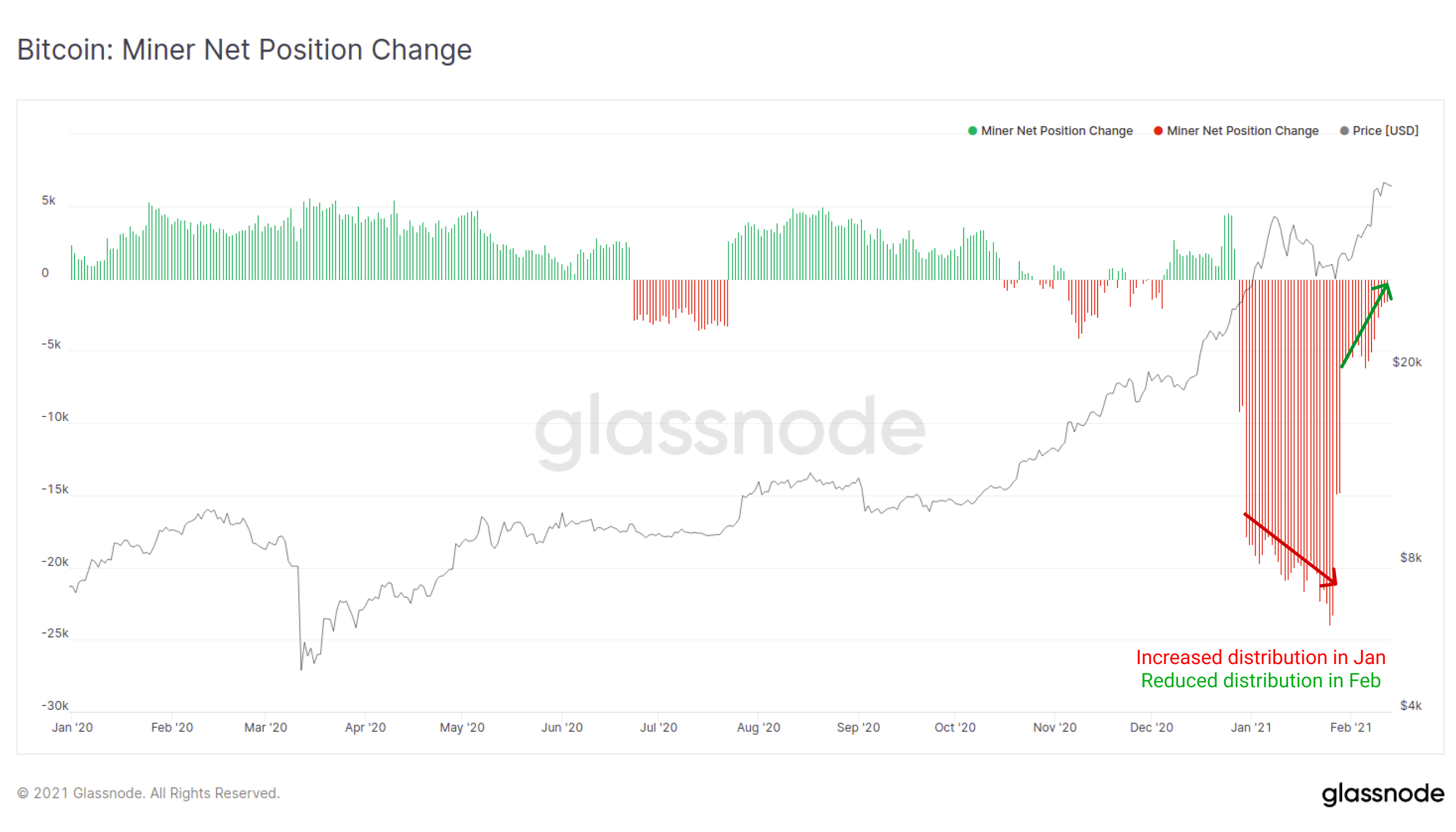 HODLer's of older coins however, appear to have taken advantage of the market strength to move their coins and potentially sell into the move. The Elon Candle has lifted the average age of coins spent from 30-days to 58-days, as shown in the (Average Spent Output Lifespan indicator (ASOL).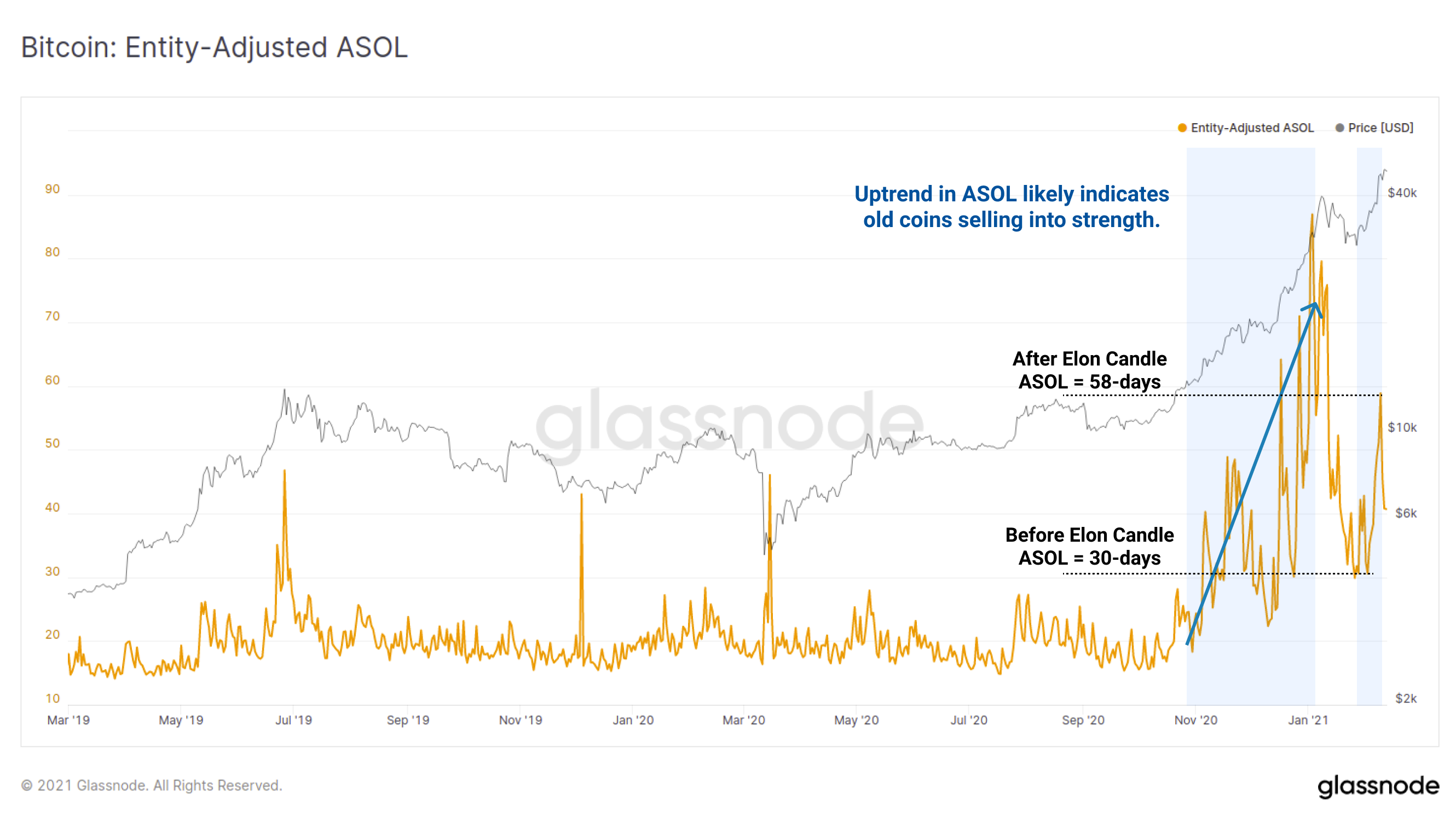 A very similar observation can be made for the Coin Days Destroyed (CDD) metric which tracks when old coins are on the move. Both the CDD and ASOL indictaors demonstrate that older coins have been on the move since BTC/USD price was around $12k, and have been moving at an increasing pace. This behaviour slowed during the consolidation in January, and has started ramping back up this week.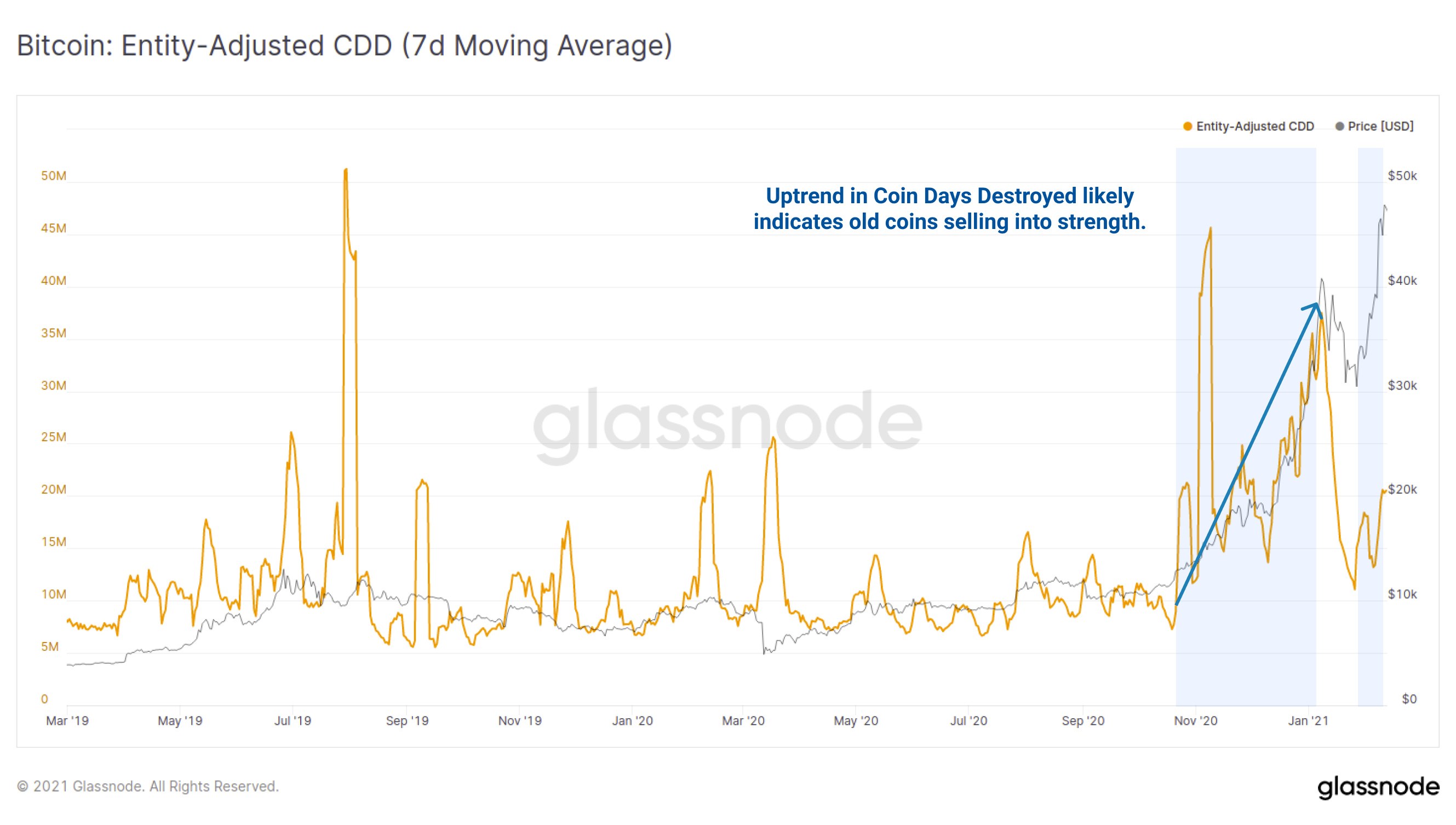 This weeks feature topic, located at the end of this post, presents an overview of the ASOL metric for those interested to learn more about its interpretation, and how to use it in your analysis.
---
Altcoin Feature: Uniswap Token (UNI)
Another asset which has seen significant positive price performance, alongside a drawdown in exchange balances, is the Uniswap Token (UNI). After exchange balances peaked at 36.86M UNI in early January, a 10% outflow of 5.323M UNI tokens has occurred, supporting a price rally from $6.33 to over $23.26 (a 367% gain).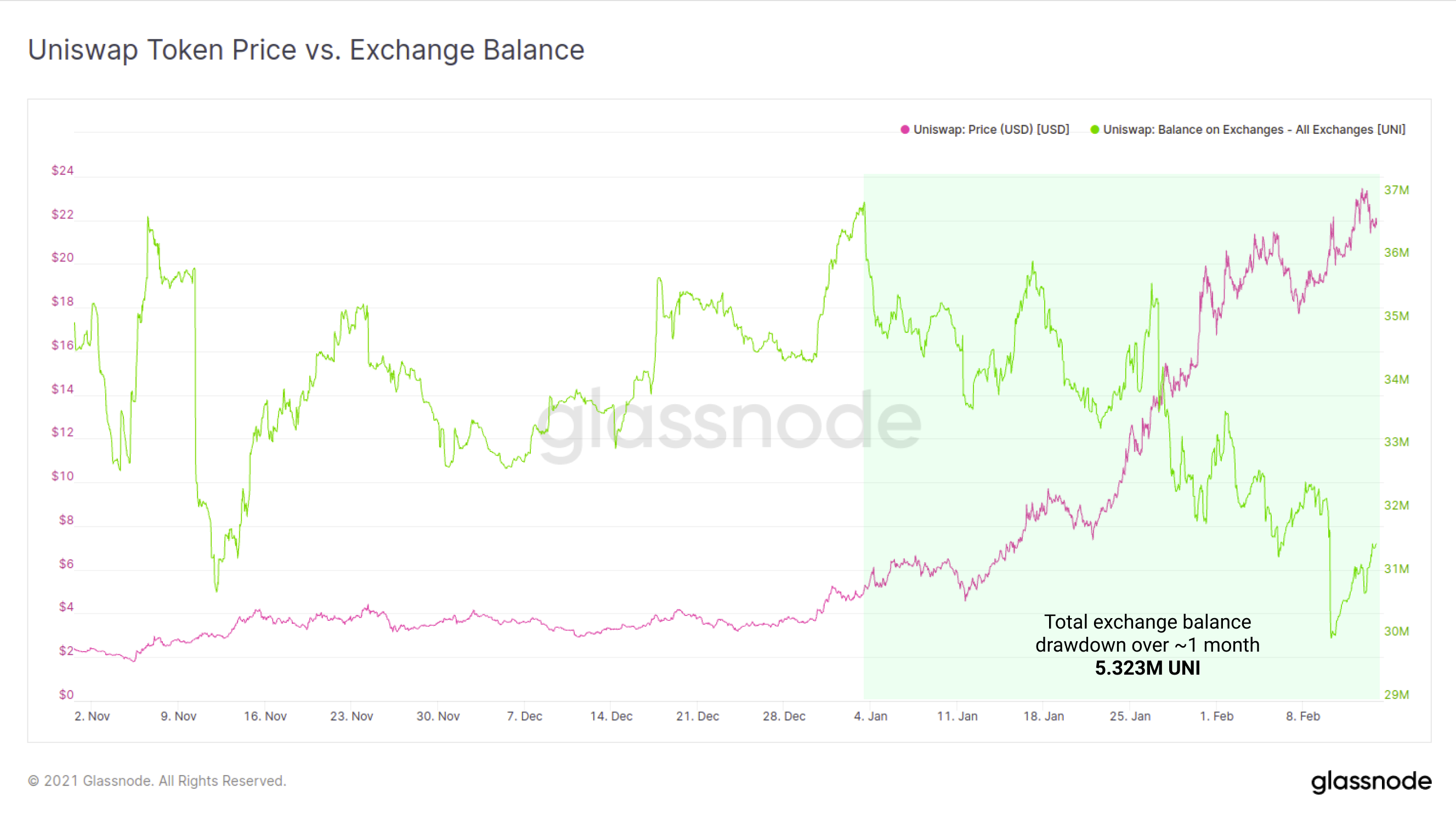 Over this same period of time, the number of intra-day transactions transferring UNI tokens tripled from 277tx/hr to a peak of 830tx/hr. Since the 1-Feb however there has been a marked slow-down of transactions counts for UNI tokens despite continued price appreciation.
These relatively simple metrics (exchange balance and transaction rates) demonstrate how token activity on-chain can provide insight into aggregate market sentiment and behaviour.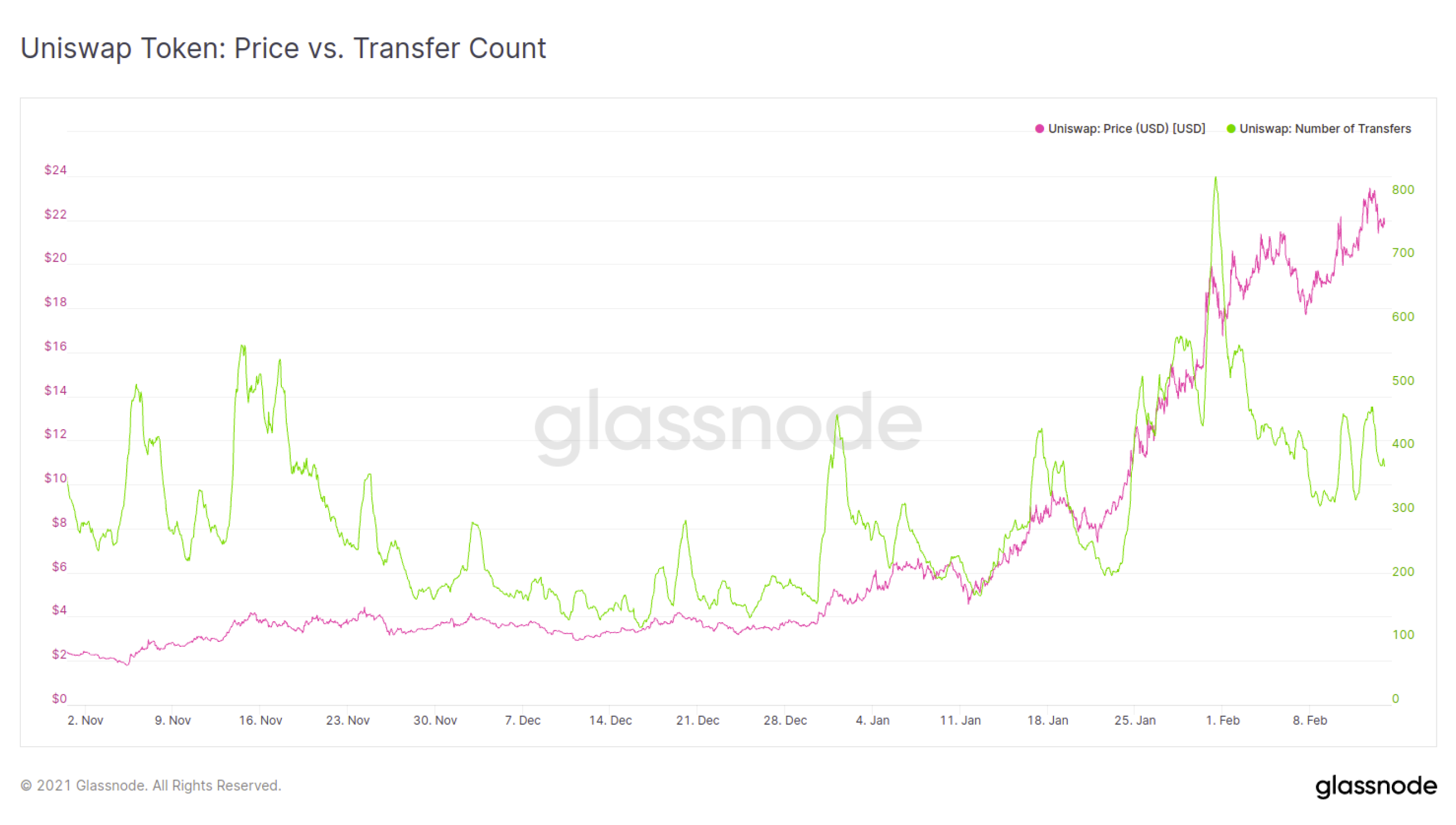 ---
Weekly Feature: Interpreting the ASOL Indicator
Average Spent Outputs Lifespan (ASOL) is a useful indicator for filtering out changes in older coin spending behaviour. This provides insight into the actions of longer term and smart money hodlers.
In general, older coins (i.e. ones which have not moved in a relatively long time) are held by strong hands with high conviction in the asset. Each day, the ASOL (unit in days) metric calculates the average age of spent coins. Some examples:
An ASOL value of 5-days means that on average, the coins spent that day were relatively young and thus were likely purchased recently (short term movements, likely day to day traders).
An ASOL value of 50-days however, means there were a reasonable number of old coins spent to lift the average. Perhaps a small few ancient coins (> 3yr old) moved, or it could represent be a larger volume of coins bought 1-3yrs ago in the last bear market.
We can see in the chart below that ASOL values greater than 100-days tend to occur during strong bullish impulses as strong hands sell into strength. Conversely, relatively low ASOL values less than 50-days are typical of bear markets as interest wanes and off-chain exchange volume dominates, and early bull markets during the disbelief phase.
Remember, the older a coin is, the larger the impact it has on the ASOL indicator (and vice versa). This metric is also independent of the volume of coins transferred, it considers only the time since a coin was last spent. The Coin Days Destroyed indicator does consider age and coin volume so is a perfect counterpart to the ASOL indicator.
You can find the ASOL metric on Glassnode Studio here.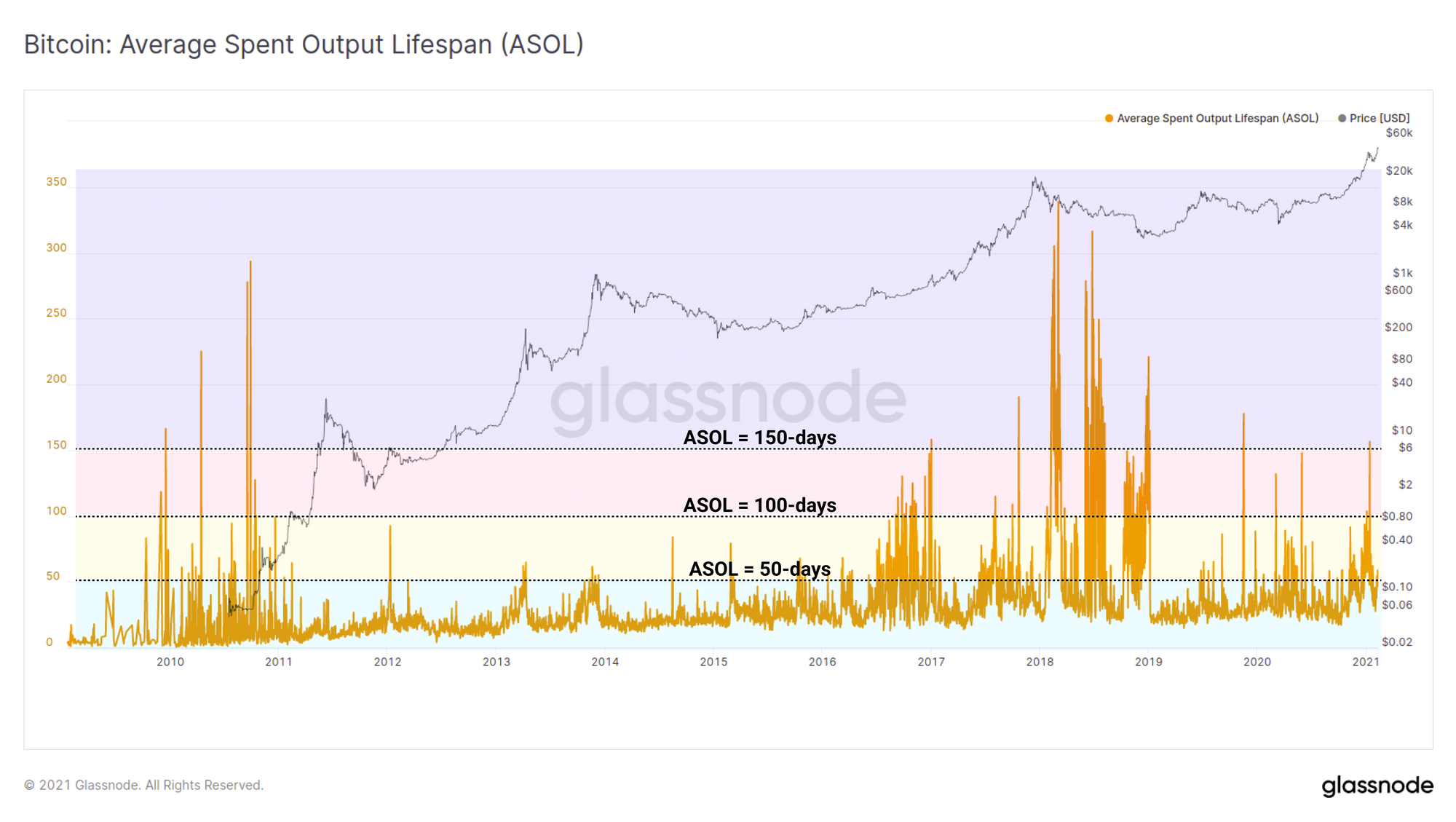 ---
Product Updates
---

Features