Welcome to Glassnode Forum
Welcome to Glassnode Forum, a venue to share ideas, discuss analysis and research, and connect with the brightest minds in on-chain and market analytics.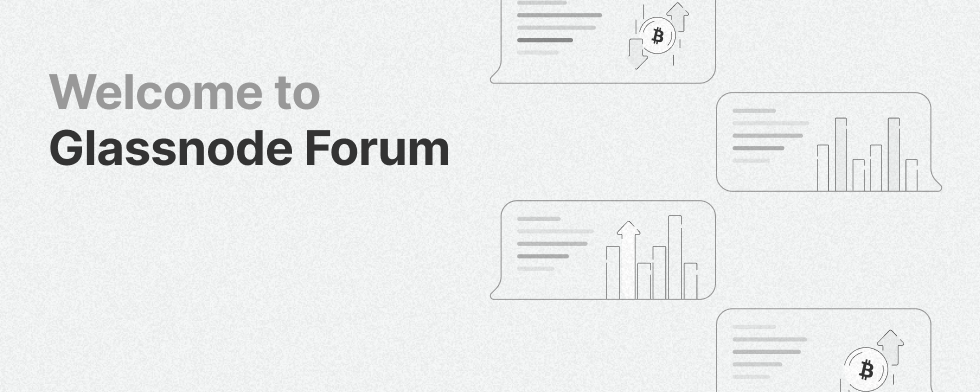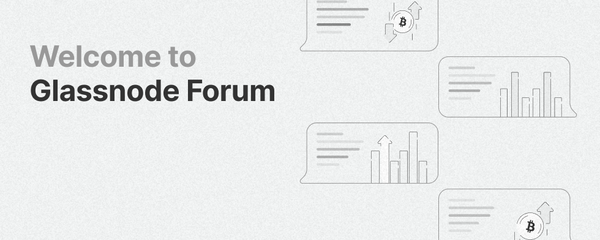 Forum is our latest product release which aims to bring our analyst community closer together. Forum is available for Advanced and Professional accounts, and provides a venue to share ideas, discuss analysis and research, and connect with the brightest minds in on-chain and market analytics.
This article provides an overview of the design goals and objectives for Forum, as well as a brief user guide for how to make the most out of the platform.
You will find Forum at forum.glassnode.com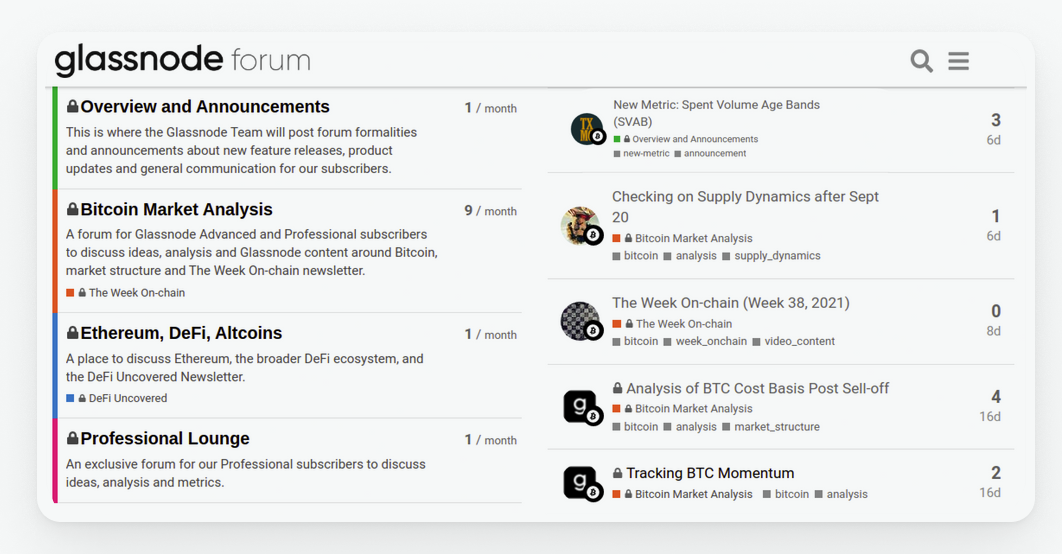 Forum is for On-chain Insiders
Forum is designed to be a valuable destination for finding deeper insights, and asking questions within the Glassnode community. Whether it is launching your newest Workbench creation, presenting a new piece of market research, or asking a technical question on metric interpretation, Forum is the place to be.
On-chain Connections: Forum is a place to meet and engage the best analysts in the business. As the discipline of Bitcoin market analysis becomes increasingly dynamic, Forum gives you access to the pioneers in the space to test ideas, get feedback and learn from those in the know.
Bespoke Insights: The Glassnode research and analyst team will also release content that is exclusive to Forum, providing market updates, AMA sessions, and product announcements for our members. During periods of market volatility, the Glassnode team will launch discussion threads with their thoughts, and open the floor to the wisdom of the crowd.
The Inside Scoop: Forum is also a venue where you can ask technical questions on metric construction, or interpretation, to help you better navigate our data and tools. Our analyst and data science teams are available to assist with your questions to help you build out your knowledge base and find the edge you want in the data. Please note, Forum is intended for questions related to market analysis, metric interpretation and data science. For Glassnode account or customer support, please email support@glassnode.com.
For our Professional members, Forum also includes an exclusive Pro-Only Lounge for closer interactions with the Glassnode Team and your Professional peers.

Forum User Guide
Posting on Forum is available for Advanced and Professional Glassnode accounts. You will be able to sign in via your existing Glassnode credentials. Your Forum account will initially adopt your email as your username, and if you would like to change this:
Click your profile picture and select Preferences
Update your user profile details
Set your Advanced or Professional flair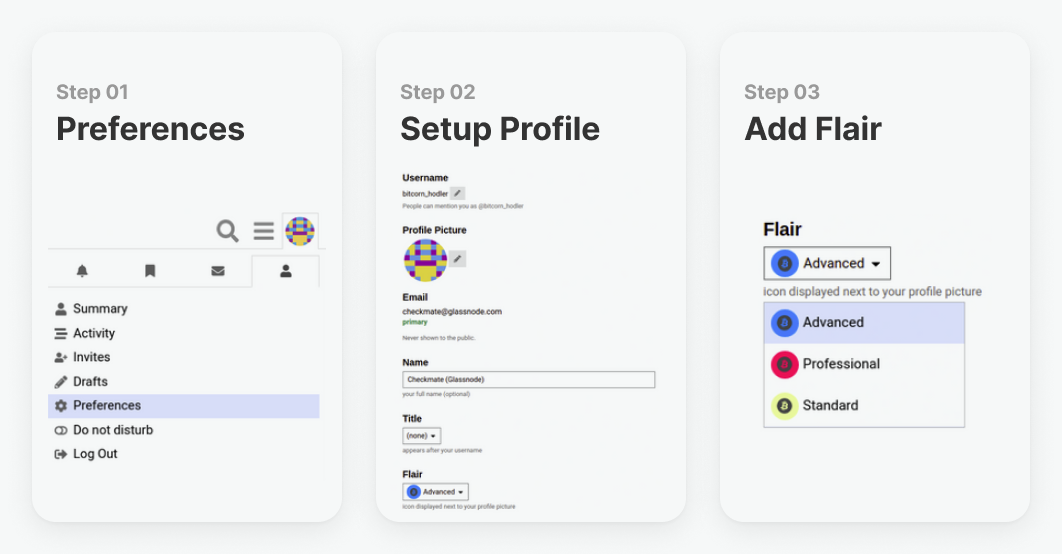 In the main Forum pane, the conversation will be segmented into Categories:
Overview and Announcements will be where the Glassnode team will initially launch new products, metrics and communications for members.
Bitcoin Market Analysis is for all discussions related to the orange coin, ranging from on-chain to derivatives. This is where members can post threads for their own analysis, insights or questions related to metric interpretation. The Week On-chain newsletter and supporting video report will also be released as a consistent conversation starter and weekly discussion thread.
Ethereum, Defi and Altcoins is available for all conversations related to crypto-assets and the wider market ecosystem.
Professional Lounge is an exclusive channel for our professional and institutional members to engage with and ask questions directly to the Glassnode team.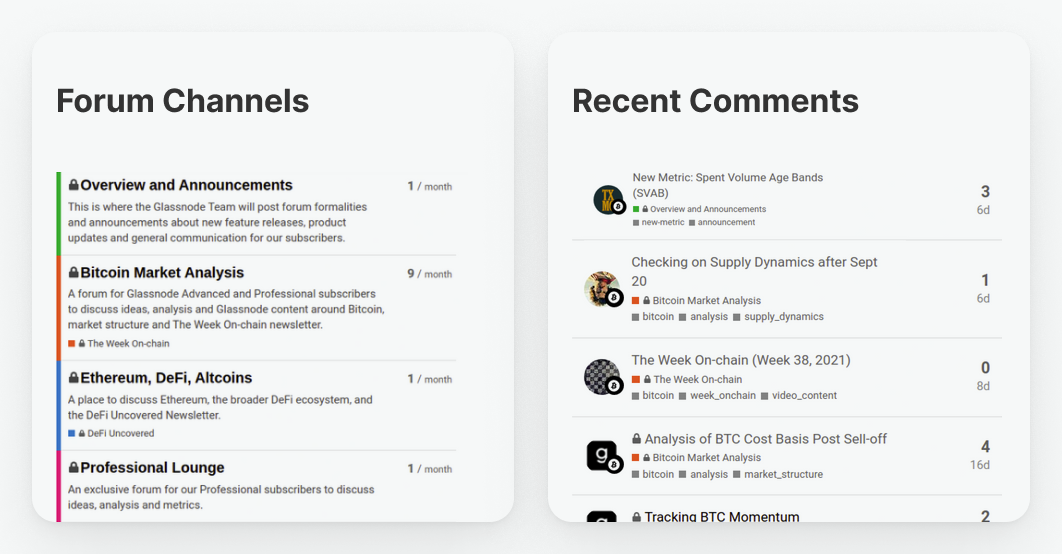 Forum Guidelines and Moderation
Upon entering Forum, please take a moment to review the Forum Guidelines post (Under Overview and Announcements channel). We expect our members to be respectful and should any need arise for moderation, please @Glassnode_Admin and we will attend as soon as possible.
Please utilise the search feature in case a particular query or discussion has occurred in the past that answers your questions.
The Glassnode analyst team will be available for any technical queries related to metric interpretation and discussions (@checkmate_glassnode, @TXMC and @Permabullnino).
Thank you
The discipline of on-chain analysis is young and we believe will be written by a community of analysts, investigating market dynamics from all angles. Forum is a place for our community to share ideas and grow alongside constructive feedback from peers.
The Glassnode team looks forward to meeting and seeing you in Forum!