---
Bitcoin Market Health
Bitcoin experienced a large spike today, after spending the week fluctuating around the $7k mark. It is currently priced at ~$7450, a nearly 5% increase for the day.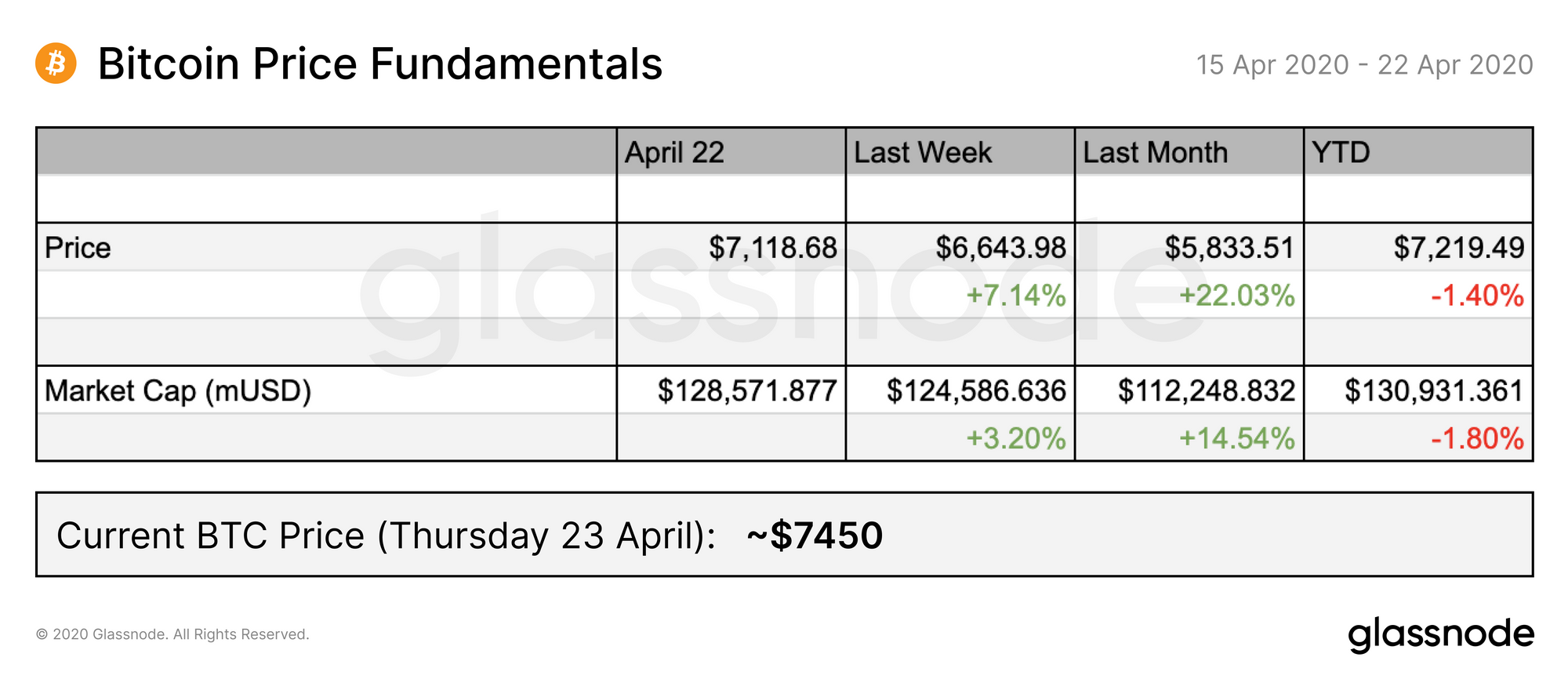 On-chain fundamentals for the week show a significant increase in activity on the Bitcoin network, with the number of transactions and the number of active entities rising.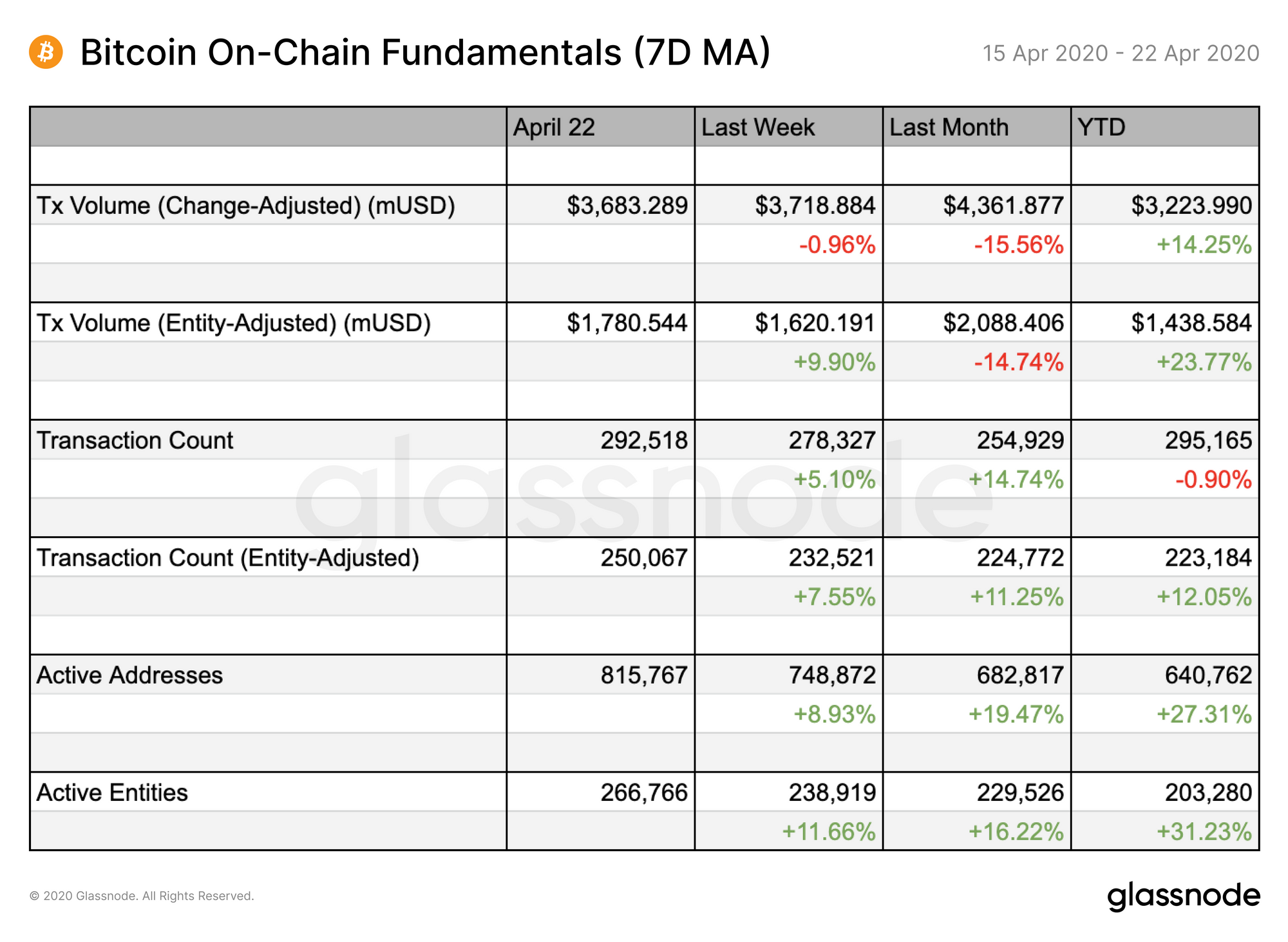 This represents not only a recovery to pre-crash levels, but also a significant increase in activity as compared to the start of 2020. This spike in activity is to be expected due to the upcoming halving, as well as a revival in widespread retail interest in bitcoin.
---
BTC Active Entities Reaches Highest Point Since July 2019
The number of active entities (7d MA) in the Bitcoin network has spiked recently, reaching its highest point since the bull run of July 2019.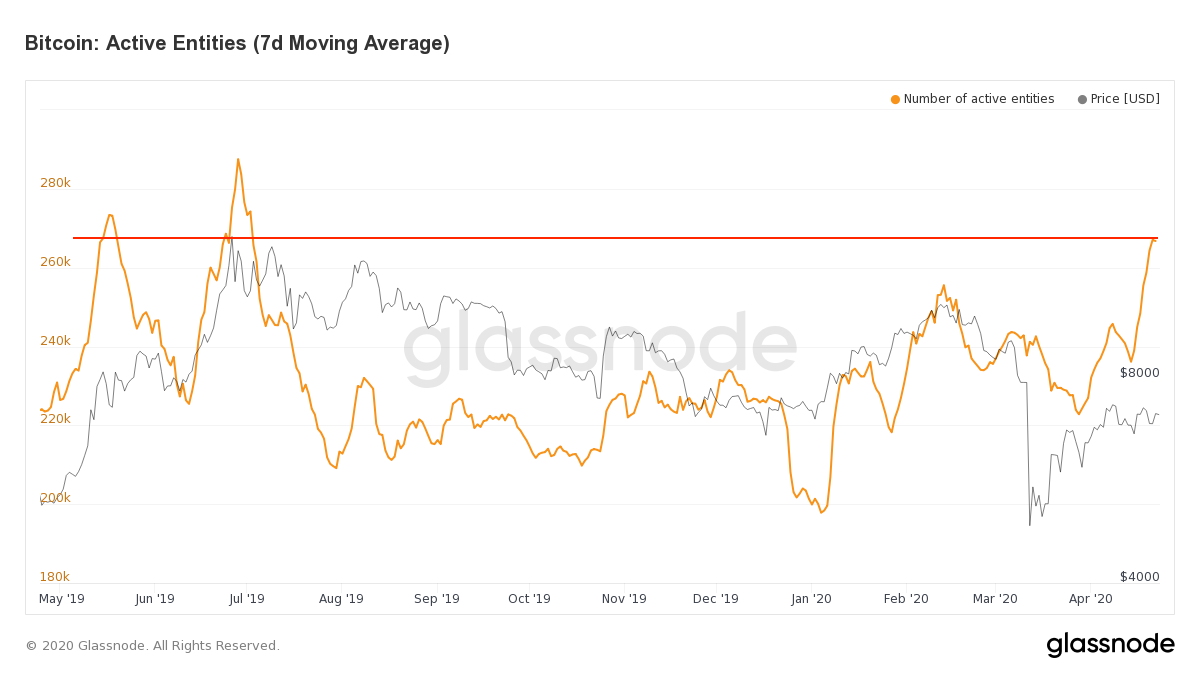 The active entities metric represents Bitcoin's active addresses, clustered to remove in-house transactions (i.e. it shows the number of individuals or businesses using the network, while filtering out double-ups if they are using more than one address).
Its increase represents a change from the relatively lower levels of activity seen after the crash of March 2020, and may indicate new investors entering the market.
As global markets continue to see massive uncertainty and instability - and traditional "safe haven" assets such as oil plummet in price - BTC is becoming a more attractive asset, acting as a hedge against traditional financial markets.
---
Community Insight
Content and insights derived from Glassnode data by our community
The balance of BTC on BitMEX is down 32% since its top in March, as tweeted by @Unfolded using data from Glassnode Studio.
We recently reported on the decreasing balance of BTC across exchanges, a trend which appears to be continuing as we approach the next halving and users withdraw their assets for longer-term holding.
Stay updated on BTC Exchange Balances to keep watching this trend, and remember to send us your own content using Glassnode data to be featured in our next weekly update.
---