Product Update: September 2022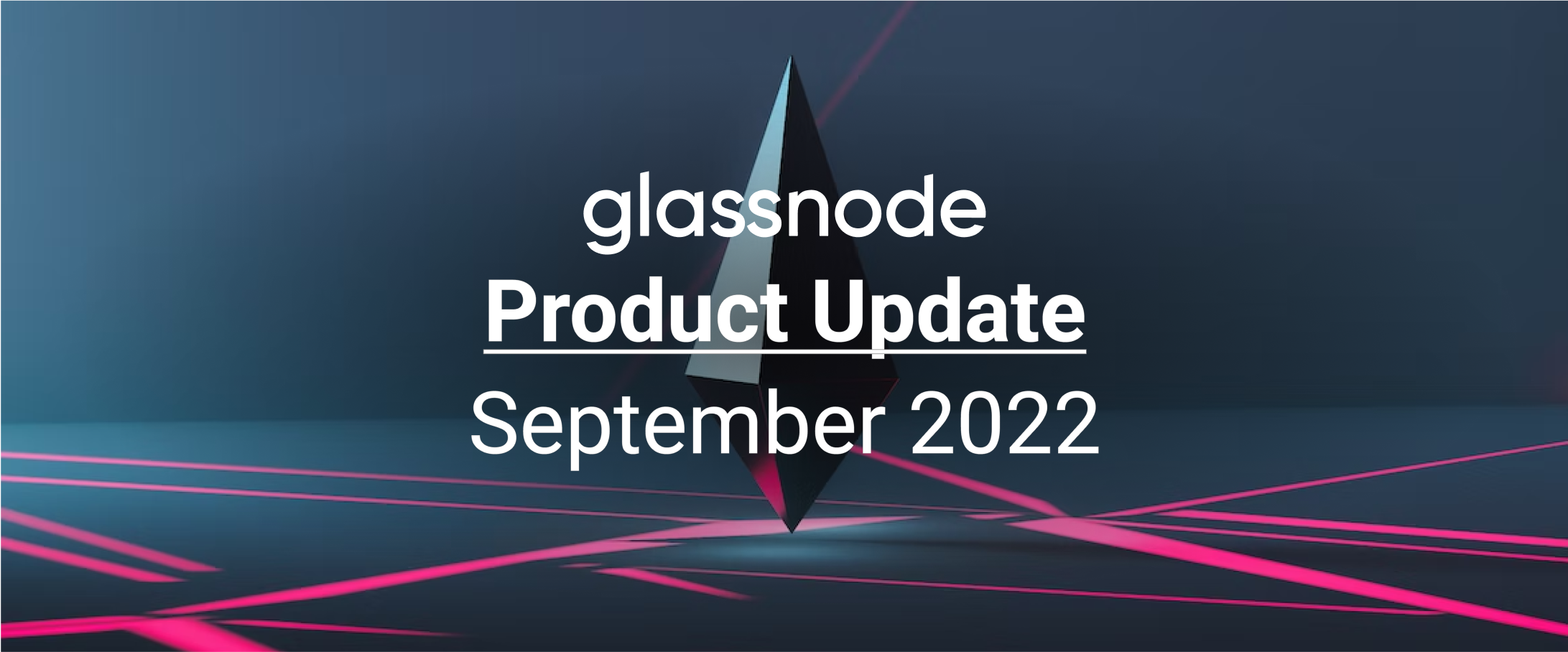 September was an extremely exciting month for Glassnode, engaging our entire team from engineering, data scientists, and analysts, to deploy a brand new suite of Ethereum Merge and Proof-of-Stake metrics. A brief summary of the metrics, content, and product releases for the month are as follows:
The Ethereum Merge was a feat of technical brilliance, moving from Proof-of-Work consensus, to a pure Proof-of-Stake blockchain. With the Ethereum Merge now behind us, we are pleased to launch a suite of new Ethereum Proof-of-Stake metrics, Workbench Pre-sets, and Dashboards.
New Proof of Stake metrics:
We have released x16 foundational Proof of Stake metrics to profile the Beacon Chain.
We have expanded the number of staking service providers we monitor, accounting for over 10M ETH (70% of the total). The top 4 service providers continue to be Lido, Coinbase, Kraken, and Binance, whom manage a combined 8.18M ETH staked, account for 56.08% of the total stake. One of the newest growing staking pools we monitor, Rocketpool, remains very small in scale, but is growing, with 228.2k ETH hosted, and representing 1.56% of the total stake so far.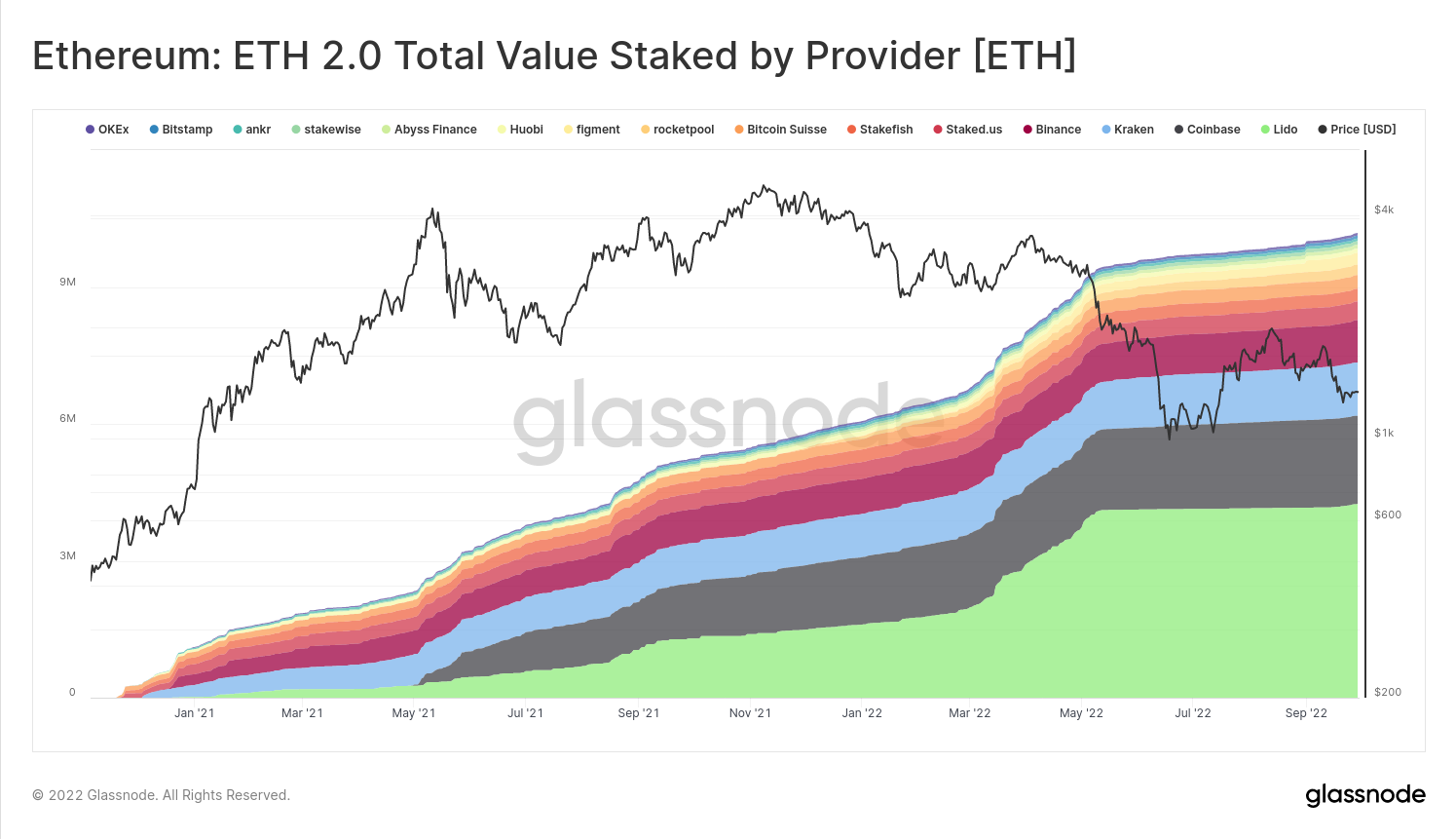 New Proof of Stake Workbench Constructions:
Building on our foundational Proof of Stake metrics, we have released x7 Workbench Constructions to monitor the evolution of Ethereum supply dynamics post merge, Validator Activity, as well as Staking economics.
The Ethereum PoS protocol allows for the movement of validators both into, and out of the validating network. On both entrance and exit, there is a queue system which regulates changes in the number of validators per epoch, to assure smooth network operation. With these parameters, and 6.4-min Epochs, the expected daily validator churn limit will range from a minimum of 900/day, to a maximum of 3,600/day.
This workbench metric displays the observed daily net change in Active Validators, as well as the daily validator churn limit cap.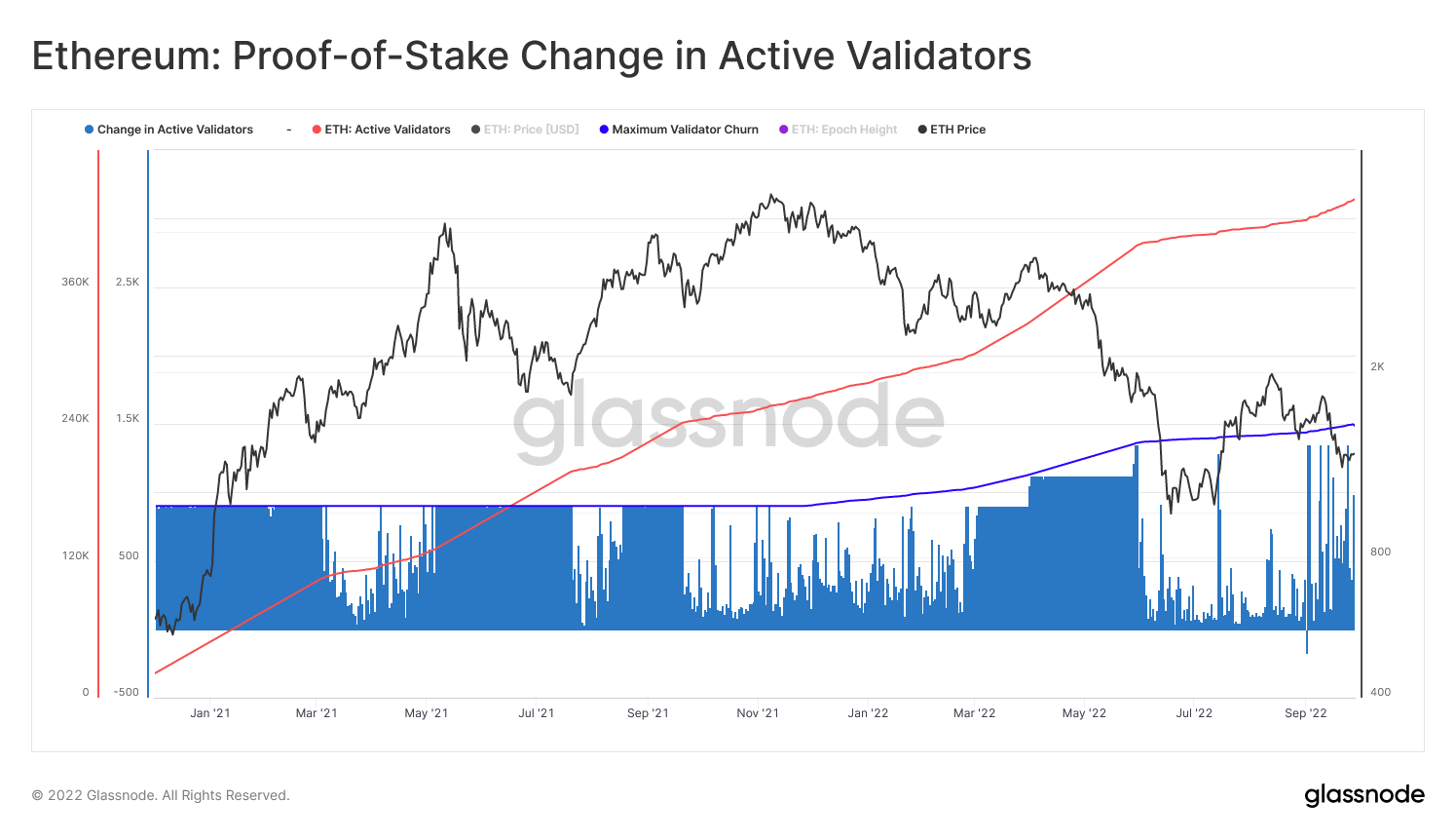 New Proof-of-Stake Dashboards
We have compiled and released two dashboards to help categorize and provide interpretation guidance for important Proof of Stake Metrics, and Workbench Pre-Sets.
Dashboard: Proof-of-Stake Consensus covering all the critical consensus and network stability parameters for the post-Merge blockchain.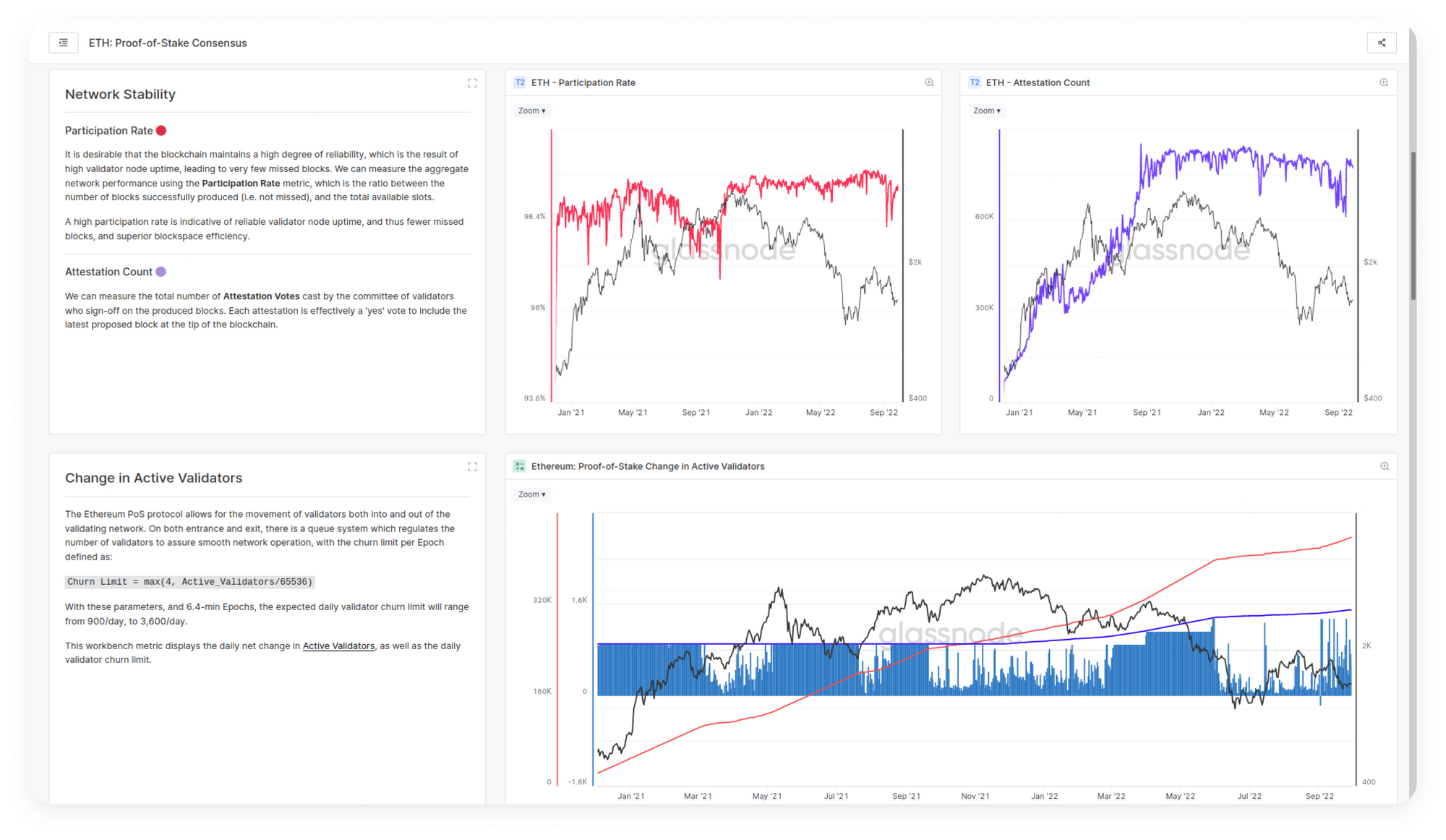 Dashboard: Post-Merge Supply Dynamics exploring estimated validator economics, return profiles, supply issuance, burning rates, and net inflation/deflation rates.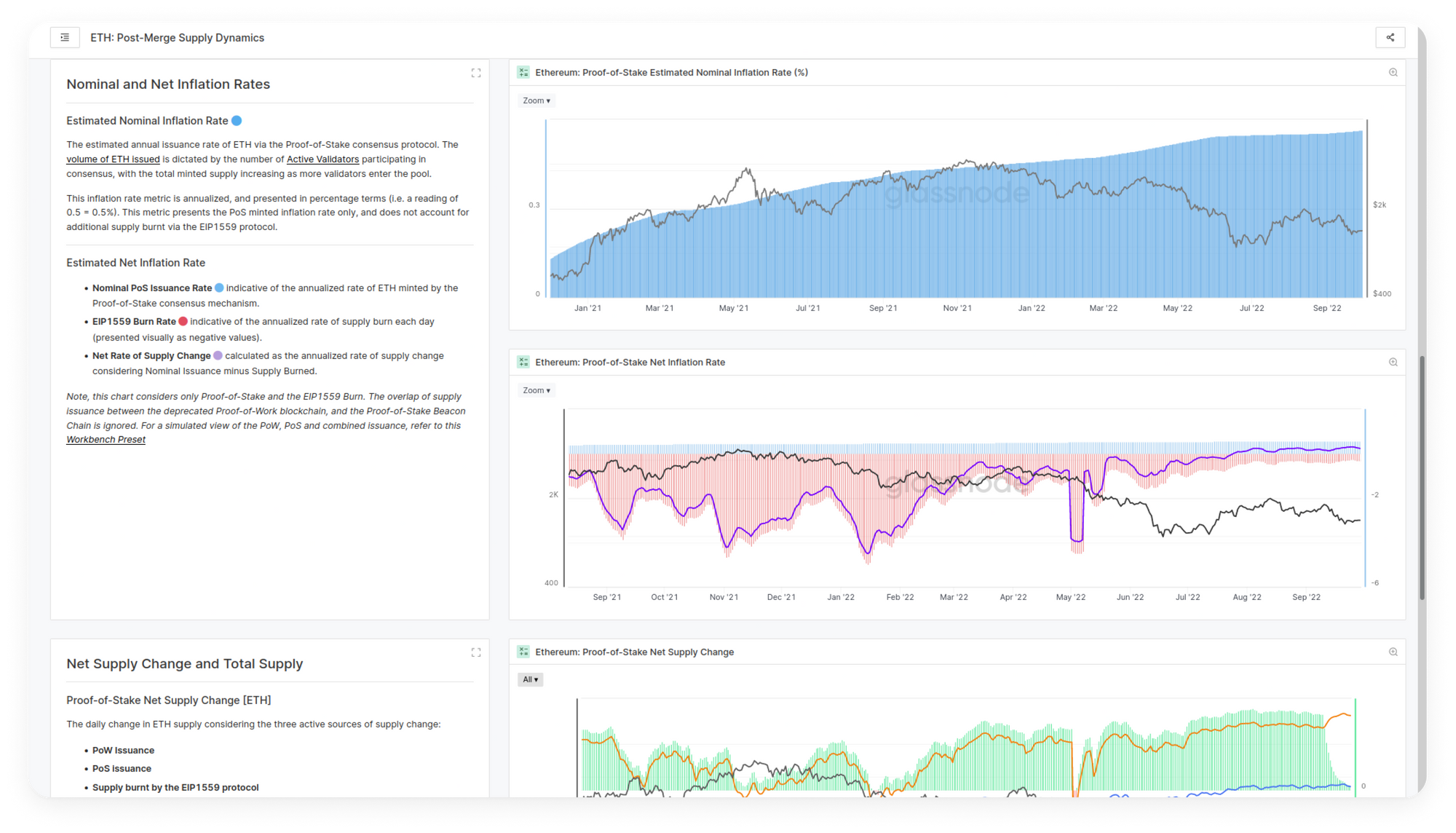 September saw another month of high volatility, albeit in a tighter range between local highs of $22k and lows of $18.5k. With Ethereum price rallying into expectations of a successful merge, it appeared to be a sell the news event with price action collapsing shortly after (WoC38).
Bitcoin Long-Term Holders remain steadfast with mature spending remaining historically muted despite a deteriorating macro economic condition (WoC 37 and 39). In contrast, the Short-Term Holders find themselves responsible for the majority of coin churn around the current market value, jostling for position (WoC 36 and 39).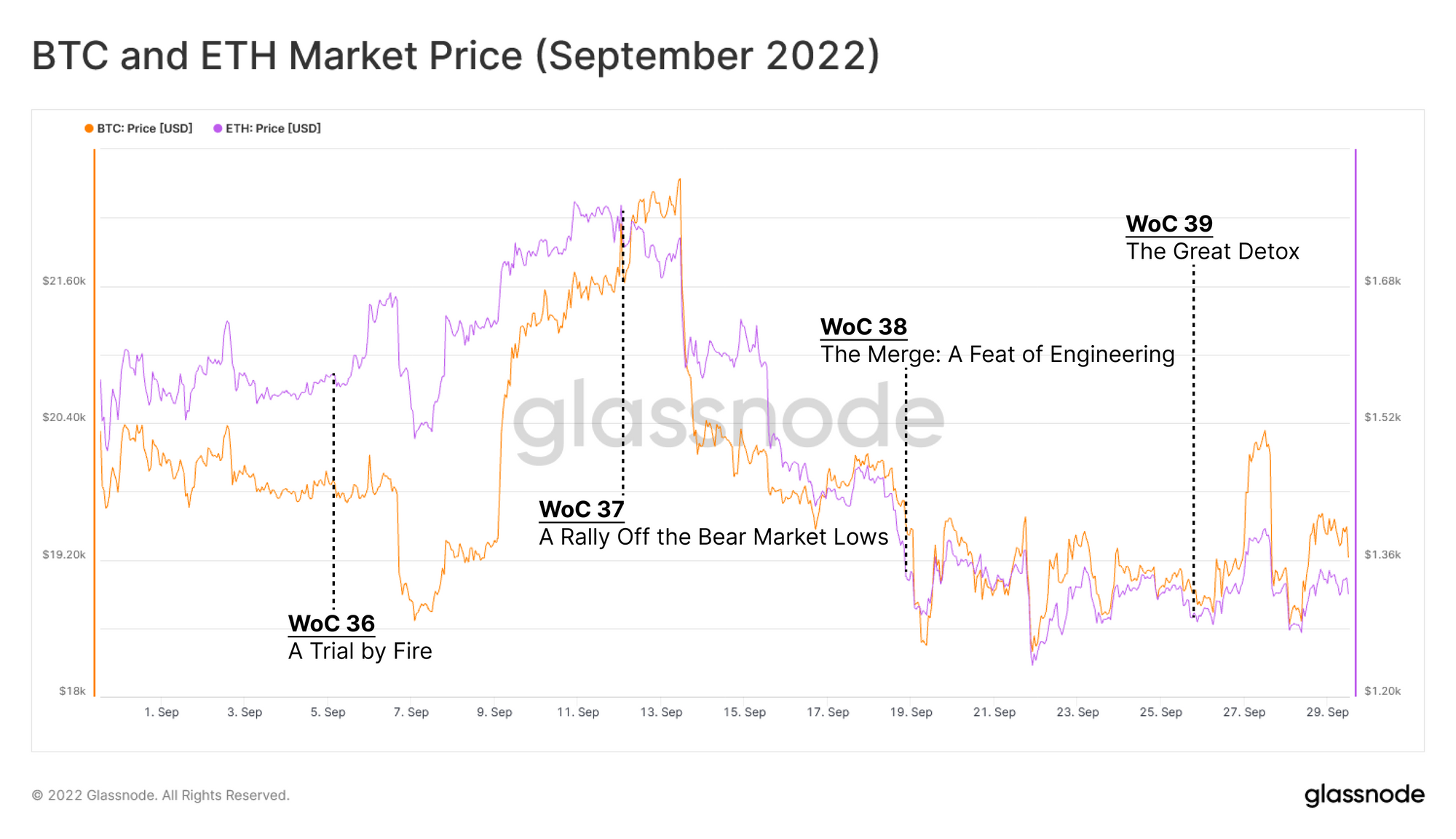 The Week On-Chain Newsletters Released
The #Ethereum Merge introduces a suite of new on-chain metrics which describe Proof-of-Stake consensus. In our latest collaboration with CoinMarketCap, we explore these new Proof-of-Stake metrics and profile Beacon Chain network performance since genesis. Read our new report profiling the Beacon Chain.

---
The Market Pulse is a new report series by the Glassnode team, available exclusively for Advanced and Professional members on Glassnode Forum. Market Pulse Reports provide unique insight into how we, as power-users, maximise value within the Glassnode suite. We explore both the creative, technical, and educational elements of on-chain and market concepts, accompanied by bespoke step-by-step Workbench demonstrations and guides.
Market Pulses Released
The chart below explores an alternative variation of the RVT Ratio by replacing the Transfer Volume with the Median Transfer Volume. This creates a ratio exploring the deviations / convergences of the realized network valuation against the "middle of the pack" spending footprint. This chart is a snippet from the Market Pulse: Understanding the RVT Ratio live on the Forum.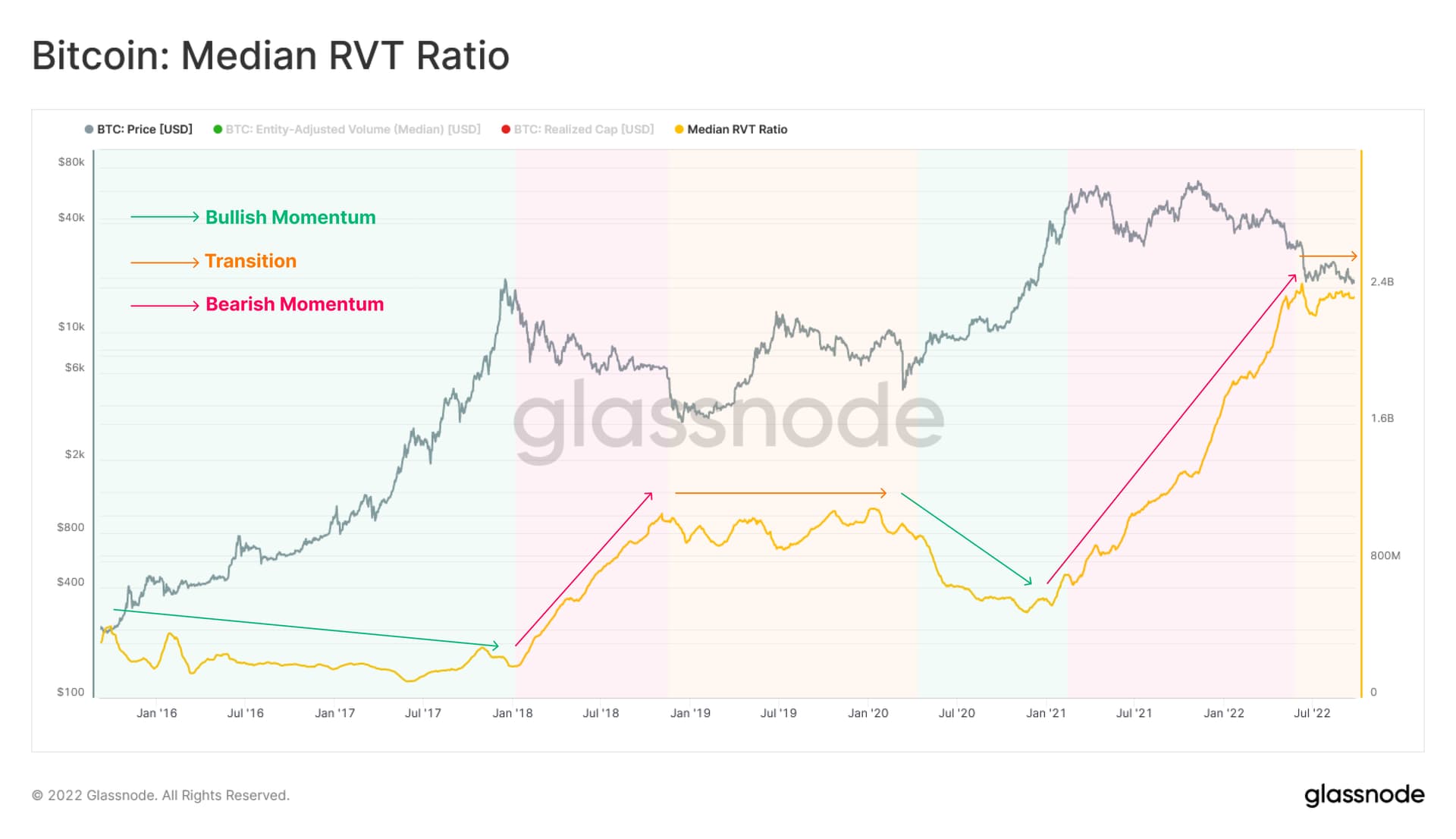 Workbench is our premier tool for crafting bespoke metrics and visualizations, to elevate your Bitcoin, Ethereum, and crypto market analysis. In addition to the Proof-of-Stake Workbench Pre-sets, this month we released new Workbench Constructions for 5x Ethereum profitability and valuation models, 4x Stablecoin metrics and 3x Market metrics.
Ethereum:
Stablecoins:
Market:
As investors deposit and withdraw ETH from the Beacon Chain staking contract, we can assign a price-stamp and thus calculate the realized value for each transaction. This Workbench chart presents the following traces:
Realized Price for the Ethereum network 🔵, capturing the average price at which the entire ETH supply last moved on-chain.
Realized Price for PoS Deposits 🔴, capturing the average deposit price for all staked ETH.
Aggregate Unrealized Profit/Loss on Deposits 🟡, calculated as the difference between the Realized Price for Deposits, and the Spot Price, multiplied by total ETH value staked.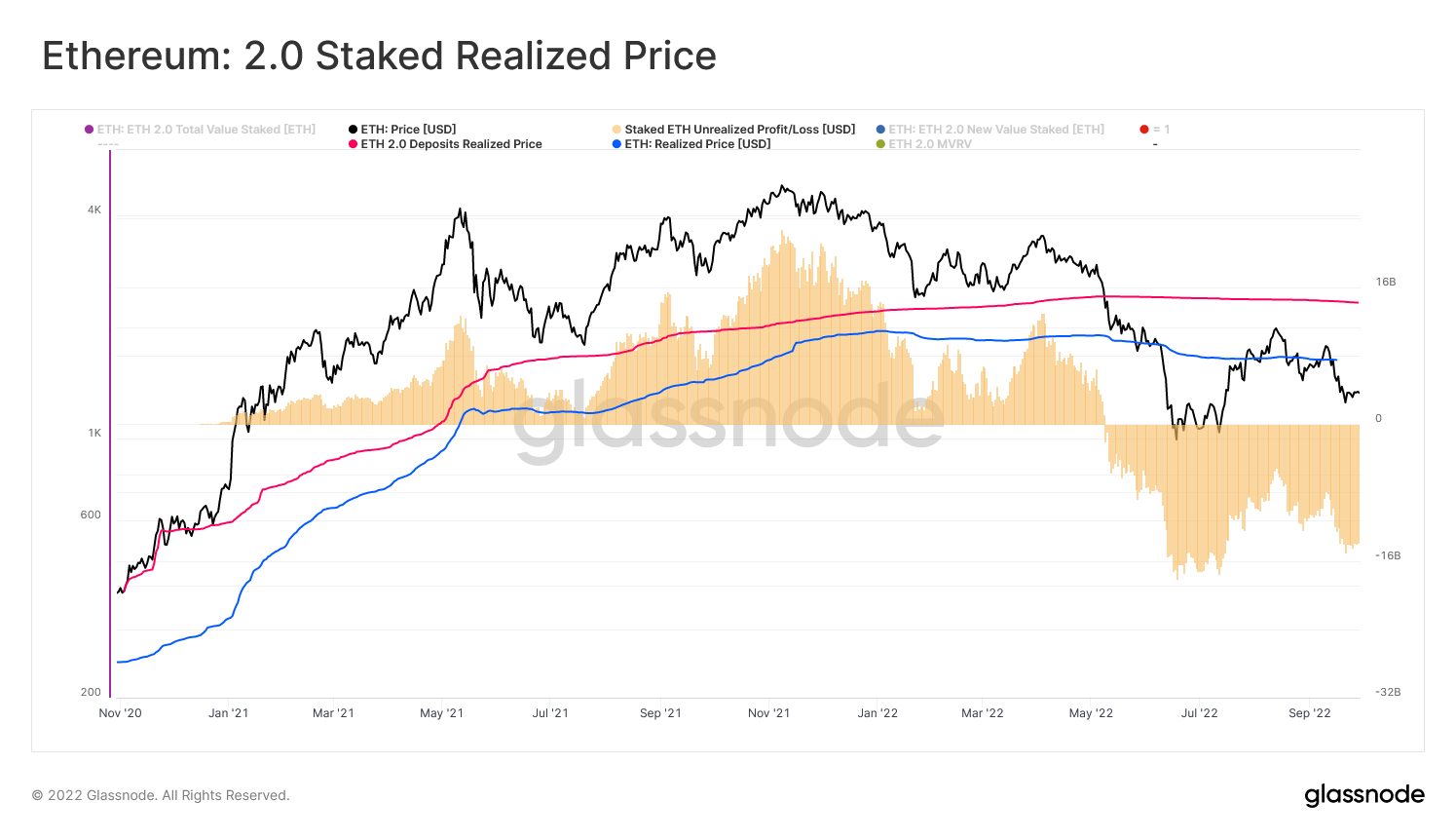 ---