The Week On-Chain (Week 19, 2020)
Bitcoin fundmentals remain strong leading up to and following the halving. Hash rate follows its trajectory as miners keep mining.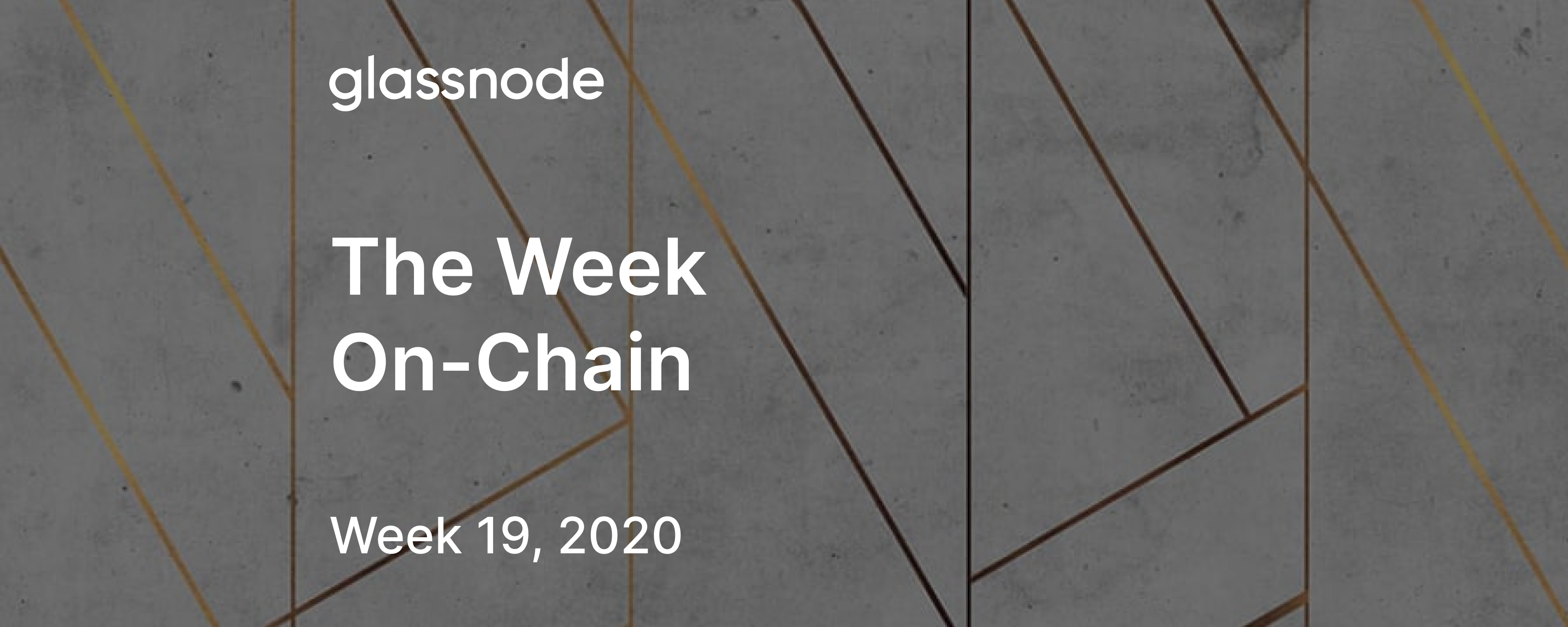 ---
A Note on GNI: Our New On-Chain Index
We recently released a new, industry-leading on-chain index, the GNI (Glassnode Index). Below, you will find these new valuation methods applied to the past week of Bitcoin data.
With this new toolset, we are bringing you an updated version of The Week On-Chain, with better insights into Bitcoin's behavior than ever before.
---
Bitcoin Market Health
Bitcoin on-chain fundamentals dropped slightly in Week 19. GNI registered a 2 point decrease over the week, pushing its overall assessment of the Bitcoin ecosystem to 74 points, the 10th highest weekly value since 2017. This downturn was mainly driven by the Sentiment subindex, which decreased by 13 points.
Read more about how these values are broken down here.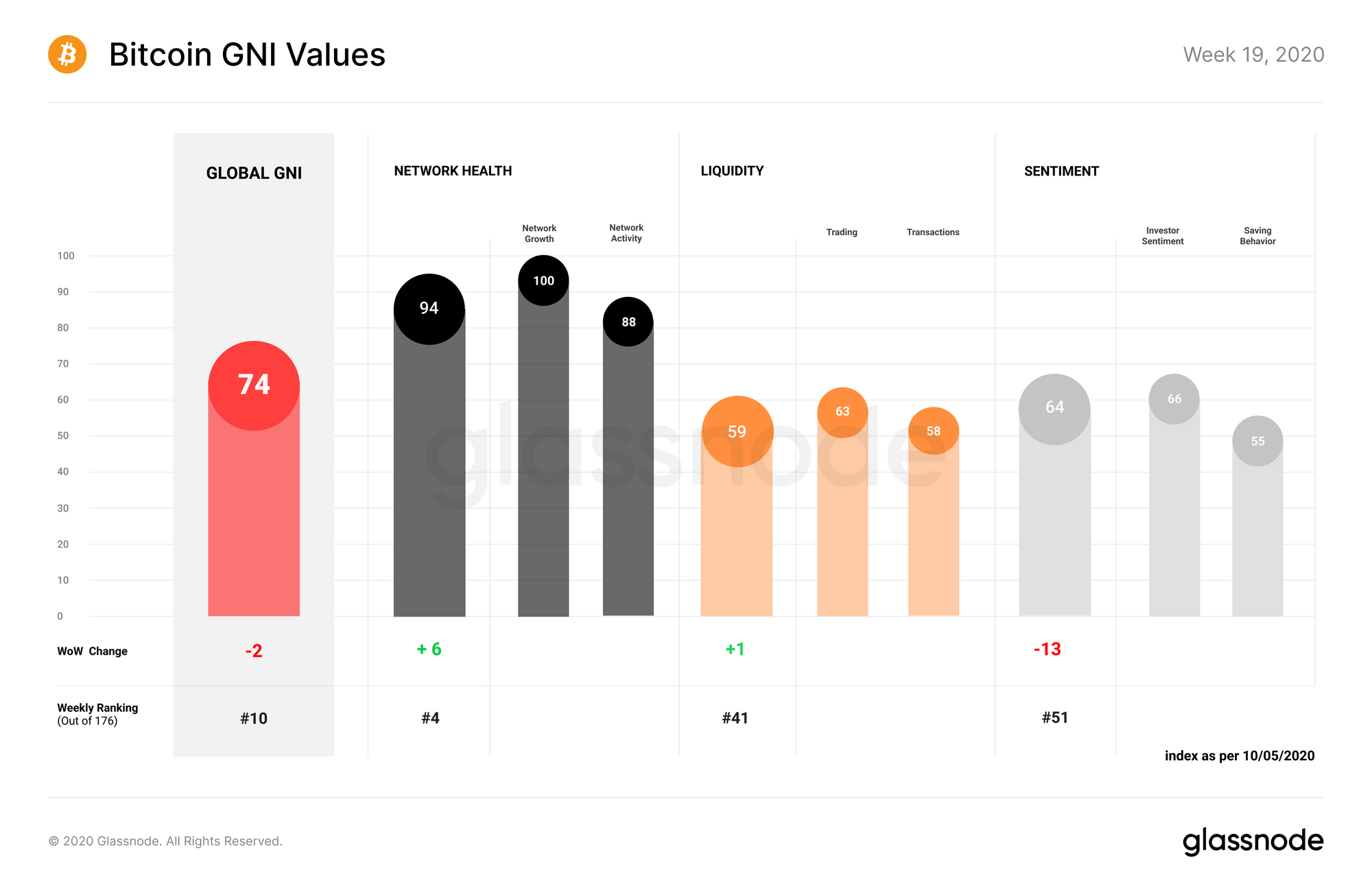 Network Health improved through solid gains in both Network Growth and Network Activity, the former reaching the highest possible value for the first time since 2017.
Liquidity has seen marginal improvement over the last few weeks after registering increases in Transaction Liquidity and slight decreases in Trading Liquidity. After staying close to the 50 point mark for 5 weeks, it has now worked its way up by 9 points.
In the lead up to Bitcoin's third halving, Sentiment on the other hand has begun to drop sharply. Despite this, however, overall network health remains strong.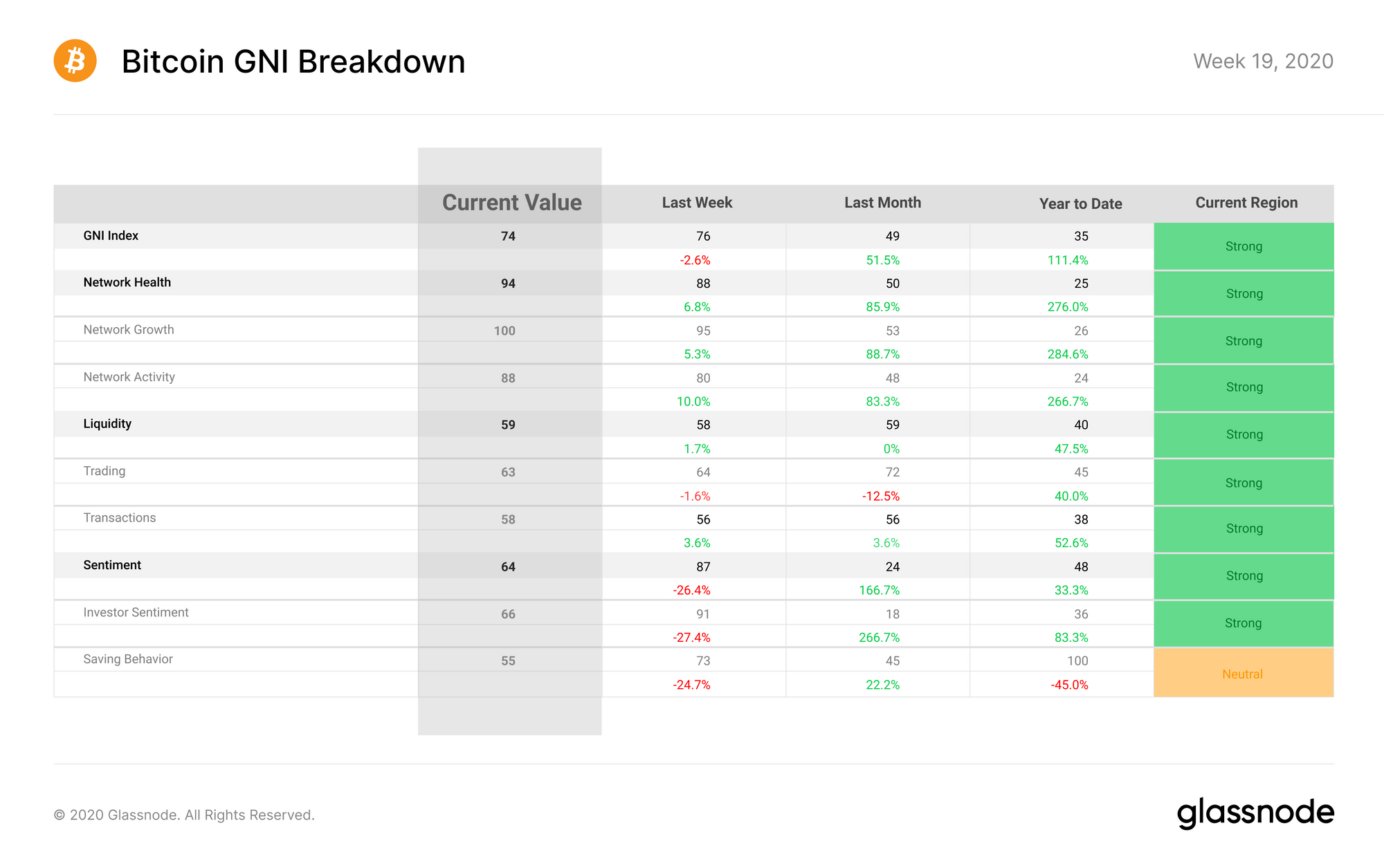 ---
Glassnode Compass
The Glassnode Compass outlines the general regime in which Bitcoin is currently located, based on its on-chain fundamentals (as determined by the GNI) and its recent price behavior.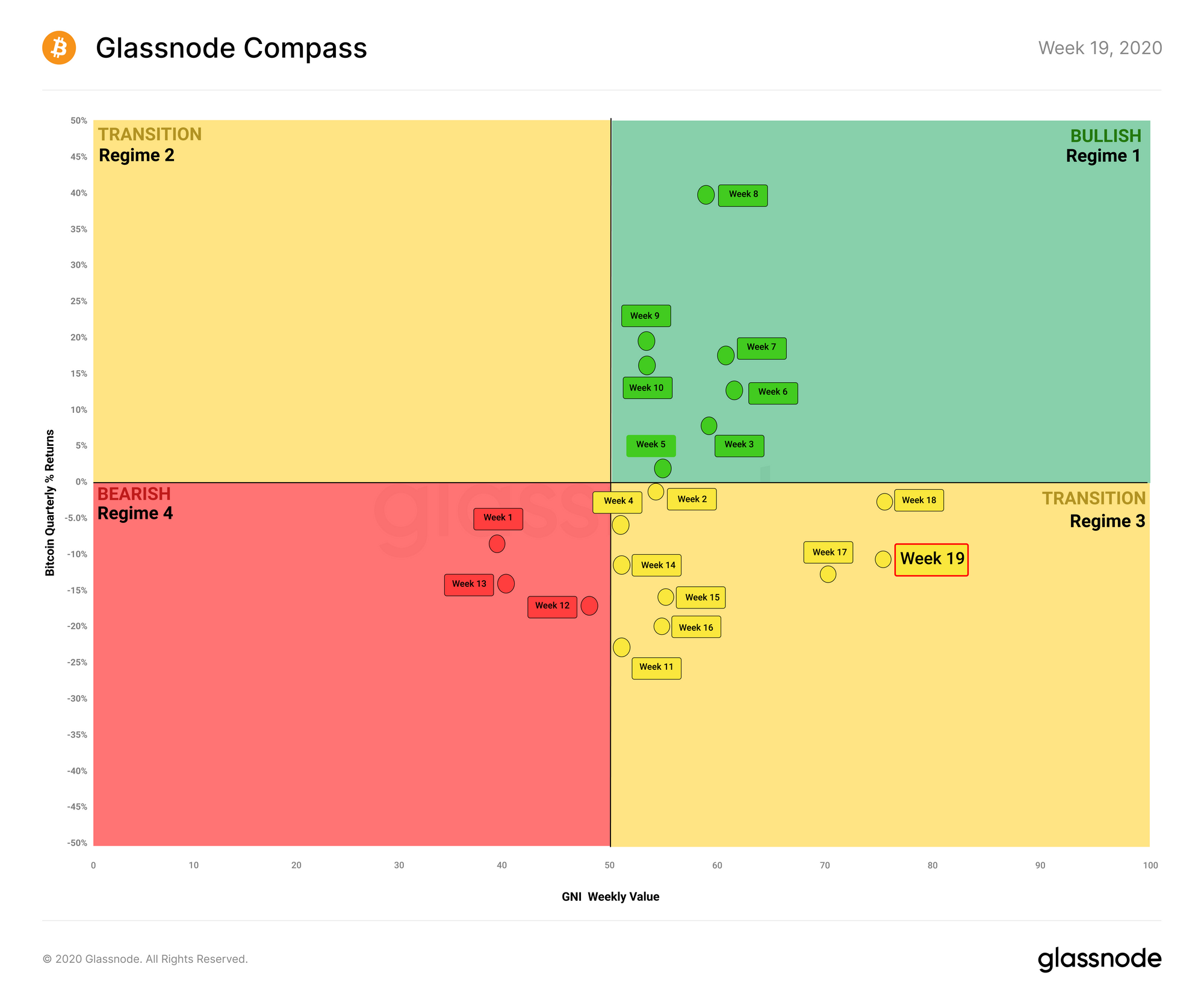 This week, the compass is still well away from the bearish Regime 4, characterised by a declining Bitcoin price and weakening on-chain fundamentals. Rather, it sits firmly in transition Regime 3 which is characterised by a diverging Bitcoin price and on-chain fundamentals. While Bitcoin's price has recovered since the price drop in mid March, the GN Compass accounts for the quarterly trend, and as such the recent price drop has prevented it from breaking into Regime 1.
Overall, after mostly positive developments in the GNI through Q1, it has experienced a small pull back solely due to Sentiment taking a hit in the days before the halving. While the on-chain fundamentals are still strong in the long term, the halving is likely priced in, and it might be too soon to expect bullish price action in the summer.
---
Bitcoin Hash Rate Largely Unaffected by Halving
While some market observers have predicted a decrease in hash rate after the halving, this eventuality does not seem to be occurring. When the halving happened late Monday evening, Bitcoin's hash rate dropped slightly before recovering to its previous trajectory.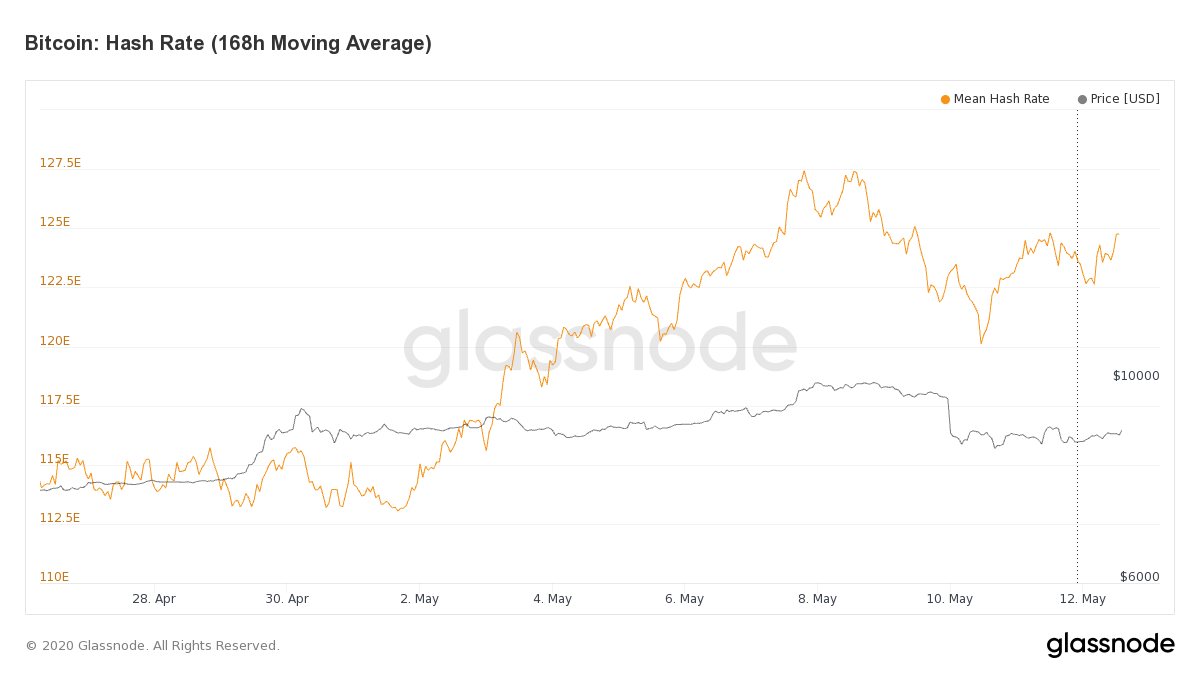 While some people have predicted that the halving will render mining unprofitable for many miners, causing mass capitulation, this effect appears to have been mitigated by global economic circumstances which make mining cheaper, such as extremely low energy prices and the devaluation of currencies in which miner overhead is denominated, for example in countries such as Russia.
Along with Bitcoin's strong fundamentals, this suggests a stable, if not bullish, environment for BTC over the coming months. Keep an eye on Bitcoin's hash rate to see whether the halving has an effect on this metric later on.
---